---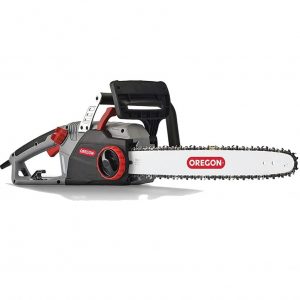 Most of us have tried to cut a piece of wood and found that our chainsaw's blade has dulled. This is a common occurrence for chainsaws, which can make cutting down trees or other large pieces of wood difficult. That's why experts are going to review the Oregon CS1500 Self-Sharpening Chainsaw! The CS1500 features a patented self-sharpening system that will keep your chain in top condition without any extra work from you! Read on if you want more information about this amazing product.
---
Oregon CS1500 User Manual
Having problem? Download Oregon CS1500 instructions.
---
Specifications:
The dimensions of this tool are 18 x 37.5 x 10.5 inches;

Corded and electric chainsaw;

It weighs about 12.6 pounds;

18-inch bar;

PowerSharp 3/8 inch chain;

Automatic oiler with an in-built window;

15-amp motor;

120 Volts;

60 Hz;

2888 FPM;

Large handle;

Has a chain brake;

Tool-less chain tightening;

Self-sharpening;
Main Features and Overview
This is, without a doubt, the most underappreciated chainsaw on the market, and Oregon is the most underappreciated brand. They're not only great chainsaws, but they also have their own PowerSharp technology, which means there's a built-in lever that lets you sharpen the chain in seconds by pulling the lever a few times. Nobody likes to sharpen their chain, and most people aren't aware of how to do it. There's no need to learn. As a result, this is the simplest and finest electric chainsaw for light-duty usage.
Best Uses for This Chainsaw
Between cuts, it's quite quiet and totally silent when you remove your finger from the trigger. 
Its 15-amp motor has enough strength to cut branches, fell small trees, and trim firewood. 
Depending on the hardness of the wood, it can cut wood up to 16 inches in diameter. It isn't particularly quick, but if you let the chainsaw do its thing rather than forcing it, you'll be quite pleased with how easy this electric chainsaw is to use.
Design
The chainsaw is a well-made device with hard plastic components and all-metal drive systems.
The saw's rear handle has a molded grip and a guard for the user's right hand. The throttle trigger is in the same position as on previous models, and the trigger lockout switch is located to its left on the saw.
On the rear handle guard, you may notice a tiny hook. This is the strain relief bracket, which secures the extension cable. It will prevent the electricity and extension cables from separating while in use as well as minimize wear and tear on the power cord.
Above this on top of the saw is the PowerSharp lever, which is used to sharpen the cutting gear. A molded wraparound handle and a front handguard that doubles as a chain brake are positioned directly ahead of it.
The oil reservoir cap is found just in front of the handle, immediately above the reservoir window. 
The chain-tensioning ring is located on the outside of the saw, just inside the cover loosening knob. 
The sharpening stone, drive sprocket, and tensioning gear – all these features can be found within the saw. This explains how the sharpening system really works and where the chain comes into touch with the blue sharpening stone.
Performance
This is a high-end homeowner electric chainsaw suited for a wide range of light and medium cutting projects. This saw is ideal for felling, bucking, limbing, and chopping firewood if you have access to a power source.
With the tool, you will discover that getting it up and running is both simple and quick. Disengage the brake with your hands, grasp the trigger lock with your thumb, press the throttle trigger, and the saw will start immediately. You may then remove your thumb from the trigger lock, which will remain disengaged until you take your finger off it. 
Tips for users: to stop the saw, simply release the trigger.
The chainsaw boasts of a lightweight, balanced ergonomic style with an over-mold comfort handle in terms of handling. This device is lighter than many other electric saws on the market, although it is heavier than several comparable gas saws. This isn't always a bad thing, as the heavier saws are generally more robust and have an edge when it comes to durability. In terms of balance, the motor sticks out from the left-hand side of the saw, but most users felt it was quite manageable to use.
In comparison to gas saws, this is a considerably quieter tool to use, and there's also the benefit of working in a fume-free environment. There will be no noise between cuts, which your neighbors will undoubtedly appreciate.
Another advantage for users is that if you cut close to the ground and inadvertently sharpen the chain against a stone or other hard object, you may re-sharpen it instantly, allowing you to get back to work without having to replace the chain. This saw is a great, convenient, time-saving function.
This chainsaw is ideal for trimming. It delivers excellent cutting performance, as it can cut through logs with a diameter of 16 inches in one pass and many users have used it to chop limbs up to this diameter and even larger. It can also cut hardwoods like oak and hackberry.
Cutting Ability
It is equipped with an 18-inch guide bar and chain. It's no surprise that they're both made in Oregon.
The guide bar is a Double Guard 91 model with a little radius nose, which helps to minimize kickback. The "91" is etched on top of the bar, causing some buyers to believe they were receiving a 16-inch bar. 
The nose sprocket is non-removable and uses a laminated body. Although the nose sprocket improves cutting by reducing friction, it must be adequately lubricated regularly.
This chain has a PowerSharp 91PS (Low Profile) model which is composed of three PowerSharp 90PS chains. It features a 3/8-inch pitch, 0.05-inch gauge, and 62 drive links. 
This chain saw is equipped with chisel-style cutters that allow for fast cutting and long-lasting sharpness. 
It meets all of the requirements of ANSI B175.1 & CSA Z62.3 in terms of being deemed a low kickback. 
The chain speed is 15 m/s, which is above average for an electric saw.
The chain has a propensity to slip, according to some users. This was described as being severe in certain situations. To address this, Oregon came up with a solution that consisted of just reattaching the detachable side cover, which appears to have helped matters.
The system for tensioning does not necessitate the usage of tools. This is achieved by turning the chain tensioning ring clockwise and loosening the side cover release knob. The knob is then re-tightened.
There should be no problems if the chain is properly oiled and tensioned, and it isn't utilized excessively. That being said, if something goes wrong, Oregon Customer Care is fantastic and will help to address any concerns.
Chain Oil Mechanism
There's a problem that can happen when you're about to start cutting and your chain is loose, but the tool that came with the chainsaw is nowhere to be found. However, you won't have this issue with the saw since it has a completely tool-less chain tightening mechanism, allowing you to tighten the chain no matter where you are quick.
Handle
With a longer reach, this model features an ergonomic design that is exceptionally pleasant to use. The handle is big and comfortable, allowing the user to grasp the tool easily whether they are wearing gloves or not. It also has a light rubber covering to minimize vibrations transmitted to the user.
Motor
The tool boasts an amazing electric motor! Seriously, a high-powered 15 Amp motor provides a tremendous amount of power to complete any task. This device can genuinely compete with a petrol chainsaw that costs three times as much. There are no issues with the engine even after long use periods. It doesn't appear to get too hot or overly noisy while cutting through huge trees.
Self-Sharpening Feature
The PowerSharp built-in sharpening system is the best part of this electric chainsaw. It's simple to use and will help you cut things around the home much easier because you'll always be using a sharp chain. 
You simply pull the lever a few times, and in a few seconds, your chain will be razor-sharp. It's tempting to believe it would be too simple, but OREGON began by creating easy-to-use chain-sharpening solutions and has since built its entire business on chainsaw chains.
The fact is obvious, but far too many homeowners are ignorant of the necessity of keeping their chain sharp. It doesn't matter how strong the engine is if you're using a dull chain to chop wood.
You won't have to cut with a dull chain ever again thanks to this unique feature. 
Safety Features:
The narrow kerf bar and chain have a low kickback rate;

The handguard protects the hands from the chain and flying debris;

To assist with supporting the saw when cutting, there are bumper spikes;

A throttle lock switch prevents the saw from starting accidentally;

The hand is protected by a catcher if the chain breaks or comes off the bar;

In the event of kickback, a brake will instantly stop both the motor and chain. Many electric saws lack brakes since the chain comes to a halt when the throttle trigger is released. The cutting equipment stops almost immediately once the operator's finger is removed from the throttle, thus removing it causes a delay in breaking the chain;
Pros & Cons of Oregon CS1500
---
Buyer's Guide
Alternatives to the Oregon CS1500 chainsaw:
If you're not a fan of electric chainsaws, there are plenty of good gas-powered alternatives. The first one that comes to mind is the Husqvarna 440E 16 Inch Gas Chainsaw. It has a powerful engine and some great safety features as well as being easy on your wallet too. 
Another alternative would be the Remington RM1425 Limb N Trim 14 Inch Electric Chainsaw that also has an excellent reputation for ease of use and affordability. 
FAQ
How frequently can you use it?
You can use this chainsaw all day and night if you take frequent breaks. Because there is no need to refuel it, the continuous operation times are solely limited by how much work you have.
You won't have to wait long for your chain saw to charge. You won't have to worry about running out of juice, either. Because the chain saw is corded, you won't suffer any downtime while it charges. An integrated blade sharpening tool allows you to quickly sharpen the blade during extended cutting periods, increasing usage frequency considerably than comparable chainsaws.
How portable is this model?
In terms of weight, this is easily one of the lightest chainsaws available. The tool alone weighs about 12 pounds, which is less than comparable gasoline-powered tools.
Despite the fact that this saw may be readily relocated, you must also consider the power cable. There's no getting around the fact that this saw needs to be tethered to a mains power connection at all times.
With an extension cable, you may work up to a distance of around 90 feet from your power outlet when using the saw. This isn't to imply that this device isn't portable in the classic sense; rather, it won't be for most people because they are the main target market for it.
How to power this chainsaw?
The CS1500 can draw up to 15 amps from a 110-volt outlet during peak operation. You'll need a mains outlet rated for 15 amps or more, and it's best if you don't have any other electrical equipment drawing power from the same source.
If you're using an outlet that isn't powerful enough, it may result in poor performance or even a power circuit overload.
Because the power cable is quite short, like most homeowners, you'll need a high-quality extension cable. A 100-foot extension is recommended but can only cover this distance with a 12 AWG wire.
If you only need a 50-foot cable, you could go with a 14 AWG wire.
Due to the tool's high power draw, only high-quality cables with a suitable gauge rating should be used.
Is it easy to handle?
It's critical to know how to use a chainsaw for safety, and knowing which one you want will influence your willingness to use it. The CS1500 is simple to manage owing to its lightweight and smooth engine function.
When cutting tougher materials, you'll occasionally need to remind yourself that this is a potentially deadly power instrument because the simple handling can hide the real force generated. When cutting hard materials, there are few lockups, and kickback is reduced as a result of the design.
Because it's an electric saw, there is no idling vibration, and the vibrations while operating are far lower than those of a gas saw.
How long is the guide bar of this chainsaw?
The CS1500's 18-inch guide bar is in the mid-range of what you'll find on homeowner chainsaws. The guide bar lets you cut through smaller logs, living trees, and firewood easily because of its assistance.
Because of the light weight of this type, the lengthy guide bar doesn't cause any handling concerns, and it's frequently preferred over a shorter 14 or 16-inch bar.
What are the maintenance requirements?
One of the advantages of having an electric saw is that it requires less maintenance than a gas-powered one. This saw will just require some cleaning outside, as well as topping up the bar oil that lubricates the bar and chain.
The tool has an integrated sharpening stone that may be activated using a lever on the saw housing, so you won't have to worry about taking off the blade to sharpen it. This cuts down on upkeep time and makes this a user-friendly device.
What chain does Oregon CS1500 use?
It includes an 18-inch guide bar and PowerSharp chain, allowing you to sharpen your chain on the saw in 3 seconds or less. 
The built-in Lubri-Tec oiling system keeps the chain lubricated, which reduces friction and extends its runtime [1].
Does a self-sharpening chainsaw work?
A self-sharpening system will maintain the efficiency of every cut. Some electric chainsaws now feature automated chain tightening and lubrication, which eliminates the hassle of doing it manually. It's also critical to think about safety when purchasing a chainsaw [2].
Where are Oregon tools made?
The manufacturing of these chainsaws used to be done in Portland, Oregon, but it was recently relocated to Canada [3].
Video Guide: Oregon CS1500 chain saw unboxing and 1 year review
Final thoughts
Whether you're a contractor looking for professional-grade tools or someone who wants to save some cash on DIY projects, the Oregon CS1500 18-inch 15 Amp is an excellent choice. The self-sharpening chainsaw will have your chain fixed in seconds so you never miss a chance to get the job done. It offers long-lasting cutting power with no noise pollution thanks to its corded electric design. 
For heavy-duty jobs, this tool has all of the features you want and none of the hassles, loading quickly and safely without any assembly – just pull it out of the box! 
Comfortable grip handles offer stability when working through tough materials while extra safety guards ensure that mistakes are rare.
References:
https://www.oregonproducts.com/en/oregon-cs1500-18-inch-15-amp-,-self-sharpening-corded-electric-chainsaw/p/603352

https://www.dontwasteyourmoney.com/products/oregon-self-sharpening-electric-chainsaw

https://epicsawguy.com/where-are-chainsaws-made
---