---
Many people are looking for a new chainsaw this year, and if you're one of those people then the Earthwise CS33016 might be a good option to consider.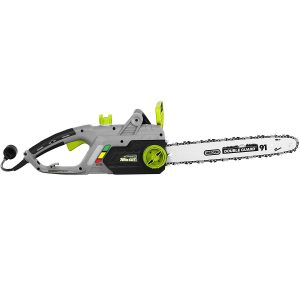 A solid choice that will help with all your pruning needs, but there are some drawbacks as well. In this review, experts will cover the pros and cons of the product so you can make an informed decision before making any purchases.
---
Earthwise CS33016 User Manual
Having problem? Download Earthwise CS33016 instructions.
---
Specifications:
The dimensions are 34 x 7.5 x 9.5 inches;

It weighs about 12 pounds;

Corded;

12 amps;

The bar length is 16 inches;

2-year limited warranty;

The oil tank capacity is 0,1 pints;
Main Features and Overview
This Earthwise electric chainsaw can be an ideal tool to help you with all your most difficult trimming, pruning, and cutting tasks. 
The cord retention hook makes it easier to store safely when not in use. Combining comfort with efficiency, the chainsaw has an automatic oiling system that is great for completing tough jobs efficiently and effortlessly. 
This saw doesn't just promise quality; it delivers! From its easy screwdriver blade tensioner to its vibration-reducing design, this saw is here to stay through even the toughest of projects where complications are expected!
Design and Construction
The saw is a well-designed, hard plastic and metal chainsaw. The device has a classic-style rear handle with a throttle trigger and cord hook. The oil reservoir cap is positioned on top of the saw, making it simple to fill the tank. Below the cap, you'll see the oil reservoir window.
There's a big chain cover knob and tensioning wheel for adjusting the bar and chain, as well as tightening the chain.
The cable is approximately 1.5 feet long. The lock button on the rear handle, which must be depressed with the trigger to start the saw, is visible. A half-wrap front handle lies behind the front handguard. There are bumper spikes on the front of the powerhead unit for added stability while cutting.
Cutting Ability
The device has a 16-inch bar and chain. Its bar is a 91 Double Guard that is lightweight and has a tiny radius nose to help avoid kickback. It features a nose sprocket to minimize friction, allowing for greater chain movement and sharper cuts. To prevent the nose sprocket from getting jammed, it will be necessary to regularly lubricate the tip of the bar. Injecting a little grease into the sprocket hole on the end of the bar is this easy procedure.
The chain is Oregon 91 Low Profile, which features a low head. The low head of this product meets the ANSI B.175.1 kickback standards, making it a much safer version for novices or occasional users. It has a ⅜-inch pitch, 0.05-inch gauge, and 57-drive links. Because it balances performance and durability well, this chain is very popular among consumers.
Performance
This chainsaw has been created to tackle a variety of light and medium wood cutting activities at home, making it ideal for clearing brush and pruning trees. It can also be used to chop tiny amounts of firewood for your reserves.
It's a lightweight, simple-to-handle product that most people who are used to using power tools should be able to operate. User reports indicate that it can easily chop through limbs up to 10 inches in diameter and can complete more challenging assignments. The bottom line is that the CS30116 will handle light or moderate cutting activities, such as clearing up a bit of wind damage, chopping firewood, or felling minor trees.
When cutting wood, keep in mind that you should only utilize this device when the circumstances are ideal, which means not in wet or damp weather. You shouldn't use it to cut vines or tiny bushes since they can get caught in the saw and whip off the chain.
It's simple to start up the device. Simply push the lock button with your thumb and squeeze the throttle trigger with your finger, and the saw will begin immediately. 
Following this, the lock button can be released. This is a single-speed saw, so all you have to do to turn it off is pull the trigger. You should keep in mind that the chain coasts for a brief period after you release the trigger, so make sure it comes to a complete stop before letting go of the saw.
Although it has a fairly small footprint, it is heavy-duty and can cut through anything from 2 to 10 inches in diameter. 
The one drawback of Earthwise is that it does not have a chain brake. Many saws feature inertia-activated brakes that stop the chain from rotating when kickback occurs. The bar is thrown back at the user suddenly. Some electric saws don't have brakes because the chain stops when the trigger is released, and if you handle the device correctly and as directed, this should not be a problem.
A few special features to consider:
Low-Kickback Cutting Chain
The chainsaw comes with a kickback guard to decrease the danger of kickback—an abrupt upward recoil of the chainsaw that can result in injury.
It fits onto the front end of the bar blade, known as the kickback zone, and exposes sections of the chain that are safe to use for making cuts.
Offset Front Handguard
The majority of chainsaws have front handguards that run parallel to the cutting chain. This is beneficial since it helps to reduce strain on your arms and improves aim, but if you're not cautious, you may put your hand in front of the high-speed chain as it spins out of control.
The offset front handguard from Earthwise resolved this issue. When deflecting the bar blade toward branches and logs, your hand is always out of danger. However, it exposes the tool and your face to additional sawdust from the saw. When using this equipment, make sure you're wearing adequate PPE.
Chain Oil Feature
It has an automatic fixed flow oiling system. This means that as long as the machine is operating, the oil will be supplied to the cutting equipment automatically, so you won't have to worry about it. The speed at which the oil is released can not be altered because it is a fixed flow.
The cap on top of the chainsaw, which is easily accessible, adds oil through a simple nipple. Any high-quality bar and chain oil can be used, as well as any vegetable-based bar and chain oil if you are pruning trees. If you don't have access to bar and chain oil, you may use unused motor oil instead.
You should make sure that the reservoir is adequately oiled at all times. If you do not oil the chain, it will cause damage to the cutting equipment. The clear glass enables you to see how much oil there is in the tank. The 1.6-ounce reservoir holds enough oil for around 8 minutes of usage, and the engine flushes oil at a rate of 0.2 ounces per minute. As a result, each full reservoir of oil will give you approximately 8 minutes of cutting time, so be sure to have a supply on hand at all times when working for any length of time.
Motor
This Earthwise saw is powered by a 12-amp motor, which is in the middle of the spectrum for corded power saws.
In practical terms, the big chainsaw should be able to produce around 1.9 horsepower, which is enough power to run the 16-inch cutting equipment. Because the chainsaw cable is only about one and a half feet long, you'll need to use an extension cord of the proper size. This should be suitable for outside usage and have the correct gauge. The cord length suggested by the manufacturer is 50 feet. 
This should be at least a 14-gauge cable, yet a 12 gauge may provide superior performance. 
Users have stretched cables up to 100 feet in length. If you're thinking about going this far, go with at least a 10-gauge cable.
Safety Features:
A lock switch must be in place before the trigger will function. This prevents the saw from being triggered by accident;

The low-kickback chain and reduced kickback bar meet ANSI B.175.1 safety standards, ensuring that the hammock is safe for you to hang in your backyard or at an outdoor event like a music festival anywhere in America with minimal risk of injury. This will not totally eliminate kickback, but it will make it less likely and dangerous;

Bumper spikes are made of metal and help to increase the stability and safety of the cut;

If the grip on the saw is lost, the user's hand will be prevented from coming into contact with the chain by the front handguard;
Pros & Cons of Earthwise CS33016
---
The Buyer's Guide
Alternatives
The WORX WG304.1 is an electric chainsaw that runs on 18 volts, making it more powerful than Earthwise with its 15-amp motor but still less powerful than CS33016 at 30 amps. It has an automatic oiler and chain brake system for increased safety while in use, though it also costs twice as much as the CS33016 without offering any significant advantages other than being battery powered rather than requiring extension cords to operate safely outdoors or indoors away from power outlets. 
The cordless Black & Decker LCS1240 offers a 12-inch bar and chain, which is slightly longer than the Earthwise. It has a maximum cutting depth of about 11 inches at 90 degrees and weighs 15 pounds. However, it costs twice as much as the CS33016 while being only marginally more powerful because it draws 13 amps from its 40V power source. 
FAQ
Who should buy Earthwise CS33016?
There's a variety of handheld chainsaws available for purchase, but most have smaller blades and less cutting power than the CS33016. The Earthwise is more powerful and can be used in conjunction with extension cords if needed while corded models cannot.
The longest warranty offered by any competitor is four years, making this product stand out from its competitors due to its five-year warranty which assures purchasers that they're getting quality equipment at a price point similar to inferior products without such generous warranties. 
For people looking for an efficient value for money spent on their purchase, it would make sense to go with Earthwise over other options where there is clear trade between performance and cost when you take into account the extended warranty. 
Where is the chain tension adjustment?
The chain tension adjustment is in the outer 2.5-inch ring of the plastic cover.
Is assembly required for this chainsaw?
It comes pre-assembled.  
How to adjust the chain after the chain has come off?
There is a tool-less chain tensioning system on the Earthwise chainsaw, so simply slacken and tighten the two nuts to get your chain back in place.
Can it run with a 14-gauge extension cord?
Yes, it can run with such an extension cord. 
Can you use the Oregon R56 chain with this?
Yes, if the Oregon chain has a 57 link designation.
Who makes Earthwise pole saws?
These tools are made by the American Lawn Mower Company that established in 1895 and located in Muncie, Indiana [1]. 
What kind of oil does an Earthwise chainsaw use?
Please fill the oil reservoir with fresh bar and chain oil or SAE 30 weight motor oil if this chainsaw does not include bar/chain oil.
Video Guide: Best Corded Chainsaw 2019
Final thoughts
The Earthwise CS33016 chainsaw is great for cutting down branches, trimming back bushes without ever feeling uncomfortable. With the cord retention hook, staying connected to this user-friendly saw has never been easier. 
Every inch of this electric chainsaw has been designed to make your yard pruning tasks as easy as possible, even with a low price tag that guarantees an amazing value.
The fully assembled design saves you time and hassle so this reliable tool can be set up right out of the box. Lightweight features combined with comfortable cushioning make every cut feel like you're in good hands so chainsaws don't have to be scary anymore!
References:
---