---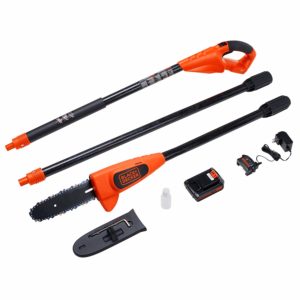 Features of Black+Decker LPP120:
Blade length: 8 in
Branch size: 6 in
Overall length: 115 in
---
Black+Decker LPP120 Pole Saw User Manual
Having problem? Download Black+Decker LPP120 20-Volt Lithium-Ion Cordless Pole Saw instructions.
---
Black+Decker's LPP120 is an outstanding instrument that can assist you to prune twigs and branches overhead. Its pole can be extended to 14 feet. Powered by a 20V battery with a Lithium-ion tech, this tool delivers a five times longer charge than any traditional NiCd battery pack.
The saw has an 8-inch cutting bar and chain providing a remarkable 6-inch cutting diameter. The performance is improved due to center extension. This power-head in-line allows for greater accessibility and ease of maneuver between twigs.
The saw easy disassembles – it is quite portable for easy transportation. The saw is extremely easy to apply, due to its lightweight design. Even elderly people with arthritis can handle such instruments.
Black + Decker LPP120 cordless pole saw can easily become one the best professional instruments in your toolbox. Make sure to invest in the original model.
Pros & Cons of Black+Decker LPP120
Thanks to the absence of an electric cord, you can appreciate a hassle-free pruning and cutting session. In addition, buyers find it sturdier than other standard pole saws that promise similar results. It is long-lasting, easy to keep and energy-efficient. It delivers stunning performance thanks to its Li-ion batteries, as opposed to regular saws. You don't have to worry about replacing gas cylinders, because it doesn't rely on gas.
Specifications and Features
20-Volt power battery pack with a prolonged lifespan and change retention;

It can be extended to 10 feet;

The maximum reach overhead is 14 feet;

One charge is enough for 100 cuts;

Limited 2-year warranty;

Weight is less than average – 6.3 pounds;
This specific instrument features a good motor with a single charge, offering up to 100 cuts (the average cutting capacity is 1-1/2-inch pine). Keep in  mind that these are branches of 1-inch rather than 4 pine wood. 
Currently, the LPP120 is one of the lightest saws out there, at just 6.3 lbs. That is why it could be an ideal choice for those users who can't handle corded electric or gas-based saws – they typically weigh over 11 pounds.
Maintenance for the B + D LPP120 is as simple as it can be. As with any cordless pole saw, after every use, you'll want to wipe down it with a clean cloth, check the chain for wear and damage. 
The package with the Black + Decker LPP120 pole saw is supplied with a zipped storage bag. 
Conclusion
While there are plenty of good choices among pole saws out there, this saw is not just one of the compact and portable, but at the same time one of the most powerful pole saws with a long reach. It is both reliable and easy to use for anyone even though they haven't used such tools before.
It could be the most valuable tool for people who do not have plans to use LPP120 intensively. In other words, after the storm or when cutting high branches, it is a great piece of equipment for cleaning. On the other hand, cutting and trimming thin branches won't do much more than this.
---
Video Guide: How To Use Black+Decker LPP120
---