---
Greenworks Cordless
Replacement chain
8" bar and chain
4-year tool warranty
WORX WG323 20V 10″
Lightweight and easy to use
2-in-1 polesaw and chainsaw
Automatic chain lubrication
---
Choose the Best Cordless Pole Saw
Customer's Choice: the Best Rated Cordless Pole Saws
655 users answered this survey. Please help us improve this review!

52.37% of users selected BLACK+DECKER LPP120, 21.98% selected Greenworks Pole Saw, 9.31% selected Oregon Cordless PS250, 8.4% selected Greenworks Cordless and 7.94% selected WORX WG323 20V 10". Every month we analyze your answers and change our rating.
---
Have you ever attempted to trim branches around your home with a chainsaw, but had trouble reaching them? Unless you hire a professional, getting clean cuts that take care of every limb can be difficult (and sometimes, not recommended). Doing this can present dangers to an individual, mostly due to the compact and open design of chainsaws. But there's an easy solution to help you get your branches cut before they fall down on their own. A cordless pole saw is a simple tool equipped with a chainsaw, allowing the user to cut off tree limbs while standing on the ground at a safe distance away from the saw chains. So instead of climbing up trees to trim excessive growth, your feet will never leave the surface. The following pole saws reviewed below are top-of-the-line and will last for years after you've purchased one of them. Remember, each comes with its own chainsaw, so there's no need to go out and buy one when you've completed your order. Let's look further!
BLACK+DECKER LPP120 20-Volt Lithium-Ion Cordless Pole Saw (Editor's Choice)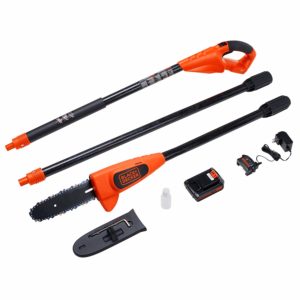 The
BLACK+DECKER LPP120
20-Volt Lithium-Ion Cordless is one of the easiest poles saws to work with. It's lightweight but also retains heaviness in the areas where it's needed the most with such products, mainly along with the tips and end opposite end.
With this combination, you can cut through most tree limbs as if they're made of butter. And since the device is completely wireless, you'll be free to move around however you like during the cutting. Once the work is done, disassembling the pieces is a breeze. It will likely fit in any place that you have ready for storing (without getting in the way of your other items in the garage). As for safety features, the LPP120 will completely shut down if it detects any abnormalities during your sawing. If the chain were to snap off or loosen too much, the motor would stop running immediately.
If there's anything that could be improved, it would be the battery. However, battery time mostly stays the same for pole saws so you should finish several trees without it cutting off on you. It would have been nicer to have a better chain guard, but it should hold up for long enough. Additionally, the angle of the product isn't tiled, so it might be a bit awkward when attempting to reach limbs from a distance that's closer than the range it will extend to. Yet none of these issues take away from the tool's overall performance. Try it out if you're in need of a pole saw and have never used one before. But even professional cutters will feel at home with the LPP120.
---
Greenworks 20672 8.5′ 40V Cordless Pole Saw – Best Cordless Pole Saw for Battery Life (People's Choice)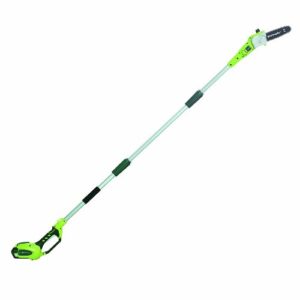 The Greenworks Cordless Pole Saw, as its name says, is painted green. It's a good reflection of how well it works to cut down limbs. With most tree species, this is done in seconds. Included with the product is everything that you'll need to get started.
If you own any other Greenworks tools, feel free to use the battery for them if you need to. Across the brand, it's universal. As for operation, things have never been simpler.
You can loosen or tighten the chain fast with the mechanism shown in the product's description. The reach is about nine feet total, with an extended length of about 8.5 feet. Not too long, but not short either. Your oil will last a while as well, whereby you won't find yourself changing it every time you use the pole saw. There might be instances of the machine cutting off of you abruptly, but this shouldn't be the case for every owner. Recommended for people that want a pole saw with slightly higher the average battery life.
---
Oregon Cordless PS250 8-Inch 40V Telescoping Pole Saw – Best Cordless Pole Saw for Power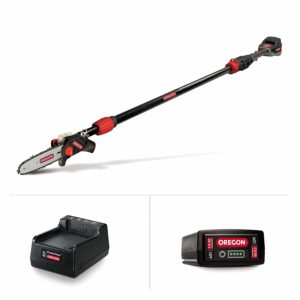 The Oregon Cordless PS250
is the power saver of chainsaws. With it, your battery power will never decrease as it depletes. That means the power behind your saw isn't reduced when the change is very low. Of course, this could come with some drawbacks, depending mostly on how you use the device.
Be sure that your battery is full when you start and consider getting an additional one if you can. You can cut down several limbs fast since there won't be a need to replace the power supply in the middle of your work.
Read Full Review: Oregon PS250 Review
It also has low vibration compared to other models, which is great for people with sensitivity to rigorous shaking. Everything will be shipped to you assembled already, so you will only have to sift through the manual to see how to operate it correctly. Detaching the pole and saw is a little tricky, but can be done if you're comfortable putting it back on again.
---
Greenworks PS24B210 8-Inch 24V Cordless Pole Saw – Best Oil Efficient Cordless Pole Saw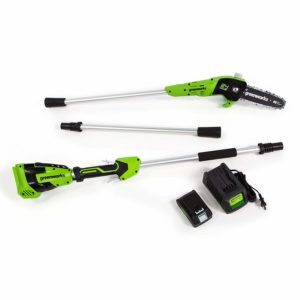 The Greenworks 8-Inch 24V
is the pole saw you'll want if you're impatient with long charging times. Getting the battery full should only take around 45 minutes at best, and 1 hour at most. If you have another one, then you can allow one to charge while you're cutting with the next.
Oil on the saw is fed automatically, whereby the blades are always lubricated so long as there's a supply of it in the tank. As a result, jamming and tangling will hardly ever occur. You can saw through limbs at a fast pace, much quicker than the average time it would take with ordinary chainsaws. There is one big catch. The battery's life isn't long and will drain fast. It's another model that would work best with an additional power supply, so acquire another battery with this model if you can.
---
WORX WG323 20V 10″ Cordless Pole/Chain Saw with Auto-Tension – Best Cordless Pole Saw for Reach Length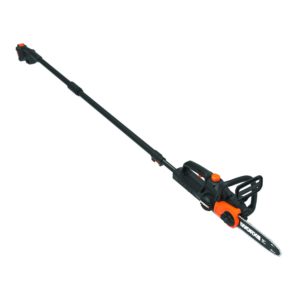 The final product on the list is
the WORX WG323
. This model has the longest reach of all those shown. From bottom to top, it's gauged at ten feet, making it the best for people that need to cut down branches that are a bit higher than average.
When you're doing this, don't forget that you can completely detach the chainsaw unit from the pole. Its shape is straight and has no curves.
The angle could be a bit odd for people that have worked with other pole saws with this feature before. In such a case, it would be something that you would definitely have to get accustomed to. On a good note, the device is weighted and you won't have to put too much arm and back strength into your cuts. You can let the pole do the work for you in most jobs. It does have a total weight that's a bit more than the competition but should be expected, given the length of the unit.
---
Buyer's Guide
The information below will help you to better pick the best pole saw for you.
How to Choose the Best Cordless Pole Saw
A good pole saw will have three features in common. The first is the adjustable cord length. With the typical model, you should be able to extend it to either one or two times. The next attribute to focus on is battery power, something that's sometimes difficult to notice without trying out the machine for yourself first. An easy loophole to know this is by looking at what others have commented about the pole saw. Focus your reading on reviews that are posted by verified accounts.
Lastly, the third feature you should want is durability. A pole saw isn't worthwhile if the device will break on your too early in its lifetime. Things should run smoothly well past the warranty date. Again, reviews can be helpful with this, but also take a look at the build and materials used on the pole saw. Sometimes, you can spot things that would damage easily just about glancing over photos in the product's description.
The Length and Reach
Pole saws are fitted with long poles made of lightweight but strong material. The length averages around eight feet, but there are models that can go longer. Take a look around the areas where you'll be using the pole saw the most. Do you think it would benefit you to have a few extra feet on your device? If so, evaluate those with a long extension. It might not seem like much superficially, but you'll definitely notice the difference when you're actively in the process of sawing.
Your pole length will determine your length, which would be a foot or two longer than the entire gauge of the saw itself. Furthermore, check whether or not you can take off the pole entirely. You never know when you might need to use the chainsaw without one, and having a model that makes disassembly easy to always a plus.
Batteries and Charging Times
Besides the fact that you can walk around easier with a cordless pole saw, batteries ensure that you'll have an almost identical rate of power to those that are fully electric. Of course, the voltage might not be as high as what you may have seen on corded chainsaws, but acceptable nonetheless. If you already own a power tool manufactured from a company that produces cordless saws, see if the battery will fit on the model you're interested in. If it can, then you would have two batteries to work with instead of one. However, you could always buy an extra if you don't have a battery; they're quite easy to find online.
How Easy it will be For You to Cut
If you've never used a pole saw before, you'll likely need to practice with it first. You can start by cutting easy limbs initially working you way up to thicker branches when you've gotten accustomed to the feel of the machine. Most models have added weight in the front, center, and end portion where the blades are. This helps with stability when your cutting, pushing the weight of the blade into the branch. A result of this is less work on your part, with a majority of your arm reinforcing the pole to settle on the limb you intend to cut. If your short, things might be a bit more tiring on the arms. A pole saw with decent reach is best for this situation.
The Advantages of using a Cordless Pole Saw
Some of the benefits of using a cordless pole saw might already be obvious to you. Instead of relying on the tangled mess that is the typical corded saw. Since the power source comes from a battery, you're free to move about with your device as you please. The saws listed above will also be very useful to the disabled, since the work can be done on level ground, lowering the chances of getting injured from climbing up trees. Fewer accessories are needed with poles saws. Don't worry about climbing any ladders to reach branches, just extend the pole until there's enough slack to trim the affected area. Then when you're done, simply take the assembly apart and store it however you would like. There won't be a need to roll up any cords, so most pole saws can be hoarded where the wired versions can't.
Factors to Consider When Buying Cordless Pole Saws
When shopping for a cordless pole saw, it is important to consider various factors that can affect its performance, safety, and convenience. In this table, we compare different indicators that can help you make an informed decision when choosing a cordless pole saw.
| Factor | Description | Importance |
| --- | --- | --- |
| Battery Voltage | The voltage of the battery used to power the pole saw | High |
| Battery Capacity | The amount of energy the battery can store | High |
| Cutting Capacity | The maximum diameter of branches the pole saw can cut | High |
| Bar Length | The length of the cutting bar, which determines the reach of the pole saw | High |
| Weight | The weight of the pole saw, which affects ease of use and maneuverability | Medium |
| Noise Level | The level of noise produced by the pole saw during operation | Medium |
| Vibration | The level of vibration produced by the pole saw during operation | Medium |
| Safety Features | The presence of safety features such as chain brakes and guards | High |
| Price | The cost of the pole saw | Low |
This table compares various factors that should be considered when buying a cordless pole saw. These factors include battery voltage, battery capacity, cutting capacity, bar length, weight, noise level, vibration, safety features, and price. Battery voltage and capacity, cutting capacity, and bar length are all high-importance factors, as they directly affect the saw's performance. Weight, noise level, and vibration are medium-importance factors that can affect the saw's ease of use and comfort. Safety features are also high-importance factors, as they can prevent accidents and injuries. Finally, price is a low-importance factor, as it is generally determined by the other factors and personal budget constraints.
Cordless Pole Saws FAQ
What is the lightest cordless pole saw?
Usually, cordless pole saws are based on batteries. Unlike gas or electric tools, these instruments do not have fuel tanks or motors. That is why usually they are the most lightweight pole saws in the market. And it is not that easy to pick the lightest cordless pole saw. However, a few brands produce really lightweight battery-based pole saws:
Black & Decker

(for instance, check the LPP120 model). Their pole saws have a limited maximum reach (usually no more than 15 feet high). Their products weigh from 5 to 6.5 pounds;

Ryobi

(check the One+ model) produces medium-duty pole saws without cords. They can reach no more than 10 feet. The low weight is one of the best advantages of Ryobi cordless pole saws. Usually, they weigh from 6 to 7.4 pounds;
One of the best solutions for a gardener is to invest in a 6-pound cordless pole saw with the maximum reach up to 15 feet.
Who makes the longest pole saw?
Gardeners buy pole saws because these gardening tools help to cut the branches above the head. So the maximum reach of the telescopic pole saw is the main thing to consider when choosing this tool. Almost all pole saw manufacturers try to make safe, lightweight and long instruments. And this task gets easier when a pole saw is not limited by a cord.
However, professional gardeners trust only a few brands when it comes to the choice of long pole saws:
Sun Joe

produces trimmers, tillers and lawnmowers, besides solid and affordable pole saws of any type. They offer both corded and cordless instruments;

Black & Decker

brand has been mentioned before. With over 100 years of experience, this brand manufactures hundreds of useful tools recognized for quality and innovation. Check the Black & Decker pole saws with the maximum reach up to 20 feet;

Silky

is a Japanese brand of cordless pole saws. Their Silky products hold the highest quality standards of cutting efficiency and endurance;
You should check telescopic and extendable pole saws. Usually, these products have the best maximum reach.
How to handle your cordless pole saw safely?
Safety should come first when you use any tools with sharp blades. Cordless pole saws can easily cut through the hand or cut off the fingers. That is why check and double-check safety guidelines before turning the pole saw on:
Carefully read the guide/manual

. It is important to learn the technical specifications of a certain pole saw. Sometimes the instruments do not have a detailed manual. Look for the guidelines on the box or the tool itself;

Wear protective gear. A hard hat, goggles, a mask, work gloves and leather/rubber boots with solid footing are must-have things to wear when you use a pole saw of any type. Also, take off all the jewelry and watches before turning the instruments on;
Use the tools only for pruning trees

. Many gardeners claim that pole saws can only cut and trim the tree branches or bushes. Otherwise, you may get cut. For other purposes, use scissors;

Check the weather forecast

. Do not use a pole saw when it is too dark, cold, windy or wet;

Remove the obstacles before pruning

. Get rid of the dead branches or wood decay before reaching the taller twigs. Clean the ground as well – a 50-feet perimeter in all directions;

Double-check the pole saw

. The string and teeth must be oiled/lubricated. The tool should have any missing or worn out teeth. Check the safety mechanism (locks) before turning the pole saw on;

Keep it in an upright position

. The pole saws of any type are easier to handle when they are upright;

Never cut directly above yourself

. One wrong move… and a huge falling tree limb lands on your head. Try to stay away from the branches when cutting them;

Your feet must be balanced

. Keep both feet on the ground during the entire time when working with a pole saw. Grab the handle with both hands. Never use the tool with one hand;
How long does it take to charge the battery?
The charge time of battery-based pole saws depends on the battery type. According to the user feedback, such batteries require from 2 to 6 hours for the full charge.
A fully charged battery-based pole saw can do from 20 to 40 cuts before you need to charge it again.
That is why you may need a few batteries charged to replace them if you are going to cut the branches or bushes for a whole day. The feedback was about 20V pole saws that work from standard batteries.
Does Stihl make a battery-powered pole saw?
A few popular pole saw brands have been already mentioned. But one more manufacturer deserves to be called the best when it comes to the production of cordless pole saws. Stihl offers a wide range of battery-powered pruners and pole saws. They are available in fixed-length and telescoping options. In addition to the extension, these tools offer quiet and powerful performance.
Check the Stihl HTA lineup. According to the user feedback, all Stihl HTA pole saws are good when it comes to pruning tall trees.
How long do Stihl Lithium batteries last?
Cordless Stihl pole saws are based on rechargeable Lithium batteries. The service life of these batteries depends on 3 major factors:
proper maintenance;
proper storage;
the number of charge cycles (a charge cycle is a full battery charge from 0% to 100%);
The Lithium PRO batteries charge the most recent Stihl pole saws. These batteries can be fully recharged up to 1200 times. The manufacturer promises 440 charge cycles per year. It means that most batteries in cordless Stihl pole saws can last up to 3-4 years of heavy-duty use.
If you want to learn more about Stihl batteries, visit the official website.
How far can a pole saw reach?
Cordless pole saws have the maximum reach. A battery-powered tool typically weighs less than 10 pounds and on average can reach up to 20 feet. If you need a longer reach, consider buying extensions for pole saw rods. They can easily add 6-8 feet to the default reach parameters.
Which cordless pole saw is the easiest to use for beginners?
The BLACK+DECKER 20V MAX Pole Saw is the easiest to use for beginners. It is lightweight and has a simple design, making it easy to handle and maneuver.
What is the best cordless pole saw for cutting thick branches?
The EGO Power+ PSA1000 10-Inch Pole Saw is the best cordless pole saw for cutting thick branches. It has a 10-inch bar and chain, making it ideal for heavy-duty cutting jobs.
What is the most durable cordless pole saw?
The DEWALT DCPS620M1 Cordless Pole Saw is the most durable cordless pole saw. It is built with high-quality materials and has a sturdy design that can withstand heavy use.
What is the best cordless pole saw for trimming trees?
The Ryobi ONE+ 18V Cordless Pole Saw is the best cordless pole saw for trimming trees. It has a lightweight design and a long reach, making it easy to trim trees of all sizes.
What is the best cordless pole saw for home use?
The Sun Joe SWJ800E 8-Inch 6.5-Amp Telescoping Electric Pole Chain Saw is the best cordless pole saw for home use. It is affordable, lightweight, and easy to use, making it ideal for DIY projects around the house.
What are the advantages of using a cordless pole saw?
Using a cordless pole saw provides a lot of benefits, including freedom of movement, lightweight design, and zero emissions. It's a great tool to use for pruning trees and shrubs without the restrictions of a power cord or the loud noise and fumes of a gas-powered model.
What type of battery is best for a cordless pole saw?
Lithium-ion batteries are the best option for cordless pole saws. They are lightweight, rechargeable, and have a long battery life. They also offer consistent power output throughout the battery's life, making them ideal for power-hungry tools like pole saws.
What safety precautions should I take when using a cordless pole saw?
Always wear protective gear like gloves, safety glasses, and ear protection. Make sure the chain is properly lubricated and adjusted before use. Don't use the saw when it's raining or on wet surfaces. Keep a safe distance from bystanders and wear slip-resistant shoes. Follow the manufacturer's safety instructions and never use the saw above shoulder height.
Can a cordless pole saw cut through thick branches?
Yes, a cordless pole saw can cut through thick branches, but the maximum thickness will depend on the saw's power and bar length. For thicker branches, it's recommended to use a gas-powered pole saw. However, with the advancement of battery technology, cordless pole saws are becoming more powerful and capable of handling thicker branches.
What is the average runtime of a cordless pole saw?
The runtime of a cordless pole saw depends on the battery capacity and the power of the motor. On average, a cordless pole saw can run for 30 minutes to an hour on a single charge. It's important to have a spare battery or a quick-charging option if you need to use the saw for an extended period.
How do I maintain my cordless pole saw?
Regular maintenance is essential to keep your cordless pole saw in good working condition. Clean the saw after each use, sharpen the chain regularly, and check for any signs of wear and tear. Lubricate the chain and bar before use, and store the saw in a dry, cool place. Follow the manufacturer's maintenance instructions for the best results.
Conclusion
Have you chosen one of the pole saws shown in the reviews? All five of them have great build quality and have a lot in common with each other. Many of the differences are nuanced, which is why you should look at the Buyer's Guide for detailed tips to help you pick if you haven't already. However, two out of the five products stand out the most. They are the Black and Decker LPP120 and Greenworks 40-Volt Pole Saw (listed as the first and second products at the top). If you value things like cutting speed and ease of handling, both of them can help you get your tree branches cut quickly. Yet this isn't to say that the other products are more rudimentary. In fact, you might like their attributes more. Go with the cordless pole saw that you know is right for your home or work; you won't be disappointed.
---