---
If you're in the market for a new chainsaw, then this Sun Joe SWJ701E review is just what you need to read! Chainsaws can be a great addition to your lawn maintenance routine if they are well-maintained and used responsibly.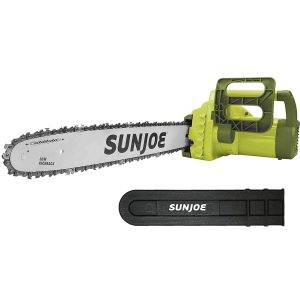 This particular model from Sun Joe weighs just over nine pounds and is less than 18 inches long so it's perfect for transporting around the yard or cutting firewood at home. If you have been looking for a lightweight chainsaw that won't break the bank, this one might be worth considering.
---
Sun Joe SWJ701E User Manual
Having problem? Download Sun Joe SWJ701E instructions.
---
Specifications:
The dimensions of the tool are 34.5 x 7.8 x 10.3 inches;

Corded electric chainsaw;

It weighs about

9.7 pounds;

The bar is 18 inches;

120 Volts;

60 Hz;

14-amp motor;

Oil capacity is 3 fluid ounces;

8,000 RPM;
Main Features and Overview
This powerful machine handles tough cutting jobs with excellent efficiency. The quick and easy start button, 18-inch self-lubricating Oregon bar and chain, ergonomic handle, hand guard with kickback brake function all combine to make this electric chainsaw an excellent choice for home use for limbs, firewood, or logs of any size.
Design 
The Sun Joe SWJ701E is mostly made of plastic components. This makes it lightweight while also allowing it to endure the demands of light/medium duty cutting.
A familiar rear handle style comes in Sun Joe's traditional green and yellow hues. An oil cap, readily accessible and it has a slight slope for quick oil reservoir filling. The oil level window can be seen just below the cap. 
A single end cover nut holds the sprocket cover in place, which is topped with a decorative cap. 
Although this model comes with plastic bumper spikes as standard equipment, you can also add them as an option if desired.
The front handle and handguard are on the left side of the saw (which also serves as the chain brake). The brake is activated by pushing forward on this guard, which must be removed before the saw will start. The safety lock button and trigger are located nearby. 
The handle grip is padded and provides a firm grasp on the chainsaw. You should keep in mind that the power cable is only about a foot long, therefore an extension cable will be required.
Overall, this isn't the most robust product on the market, so it'll need some attention. Given the low cost, this is to be expected.
The unique design features:
1) 18-Inch Reach
This chainsaw has a blade length of 18 inches, making it ideal for small to medium cutting tasks. It is certainly longer than the blade on my first chainsaw, which measured 14 inches, and I was still able to finish several tasks with it. It should be more than enough for most household trimming duties.
2) Self-Lubricating Option
A chainsaw without an automatic oiling function, as is the custom in the industry, would be considered sabotage by the manufacturer. It's not surprising that this machine has one since it ensures that the blade and chain get enough oil to operate efficiently. Without it, your chainsaw's life span would be significantly shortened.
Performance 
Definitely, the tool is designed for beginners. With a single push of a button, this saw's 14-amp motor is simple to start. The hefty 18-inch bar has plenty of power to handle big limbs, logs, firewood, and branches, yet it performs equally well on smaller cleanup tasks.
The most amazing thing about this incredible saw is that, while it appears to be hefty and authoritative, it is actually light and simple to use at just 9.7 pounds. 
Furthermore, the chainsaw has an adjustable ergonomic handle that works in tandem with this saw's comfortable design to help you get the most out of your efforts during longer, harder tasks.
Keep in mind that kickback, which is one of the most typical causes of severe chainsaw injuries, happens when the moving chain at the nose or tip of the guide bar comes into touch with an object. Or when the wood closes in on the cut and pinching the chain results in a rapid reverse reaction, kicking up and right back to the user.
Make sure the equipment you are using can minimize chainsaw recoil. That is why it has a kickback brake to reduce reactive forces and makes sawing safer. This chainsaw features an immediate push-button start, so it's simple to get started right away.
The bar and chain are lubricated on demand by the automatic chain lubrication system, which ensures durability and increases chain life while providing the proper lubrication to ensure the best cutting performance without all the hassles. There's a handguard and a safety switch that keeps you from inadvertently turning it on.
The device comes with a tool-less chain adjustment, which means that it will provide strong cutting with fast, smooth cuts. This saw has kept the standard homeowner in mind by incorporating many of the higher-end bells and whistles of a performance-based chainsaw but in a lighter version with safety, flair, and comfort in mind.
The majority of users appreciated that this saw does not cut corners on important features and customer requirements, but it still makes this fit and appeals to everyone, even those with little expertise. This saw is well-designed and constructed properly, which provides a superb match for more experienced saw experts while yet being light and safe enough for novices.
Motor
Another thing to keep in mind is that this chainsaw is not gasoline-powered. Instead, it runs on electricity. While this isn't necessarily a negative thing, you'll need an outlet with steady power. 
Despite this, the large 14-amp motor has plenty of punch for even the most difficult jobs. However, be advised that when using the chainsaw for a lengthy period, do not apply too much pressure since this will cause the engine to heat up excessively and possibly burn out. 
With 14 amps of power, this motor can easily cut through many logs. After an hour's work, this chainsaw will pay for itself in no time.
Cutting Ability
The tool is a very robust machine. It cuts through thick wood (for example, 16 to 20 inches in diameter) very well. However, it isn't as quick as a gas chainsaw, but it's fast enough that if you only use it once in a while, you wouldn't really mind.
One thing to keep in mind is that the power trigger isn't variable – it's basically an on/off switch, so you can't feather the throttle.
Electric chainsaws also have certain advantages over gas chainsaws, such as less maintenance required (especially if you don't use your chainsaw often), less noise, no dangerous gases, and quick start-ups.
Tips for users: a chain holding tension is another common problem, with most consumers not having that issue. Before using the tool, be sure to fully tighten the chain.
Automatic Chain Oil Lubrication
The automatic oiler makes it simple to keep the cutting equipment well lubricated, so you won't have to worry about manually releasing oil to the bar during cutting. Because of this, the system is one of the most common fixed-flow types, and the rate of flow can't be changed.
The cap, which is conveniently accessible on the side of the saw, contains oil. 
The reservoir has a capacity of 3 fluid ounces, and the saw consumes approximately 6 mL of oil per minute. If my calculations are correct, you should be able to cut 15 minutes between refills; however, you may easily check the oil level by looking through the translucent window. This product does not include any oil.
Ensure that the reservoir is properly refilled with bar and chain oil. A decent quality bar and chain oil (choose vegetable-based oil if you are going to prune) should be used, but unused SAE 30 weight motor oil can be substituted if this is not accessible.
Oil, like with many other chainsaws, leaks when stored. If this is a recurring problem for you, consider draining the tank after each usage and keeping an eye on where you store the tool.
Hand Guard
The device has a large hand guard to protect you from falling pieces of wood, which is a fantastic safety feature – there's not much more to say about this, but it feels robust.
Cord
Because it is a cord-powered chainsaw, you'll need one to use it. If you already have an appropriate gauge rating on an existing cord, you will have to buy another one.
A gauge rating of 14 AWG or lower is ideal for electrical cords up to 50 feet.
A gauge rating of no worse than 12 AWG is required for cords that are longer than 50 feet but no longer than 100 feet. If you're using a long extension cord than 100 feet, don't use this tool.
Pros & Cons of Sun Joe SWJ701E
---
The Buyer's Guide
Alternatives of Sun Joe SWJ701E:
1) BLACK+DECKER Lopper Chainsaw
At first sight, you may believe this is a big-duty wrench rather than a chainsaw. That it's one of the top electric chainsaws for little jobs.
The easy-start mechanism and "alligator" shape eliminate the guessing game about how to use a chainsaw safely.
Without the risk of kickback, you can cut simply through wood with this device. 
Tips for users: simply grab the wood between the "jaws", pull the trigger, and squeeze the handles together to make a clean cut in a matter of seconds.
You can swiftly clear trees or clean up fallen wood with this chainsaw.
The automatic oiler lubricates the bar and chain. Simply add a few drops to the reservoir before each use.
It also has a unique tool-less chain tensioning function that sets the correct tension after you remove the two chain cover retention nuts.
When it comes to this little corded chainsaw, BLACK+DECKER thought of everything. It's possible that it's exactly what you've been searching for.
2) Sun Joe SWJ800E Corded Pole Chainsaw
It's also very cheap, and it takes the hassle out of pruning overhanging branches and trees up to 7.5 inches thick. You may extend your reach by 8.7 feet in the air with just a few turns of the telescoping pole. For someone of average height, that equates to roughly 14 to 15 feet of ground distance.
The ideal aspect is that this chainsaw only weighs 7 pounds, making it simple to manage overhead and for lengthy periods of time.
Because this electric chainsaw is designed for long reach, the automatic oiler is ideal for lubricating the bar and chain. You'll never have to get your hands dirty.
The tool-less chain tensioner is also simple to use, requiring just a few turns of a screw.
If you're searching for a chainsaw that makes pruning your overgrown trees easier and safer, this is an outstanding cost-effective option.
3) WORX WG309 2-in-1 Corded Electric Chainsaw
If you enjoyed my last evaluation but would rather have a pole saw that can also be transformed into a handheld chainsaw, this will be a better alternative for you.
For example, it can be one of the best corded electric chainsaws for suburban homeowners.
The best thing about the device is that it gives you everything you need to keep your trees in good shape. What's great about this chainsaw is that after you use the pole to cut down high-up limbs, you can then utilize it as a conventional chainsaw to chop up the fallen wood.
It's a touch heavier than my previous pick, weighing in at 10 pounds, but it's well worth the 2-in-1 feature. Pole reach is comparable to the preceding model (8 feet).
It advertises itself as being "tool-less", yet it actually employs a knob to alter chain tension; nevertheless, it does prevent inadvertent over-tightening.
Another thing to keep in mind is that the chainsaw appears to have a Chain Brake, which protects the operator, but it's only a top handguard with no chain-stopping technology.
4) Sun Joe SWJ698E Electric Chainsaw
At 12 inches, you'll be operating a full-size chainsaw.
Pole attachments are not available for this big saw because it makes them unsafe to use at long ranges. They're also intended for cutting trees and wood on the ground.
You may cut through wood up to 11.5 inches thick with a corded electric chainsaw like this. A simple squeeze of the trigger suffices for cutting thick tree branches, chopping up a stack of logs, and trimming a cord of firewood.
The weight of this machine, which is just over 7 pounds, makes it ideal for extended cutting sessions. The Automatic Oiler removes all of the guesswork out of bar and chain lubrication.
Another disadvantage of this device is that it does not include a tool-less chain tensioner, but rather has a tiny screw that requires a screwdriver adjustment.
Another thing you might want to know is that this model does not include a chain brake. The prominent plastic component in front of the top handlebar serves only as a handguard.
5) Greenworks 2022 Corded Chainsaw
A 14-inch chainsaw is considered the ideal size for many people. And this model is a fan favorite model for sure.
It's also one of the lightest corded chainsaws on the market, weighing in at only 8 pounds. It has a small design that is simple to grasp for lengthy cutting sessions and is very lightweight.
The reality is that for little projects like pruning, trimming branches, and removing trees up to 12 inches in diameter, this chainsaw has more than enough capacity.
It comes with a wraparound handguard in addition to a chain brake, which adds some protection against flying debris when cutting.
This model has an automatic oiler, so you won't have to worry about oiling your bar and chain again. 
The tool-free chain tensioner also works without the use of a separate tool, ensuring quick and dependable chain tensioning.
For the price, this electric chainsaw can't be beaten. It also comes fully assembled and ready to cut right out of the box, so all you have to do is attach it to an outlet.
Factors to Consider When Buying Sun Joe SWJ701E Chainsaw
When looking to purchase a Sun Joe SWJ701E chainsaw, there are several important factors to consider. These factors can help you determine whether this particular chainsaw is the right choice for your needs.
| Factor | Description | Importance |
| --- | --- | --- |
| Bar Length | The length of the chainsaw's cutting bar, measured in inches | High |
| Power Source | Whether the chainsaw is powered by electricity or gasoline | High |
| Motor Power | The power output of the chainsaw's motor, measured in amps or horsepower | High |
| Chain Speed | The speed at which the chainsaw's chain moves, measured in feet per second | Medium |
| Weight | The weight of the chainsaw, measured in pounds | Medium |
| Noise Level | The amount of noise produced by the chainsaw, measured in decibels | Low |
| Cutting Capacity | The maximum size of the material that the chainsaw can cut | Low |
| Price | The cost of the chainsaw | Low |
This table compares several important factors to consider when purchasing a Sun Joe SWJ701E chainsaw. These factors include the bar length, power source, motor power, chain speed, weight, noise level, cutting capacity, and price. Bar length, power source, and motor power are considered high importance factors because they have a direct impact on the chainsaw's cutting ability. Chain speed and weight are medium importance factors because they can affect the chainsaw's usability and performance. Noise level, cutting capacity, and price are low importance factors because they have less of an impact on the chainsaw's performance and usability. By considering these factors when purchasing a chainsaw, you can make an informed decision and choose the chainsaw that best meets your needs.
FAQ
What are the best uses for this saw?
This tool is recommended for cutting/limbing/pruning firewood, branches, bushes, thin trees, and logs. 
What is the horsepower of this saw?
It has an output of 14 amps, so 1,680 Watts (14 amps x 120 volts = 1,680 watts) and 0.00134 horsepower/watt should be about 2.25 horsepower. Electric motors are generally 80 percent efficient, therefore the best guess would be around 1.8 horsepower.
What size chain sharpening file is needed?
The Oregon S62 chain on this saw utilizes a 5/32-inch file (4mm), which is smaller than the teeth of the previous saw in the Sun Joe lineup of corded electric chainsaws.
Is this fully assembled when it arrives?
It arrives semi-assembled which is why it can be great for beginners as well. 
What's the warranty on that saw?
 The manufacturer offers a limited 2-year warranty for this particular product. 
Will this chainsaw do well cutting very hardwoods like dried mesquite?
According to some Amazon reviews, this portable chainsaw won't cope with such tasks. 
Does it work with 220 volts?
Since it is made in the United States this chainsaw only fits 110 volts. 
Where is the Sun Joe pole saw made?
Some products by Sun Joe are made in the United States while others are manufactured in China. Always check the manual for the product before buying.
What is the cutting capacity of the Sun Joe SWJ701E chainsaw?
The Sun Joe SWJ701E chainsaw has a cutting capacity of up to 9 inches in diameter, making it suitable for most residential trimming and pruning tasks.
What is the weight of the Sun Joe SWJ701E chainsaw?
The Sun Joe SWJ701E chainsaw weighs around 9.7 pounds, making it lightweight and easy to handle.
Is the chain tension adjustable on the Sun Joe SWJ701E chainsaw?
Yes, the Sun Joe SWJ701E chainsaw has an easy-to-use chain tensioning system that allows you to adjust the chain tension quickly and easily.
What is the length of the bar on the Sun Joe SWJ701E chainsaw?
The Sun Joe SWJ701E chainsaw comes with a 18-inch bar and chain, which is perfect for most residential trimming and pruning tasks.
Is the Sun Joe SWJ701E chainsaw electric or gas-powered?
The Sun Joe SWJ701E chainsaw is an electric chainsaw, powered by a 14-amp motor, which makes it environmentally friendly and easy to use.
What is the oiling system like on the Sun Joe SWJ701E chainsaw?
The Sun Joe SWJ701E chainsaw has an automatic oiling system that keeps the chain lubricated during use, helping to prolong the life of the chain and bar.
Does the Sun Joe SWJ701E chainsaw come with a safety switch?
Yes, the Sun Joe SWJ701E chainsaw has a safety switch that prevents accidental start-ups, helping to keep you safe while using the chainsaw.
What is the maximum chain speed on the Sun Joe SWJ701E chainsaw?
The Sun Joe SWJ701E chainsaw has a maximum chain speed of 12 meters per second, which makes it powerful enough to tackle most residential trimming and pruning tasks.
Can the Sun Joe SWJ701E chainsaw be used for cutting down trees?
No, the Sun Joe SWJ701E chainsaw is not recommended for cutting down trees or other heavy-duty tasks. It is designed for lighter residential trimming and pruning tasks.
Is the Sun Joe SWJ701E chainsaw easy to assemble?
Yes, the Sun Joe SWJ701E chainsaw is easy to assemble, and it comes with all the necessary tools and instructions you need to get started.
What safety features does the Sun Joe SWJ701E chainsaw have?
The Sun Joe SWJ701E chainsaw has several safety features, including a safety switch to prevent accidental start-ups, a handguard to protect your hand from the chain, and a kickback brake that stops the chain if it encounters a sudden impact.
What type of extension cord is recommended for use with the Sun Joe SWJ701E chainsaw?
The Sun Joe SWJ701E chainsaw requires a 14-gauge or heavier outdoor-rated extension cord that is no longer than 100 feet. Using the correct extension cord will help ensure the chainsaw operates safely and effectively.
Can the Sun Joe SWJ701E chainsaw be used for cutting through ice or snow?
No, the Sun Joe SWJ701E chainsaw is not recommended for use on ice or snow. It is designed for use on wood and other similar materials only.
How loud is the Sun Joe SWJ701E chainsaw?
The Sun Joe SWJ701E chainsaw has a noise level of around 108 decibels, which is similar to the noise level of a motorcycle or loud rock concert. It is recommended that you wear ear protection while using the chainsaw.
Is the Sun Joe SWJ701E chainsaw easy to maintain?
Yes, the Sun Joe SWJ701E chainsaw is designed for easy maintenance, and it comes with a tool-less chain tensioning system and an automatic oiling system that helps keep the chain lubricated. Regular cleaning and maintenance will help keep the chainsaw running smoothly.
What is the price range for the Sun Joe SWJ701E chainsaw?
The price of the Sun Joe SWJ701E chainsaw varies depending on where you purchase it, but it generally falls in the range of $100 to $150.
Video Guide: SWJ700E – Sun Joe Saw Joe 16-Inch 14-Amp Electric Chain Saw
Final thoughts
You'll get more of the cutting done with the powerful Sun Joe SWJ701E 14-amp electric chain saw. It can tackle tough jobs like limbs, firewood, and logs with ease! The bar and chain are 18 inches long, which will get you through large tasks quickly.
In addition, this machine has great features that increase usability – handguard, kickback brake function for safety, lightweight design for comfort, automatic oiling system to help enhance your experience. 
---