If you're looking for an easy and efficient way to prune trees and shrubs, a Ryobi One+ Pole Saw is the perfect tool for the job. With its telescoping pole, this saw can reach branches high up in the tree without having to climb up and get them yourself. Plus, its 8-inch bar and chain make quick work of even large branches.Ryobi has combined its batteries to make all ONE+ devices compatible with the same 18V battery.
The Ryobi ONE+ can reach up to 9.5 feet further than previous models, or about 114 inches. You won't need a step ladder to access high locations anymore [1].
The ONE+ is the tiniest of the bunch, with an 8-inch bar that provides a 6-inch cutting capacity. It isn't ideal for big yard work, but it's more than enough for tree pruning.
The pole saw's motor is built into the handle, so you won't have to worry about obstructing your line of sight with it.
Further, our pole saw experts will take a closer look at the features of the Ryobi One+ Pole Saw and see why it's such a popular choice among homeowners and professionals alike.
---
Ryobi One+ Pole Saw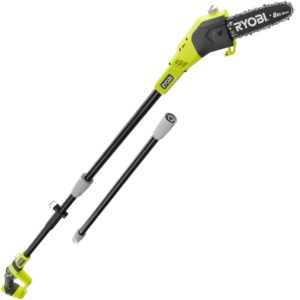 Features of Ryobi One+:
18V Handle Pole
Operates at 6.5 ft. or 9.5 ft.
1 hour quick charger included
Specifications:
The dimensions are 41 x 6.3 x 10.3 inches;
The weight is 7.4 pounds;
Air-powered;
8-inch length of the blade;
Has an automatic brake;
Has a shoulder harness;
Can be extended up to 9.5 feet;
18-Volt battery;
1 Lithium-ion battery is required (not included);
The maximum cutting diameter is 6 inches;
In-line power motor;
Includes an automatic chain oiler;
Limited 3-year warranty;
Design
The Ryobi 18-Volt Cordless Pole Saw has a solid, lightweight construction. It has a comfortable and smooth grip that won't slip when gripping it, and when the pole is fully extended, it can keep its accuracy while withstanding some wobble, but it will prune your overgrown tree branches effectively comfortably [2].
This is a very light pole pruner, weighing only 8 pounds when fully erected with a battery. When compared to other types on the market, this is a rather lightweight pole saw. Because using a heavier saw might put your safety at risk, Ryobi's weight (8 lbs) can be effective for even an average person.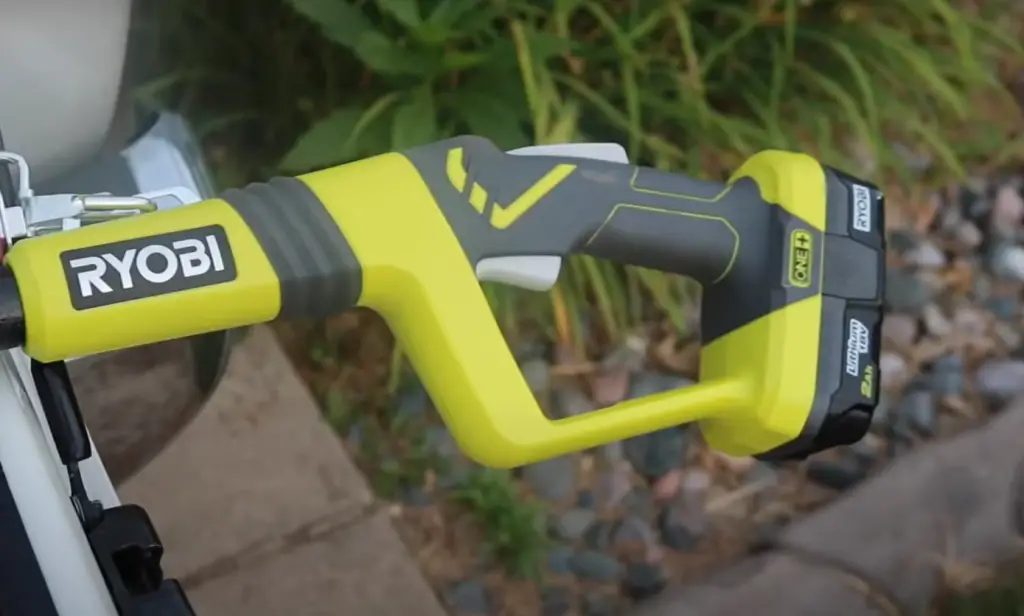 The pole is extendable, measuring up to 9.5 feet from the ground when fully extended. This gives it a total reach of 12 to 15 feet, making the pole easy to adjust for various lengths to handle numerous sorts of long-reach prunings.
The cutting head is positioned at the end of the pole, and it's where you'll find the chain and blade. The cutting head is also adjustable, meaning that you can set it at different angles to reach higher branches without having to put your back into it or use a ladder.
The Ryobi One+ Pole Saw has an in-line power motor that makes trimming branches easier than ever before. With its powerful 18-volt battery, this saw can handle even the thickest branches with ease. And because the motor is built into the handle, you won't have to worry about obstructing your line of sight with it.
The pole is equipped with a semi-transparent tube that holds the bar oil reservoir and allows you to observe when it's time to add more lubricant, which is really helpful because it eliminates the guessing game of when to oil the saw and prevents harm.
Performance
The 8-inch bar pole may be used to cut branches that are quite robust, as small trees can readily be chopped down with the Ryobi 18v cordless pole saw. The powerful Ryobi 18 volt pole saw with lithium-ion battery drives the 8-inch chainsaw with an inline motor for proper pruning and has 2.52Nm of torque for improved cutting performance.
It offers a 9-foot overall length and is built to endure. Because of this, it will provide enough reach in hard-to-reach areas. It includes features like an immediate-starting system that makes it one of the greatest right now. The combination of an automatic oiler system and a 6-amp electric motor provides for exceptional performance.
For those of you searching for a cordless (i.e., battery-powered) pole saw, the Ryobi One+ could be ideal. Some people prefer gas-powered pole saws, and they are effective.
However, gas-powered saws are heavier than electric models and difficult to use for lengthy periods of time – many people simply get tired from carrying the gas-powered tools around.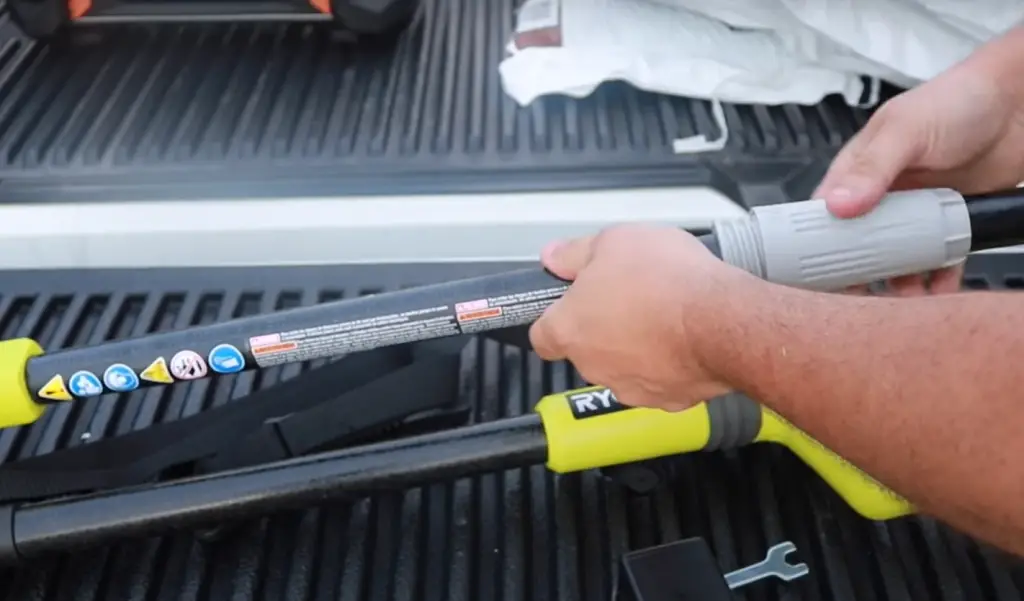 The Ryobi pole saw is an excellent choice for anyone with landscaping work or even light construction that includes cutting branches. The performance of this 18v cordless Ryobi pole saw is terrific, and it's a great value for the price.
The Ryobi One+ Pole Saw comes with a shoulder strap to help relieve some of the weight from your arms while using it. This is a feature that not all pole saws have, and it makes a big difference in terms of comfortability and fatigue.
It also has an automatic chain oiler system that keeps the chain lubricated while you're working. This is another feature that helps to extend the life of your saw and keep it running smoothly.
The Ryobi One+ won't make you tired, and it will provide enough energy to complete the task. A lightweight pole saw might be useful for pruning a large number of trees in your yard [3].
---
Ryobi One+ Pole Saw User Manual
Having problem? Download Ryobi One+ 8 in. 18-Volt 9.5 ft. Pole Saw instructions.
---
Pros & Cons of Ryobi One+
The Ryobi One+ Pole Saw is the perfect tool for light-duty pruning and trimming.
It is part of the Ryobi One+ lineup, which is known for its high quality and performance
. The pole saw is lightweight and portable, making it easy to use and carry around. It has a maximum reach of 9.5 feet, making it ideal for reaching high branches.
The pole saw also features an automatic chain oiling system that keeps the chain properly lubricated during use. Additionally, the pole saw has a comfortable grip that makes it easy to hold and use for extended periods of time.
---
The Buyer's Guide
Main Features
Quick View Oil Indicator
This is a dedicated chain and chain oiler designed to operate flawlessly with no dilution required. The pole saw does not include the additional chain oil when you initially receive your package. Instead, to add the chain lubricant, remove the oil reservoir on top of the chainsaw and fill it with your own oil. Make sure you don't overfill the tank.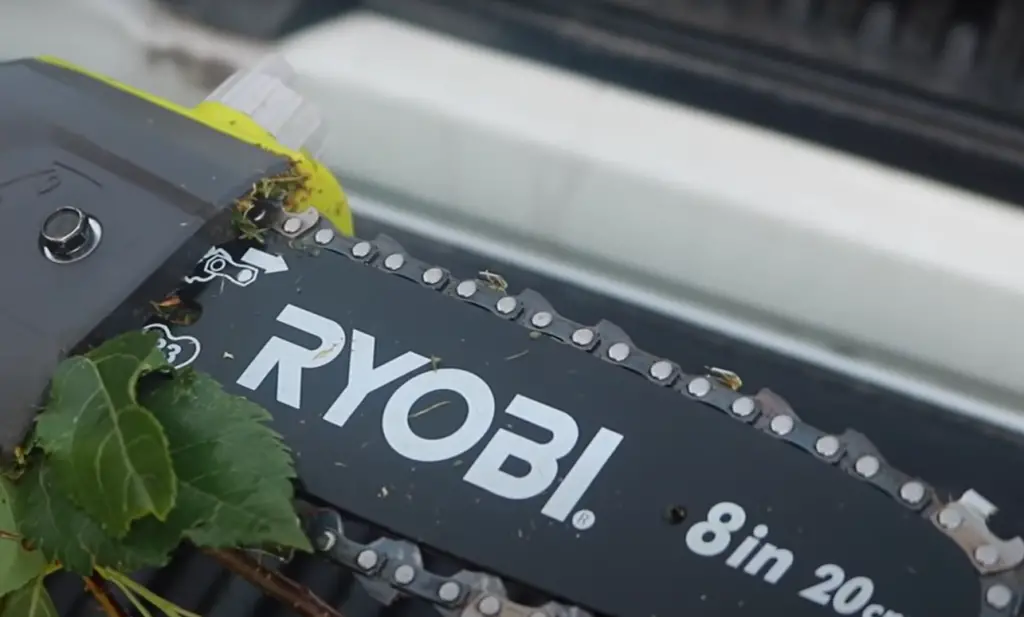 To extend the chain's life, check it regularly and replenish it as needed.
If you're going to leave your chain saw sitting for an extended period of time, lubricate the chain lightly to keep it from rusting away.
Lockout Button
When working on your yard, there's nothing more important than being safe. If you do not handle the pole saw correctly, you risk hurting yourself or causing damage to the equipment. 
As a result, the Ryobi pole saw includes a lockout button so that it will not start unintentionally and is built in such a way that you must press both buttons at the same time to operate it.
Battery Charging
The pole pruner is powered by a 2Ah battery and charger, which has 60 minutes of charging capacity to fully charge it. This means you can replace batteries with other Ryobi tools if you want, as the battery is light, small, and compatible with other Ryobi brands.
The battery is also removable so that you can easily swap it out with a Ryobi One+ battery if needed.
All in all, we were very pleased with the Ryobi One+ Pole Saw. It's a great tool for pruning trees and shrubs and makes quick work of any job.
Noise Levels
When it comes to the noise produced by these tools, gas-powered saws are not the quietest. When you're cutting for a long period of time. However, the chainsaw produces a considerable amount of noise that necessitates the use of ear protection equipment when utilizing the tool.
The good news is that the Ryobi One+ Pole Saw is one of the quietest saws on the market, and you can easily use it without ear protection.
Shoulder Strap
The pole saw comes equipped with a pole mount shoulder strap that makes trimming and cutting branches a fun pastime. The shoulder leash allows you to trim more while still getting the added support of working for longer periods in the yard or garden.
The ability for the strap to easily adjust and quick release, making it possible for anybody wearing it to readily put it on or remove it with ease, is what makes this option stand out.
The Ryobi One+ Pole Saw is a great tool for pruning trees and shrubs. It's easy to use and comes with a shoulder strap for added support.
---
FAQ
Will the battery fit the other power tools from Ryobi?
Yes, any 18-volt battery can do the job.
Can you rotate the blade to cut 90 degrees?
The angle of the blade can't be adjusted. You'll need to make sure you're cutting at the correct angle.
Is the pole removable for use?
No, the 5-foot pole can't be removed. The saw is designed to be used with the pole attached.
Can you add extra extensions?
The maximum length is six feet, so you can't add any extensions. And thanks to its extendable pole, you can reach up to five feet high with ease.
Does it also have a plug?
No, it is a cordless model with an 18-Volt battery.
How do you retain the chain?
Remove the Allen head screw at the base where the bar connects to the saw, then insert and tighten the little screw that moves the chain.
Is it supposed to leak so much oil?
It is normal for two-cycle engines to leak a little bit of oil.
How many amps does the battery need to be?
The small battery is adequate for smaller tasks, but if you're cutting thick branches or numerous smaller ones, the bigger battery is recommended.
Can this be used without the pole at times?
The extension pole is not required, but the other poles are not detachable.
Where is the "quick view oil indicator"?
The transparent plastic that surrounds the oil input is what makes it semi-transparent. It's not very simple to detect unless the light is just right.
How long will the saw run on a single charge?
About 15-20 minutes per single battery charge.
Can this tool be used to trim hedges?
Yes, but it's really made to cut high branches and the cutting area is quite tiny for a hedge. It's not really designed to do that.
Video Guide: How To Use Ryobi One+ Pole Saw
Final thoughts
Are you looking for a lightweight and powerful pole saw that can help you with your light-duty pruning and trimming? If so, then the pole saw is the perfect tool for you! This pole saw is part of the Ryobi One+ lineup, which is known for its affordable and reliable power tools.
The Ryobi One+ Pole Saw is very lightweight and portable, making it easy to use and transport. It also has a maximum reach of 9.5 ft, so you can easily reach high branches. Plus, this pole saw has an automatic chain oiling system that keeps the chain lubricated, making it easier to use and less likely to get stuck.
---
References:
https://www.ryobitools.com/products/details/46396005335
https://cornygardener.com/ryobi-18v-cordless-pole-saw-review
https://sawwinner.com/ryobi-cordless-pole-saw-review/