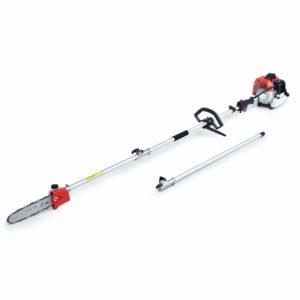 Max engine power: 1100W
Cutting length 10 Inch
Fuel tank capacity 500ml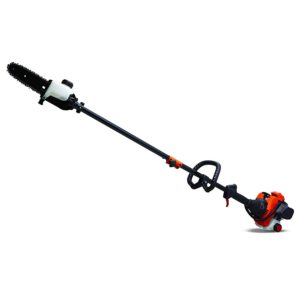 QuickStart technology
Low-kickback 8-inch bar
2-year limited warranty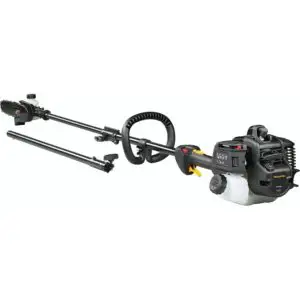 SureFire Fuel Delivery System
8-inch cutting bar
Type of shaft : Straight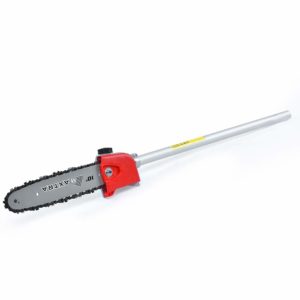 Engine displacement: 42.7cc
Engine type 2 cycle, air cooled
Max engine speed: 7500 r/min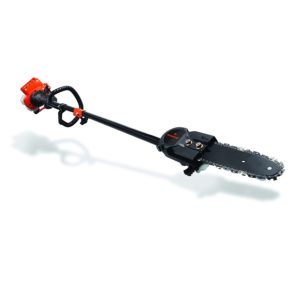 25cc 2-cycle engine
Automatic oiler
Reach up to 12 feet
Sometimes, using electric power tools isn't enough to get you through a tough job. And while they can be useful for many purposes, gas-powered tools are often preferred to take on the more difficult tasks. Cutting branches from trees is a perfect example. But what if you combine the power of a gas chainsaw with an extender that would make ladders redundant? Gas pole saws can do just that and a lot more. There are five of them shown in the reviews below, each carrying benefits that were carefully chosen. You can use the comparison list and Buyer's Guide for time-saving tips and stats to help you pick the one that interests you. In the end, two of the best overall products are named.
Maxtra Gas Pole Saw – Best Gas Pole Saw for Long Reach (Editor's Choice)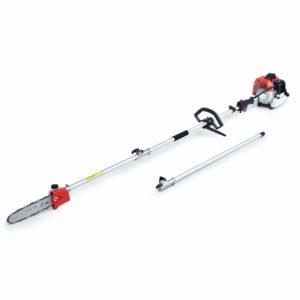 The Maxtra Gas Pole Saw will make things easy for you, no matter if you're cutting down branches from your property or using it for work purposes. The saw blades are sharp, and shouldn't go dull for a long time. As for reach, you can easily cover up to 15 feet with it when the pole is fully extended.
It works well work most tree species, including oak and pine trees. There's not much effort to it when cutting, meaning that you don't have to place too much strength into it when the machine is in operation. When you're done cutting limbs, feel free to move on to other duties around the yard. The Maxtra is an outstanding hedge clipper. Try it out if you need a pole saw that has an easy startup, or one that you plan to use for things others limb cutting.
Has a total reach of up to 15 feet
Can alternatively be used for various landscaping jobs
Cuts though oak and pine with no high risk of jamming
The chain shield will need to be replaced early in the saw's lifetime; wears down fast
---
Remington RM2599 – Best Gas Pole Saw for Beginners (People's Choice)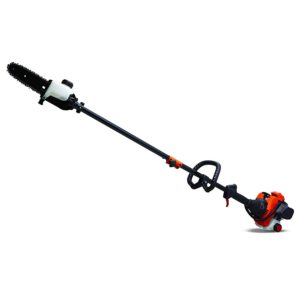 Just be looking at it, you can probably tell that the Remington RM2599 is very lightweight. You can pick it up easily, giving it the same handling that you may have seen on electric saws (but more powerful).
It doesn't matter if the pole is retracted or extended out to its limit, the weight will never slow you don't or tire you out too early during work.
Build quality is just as nice. Nothing will break too soon, and all parts are likely to go past the product's warranty date. When you turn it on and get ready to cut, check out how quickly it can get through limbs. It cuts through most specimens like butter. You will have to make some adjustments to the chain before you use it. However, it's something that you would have to do with other power saws of this type as well.
Lightweight all the time, including when the pole is fully extended
Parts are made of high quality and won't break easily
Cuts off branches quickly, either horizontally or vertically
Loosening the chain may require adjusting the screw (saw must be opened to do this)
---
Poulan Pro PR28PS – Best Gas Pole Saw for Fast Startup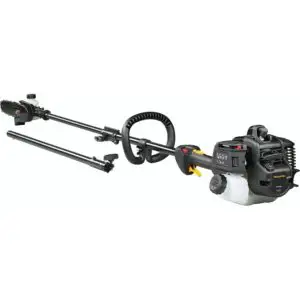 The Poulan Pro PR28PS is an all-around good pole saw, with very few flaws. It's self-lubricating, which means that your blades and chains will stay in shape and likely never jam during operation. Of course, that's not to say that the things you cut could make this happen.
There's also an instruction manual featured with the product, very detailed and filled with useful info to get you started.
If you're a beginner, use it to walk yourself through the stages of preparation before using it to cut anything. You may have to wait a moment when turning it on, to get the chain spinning at its highest rotation. But this is only necessary when priming it for the first time. After that, you should be good to go. And be careful to not let the chain get too clogged. It can happen, although there's no much you may be able to do to prevent it in some instances. Regardless, try out the Poulan Pro PR28PS if you're a beginner and have never used pole saws before. It's very easy to master.
Lubricant is included with the product to oil the chains prior to their use
Very easy and simple startup
The instruction manual is detailed and easy to understand for beginners
The chain won't dull quickly; stays sharp for a long time
The user must wait a brief moment for the chain operate at full spin (1-2 minutes)
Although handling is decent, vibrations are slightly higher in comparison to similar pole saws
Sediment may get inside the chain and must be removed before proceeding with work again
---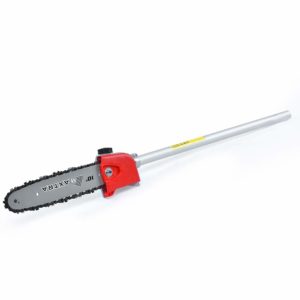 The Maxtra Pole Saw is another beginner-friendly pole saw with easy handling and fast cutting speed. If you think that you'll need to disassemble it every time that you're done with cutting, this is the machine for you. Being the parts are all interchangeable, the pieces will come off quick.
You can store it in lots of different places, as the weight and dimensions are small and remain discreet when parts are separated. It doesn't matter if you're at home or work, cutting with it is a breeze.
But it is tough enough to make it through work environments without breaking too fast. This isn't always the case with comparable pole saws, so it's a great addition. You might become annoyed with the location of the on/off switch, however. It awkwardly sits near the handle and may brush against your arms or hands when it's on. And be prepared to change the screw for tightening the chain soon; it's made from plastic and looks flimsy. These issues may not result in unsatisfactory with ever owner of the Maxtra Pole Saw, so don't let that keep you from trying it out for yourself if interested.
Parts come on and off quickly, easy for beginners to do
Durable enough to be used in work or home environment
The chains power up fast, no long wait to get started
The on/off switch is located next to the handle, making it easy to turn off when working with the pole saw
The screw that loosens the chain is made from plastic and break when the saw is used consistently
---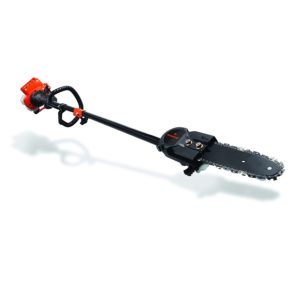 The Remington RM25PS tires to simplify the startup process for users. It should be up and running in about four or five pulls at the most. In some cases, it may turn on with even less. Its weight distribution is excellent, where the saw seems to balance itself out regardless of how far you extend it.
Assembly is also great. You can have it running as soon as you take it out of the box. When done, just take it apart or retract the poles. The chain that comes with the product will probably be the first thing that will need replacing, so don't be surprised if you see it taking on wear quickly.
Will start up in four pulls or less
The weight is evenly balanced to make work less tiresome on the arms and hands
Stores easily and has a straightforward assembly
The chain will wear down at a fast rate
---
Buyer's Guide
Here are some brief tips to aid your final choice of the product featured.
How to Pick the Best Gas Pole Saw
Most of what you need to know in order to choose well is simple. Try to find one that fits the environment where it'll be used the most. Will you be taking it to work, or are you expecting to cut branches down around your property? Many people need them for an easy trim job in a residential setting. Anyone planning to work in more locations than this would be well-served with one that has the least amount of plastic on the housing as possible. You can be certain that the more plastic parts are on the pole saw, the shorter its lifespan would be in a setting that requires heavy-duty power tools. Additionally, take note of the wattage listed on the machine. The higher the wattage, the stronger your chain will spin.
Differences Between Electric Gas Pole Saws
A major difference between gas and electric pole saws is in the wattage. Most electric varieties have less power than gas. Many models are also wireless, whereby they're charged with batteries. You'll obviously need fuel to use a gas-powered version. Whether or not they're better suited for your needs ultimately comes down to which you prefer. For some, gas is more efficient and works better for dense wood and long work hours. But gas is also great for trees in home lawns too. Plus, you'll be able to convert it into other tools to help with your landscaping needs.
Attributes to Pay Attention To
There are a lot of subtle features that may go overlooked with gas-powered saws. For instance, the chains themselves. Most models have a screw that must be loosened when it's initially prepared. Some types of screws may be very low in quality, needing a replacement only a handful of months after the product being bought. Others will have better parts made to last but could corrode over time. The chain guard is another example of this.
Unfortunately, even some high-quality gas pole saws can have fragile chain guards. But if you don't want to look for numerous parts too quickly after getting your saw, pay heed to the small pieces that come with it. Some pole saws will also include a carrying bag for transport. You could always get one as a separate order, but having one in the same box as your saw could be a time saver.
FAQ
How Do You Use a Gas Pole Saw?
Hold the grip of your pole saw. Make sure your position is properly balanced. First, make a few preliminary cuts under the branch you desire to cut off. These preliminary cuts are usually known as jump cuts. This is a technique that is used before the final cut is made.
Starting off with a jump cut will reduce the total amount of the weight of the branch you are trying to cut. It can be a serious physical challenge to try to cut a branch from underneath. For this reason, your best bet will always be to pick a pole saw that is equivalent to your maximum weight bearing capability.
Your next step will be to fully extend the height of the pole saw. This extension will be based on the height of the branch. Be sure to hold the pole saw in a vertical position. Now take it up to the branches away from the ground. Don't forget to maintain a proper hold on your saw.
Slowly and carefully adjust the position of the saw. Let it rest on the branches. This is a good time for you to make sure that your own position is safe. Keep the saw at chest level for best results.
Cut perpendicular to the limb. Try to make as many deep cuts as you can. These deep cuts will allow you to make the final round of cuts much easier. This will also let you make faster cutting strokes.
Now readjust your position and the pole saw back to your original safety position. Check where the limbs are falling and be sure to move away from that area as quickly as possible. Repeat these steps until the job is done.
Who Makes the Longest Gas Pole Saw?
The Husqvarna 327PT5S Gas Pole Saw is the longest model on the market. This particular model comes equipped with a 12 inch long saw bar. This enables it to cut through extremely thick tree limbs. You can rely on the extra long bar to provide an adequate level of reach as well as balance and safety for the job.
The 327PT5S model makes use of a 2-stroke, 24.cc gas engine with a full 1.2 horsepower capacity. In layman's terms, this makes it one of the highest output pole saws currently for sale on the market. Using a 2-stroke rather than 4-stroke ensures a much higher max RPM. This gives the model faster chain speed for quicker cutting.
It should be noted that the extra reach of this model will soon come in handy. Depending on the specific tree, it may allow you to make most of your cuts without having to bring a ladder. Once the pole saw is in operation, you can extend it to get to branches up to 17 or 18 feet off the ground.
Are Pole Saws Safe?
When properly used, a pole saw is much safer than a conventional chainsaw. The first thing you need to do is to make use of the proper safety equipment. This should include, at an absolute minimum, safety goggles for your eyes and gloves for your hands.
You should also be sure to wear heavy shoes or work boots that can provide you with a good grip. Always wear pants, long sleeves, and a hard hat. These will give you extra coverage from falling branches and other forms of debris.
It's also a good idea to wear a simple and inexpensive dust mask. This will keep you from inhaling sawdust and other particles and debris that the pole saw will throw off. Wearing a mask is very highly recommended if you are going to be using your pole saw for an extended amount of time.
How Heavy is a Pole Saw?
The heaviest pole saw models on the market will typically weigh in at about 20 pounds. These are the big pole saw models that are meant for heavy duty jobs. It's a good idea to be physically prepared to use one of these heavy models. They can be extremely demanding on your attention as well as your physique.
Lighter pole saw models usually tend to weight from seven to about 15 pounds. However, even one of these lighter pole saws can start to feel like a heavy burden when you are working overhead or using one for an extended period of time. In general, electric and cordless pole saws typically tend to weigh less than models that are powered by gas.
How Do You Cut a Tree So it Falls Where You Want?
The first thing to do is discover the center of gravity in the tree that you want to cut down. Many trees have a center of gravity that is offset from the center of their base. This can be due to having a large limb on one side or a trunk that leans in one direction or the other.
Start by making a face cut. This is a cut that is made on the side of the tree in the direction that you need it to fall. Make this first cut perpendicular to the trunk, about one-quarter to one-third of the way through it.
Next, from a point above the first cut that is about twice as high as the first cut is deep, make a second cut that is angled downward.
This cut will connect to the inside of the first cut. It will remove a wedge-shaped piece on the side of the tree toward the direction you want it to fall in.
The last cut, known as a back cut, should be made on the side of the trunk opposite the face cut and at a height just about 1 inch above. This should finish the job.
Can You Cut Trees Down in Summer?
One of the biggest clichés that gets repeated is that it is a bad idea to cut down a tree in summer. This is all the more allegedly true when it comes to cutting down a tree with a pole saw. However, there is more to the picture here than may at first meet the eye.
When a tree is weak, decayed, damaged, or dead, any time of the year is the right time to cut it down. A pole saw is an excellent tool to use in order to accomplish this goal. As long as you observe the proper safety procedures, you can use your pole saw safely during any time of the season.
Summary/Conclusion
What do you think about the products that were shown in the reviews above? They're all great and proven to be useful in cutting all kinds of tree branches down, regardless of the setting. Yet there are two that top the scale in terms of craftsmanship, handling, and beginner-friendly instructions. The Maxtra Gas Pole Saw and Remington RM2599 will undoubtedly help you in any situation, and retain they dependability for as long as you properly maintain them. But all of the poles saws shown have their talents; don't rule one of the other three out if you've already made up your mind. Just remember to settle on the pole saw that will help make your cutting as easy as possible!
---