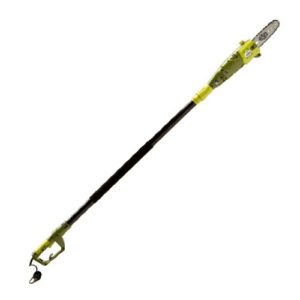 Pole extends to 8.7 ft
No Load Speed (rpm) 6000
6.5-amp motor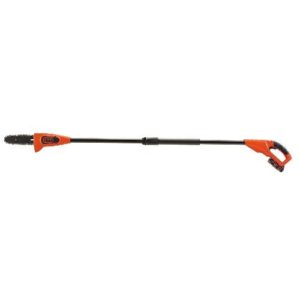 8 inch cutting bar
Up to 100 cuts
2 year limited warranty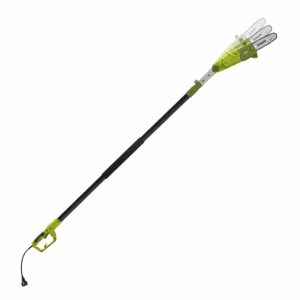 10-inch Oregon cutting bar
No Load Speed (rpm):6000
Automatic lubrication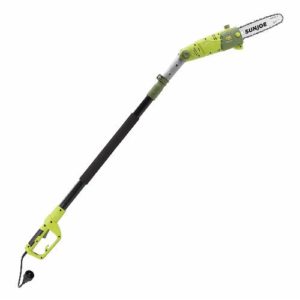 10-inch Oregon cutting bar
Multi-angle head
Powerful 8-amp motor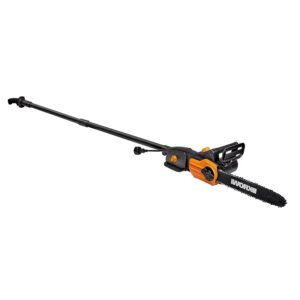 Chain Links: 40
Auto tension chain system
Powerful 8-amp motor
Do you need to tackle some pesky overhead branches or take control of some ever-expanding bushes?
Pole saws
offer a safe, efficient way to trim away overgrowth and achieve a professionally landscaped look.
However, we don't suggest buying a random motorized cutting device. After all, these tools are engineered to extend over your head. That, dear reader, is a recipe for disaster!
We wanted to find the safest, most efficient, and most affordable pole saws on the market. To do this, we tested top sellers and scrutinized customer reviews. In the end, we're excited to bring you five beastly tree trimmers. To top things off, we've paired our recommendations with an in-depth buying guide. Our goal: to help you make the most informed and sound buying decision!
Sun Joe 8-inch Telescoping Electric Pole Saw – Editor's Pick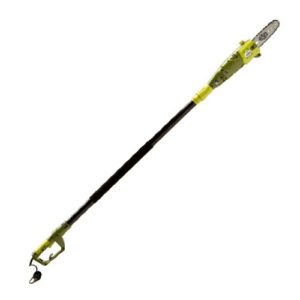 If you're looking to tackle overhanging limbs and logs, the 8-inch Sun Joe is a reliable option. This telescoping tree and bush cutter can stretch as far as 8.7 feet, offering the average user around 15 feet of extension. The saw's robust 6.5-amp motor can power through thick limbs.
It also has an all-embracing 8-inch bar, an automatic oiler, and an oil reservoir. All this helps to keep the saw running efficiently from start to finish.
We love that Sun Joe has taken the time to attach some essential safety elements to this astonishing pole saw. The soft foam grip and ergonomic handle make lengthy cutting sessions free from discomfort. What's more, the saw's safety switch and plastic blade cover prevent unnecessary accidents. You'll need to purchase an extension cord to make the most of this premium pole saw. Besides that, assembly and maintenance couldn't be easier.
This Sun Joe pole saw weighs approximately 7.7 pounds and has an excellent center of gravity. We found it easy to lift and hold overhead. Since there was no need to refill the saw's gas tank or oil its chain, it had a seemingly endless cutting capacity. The saw even houses a cord lock that prevents it from coming unplugged in the middle of a cutting session.
Nearly 9-foot telescoping pole
Slices branches 7.5 inches thick
Can extend several feet into the air
Automatic lubrication
2.7-ounce oil reservoir
2-year manufacturer's guarantee
Phone-based customer service
Soft foam grip
Trigger lock prevents actual push-button starts
---
BLACK+DECKER 8-inch Pole Saw – Top Budget Pick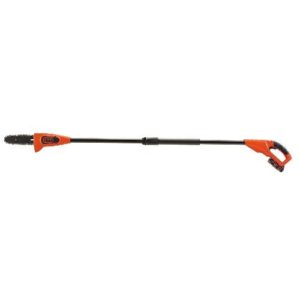 If corded pole saws aren't for you, check out this incredible 20-volt pole saw. The saw can be expanded from 6.5 to 10 feet, offering users up to 14 feet of extension. This cutter garners its power from an incredible lithium-ion power cell. The fuel cell is the key to BLACK+DECKER's interchangeable tool system.
Therefore, it can be paired with several other BLACK+DECKER tools. The rechargeable element provides users with a lengthy work window. The power cell pumps out dozens of cuts per charge. Keep in mind that the power source is sold separately.
The BLACK+DECKER pole saw boasts a durable, yet lightweight fiberglass pole. We found it easy to lift and maneuver the saw at its full length. While we were generally pleased with this cutter, it has a few kinks that are worth noting. For one, the chain develops slack after extensive cutting sessions. On top of that, this pole saw requires manual oiling. While this isn't the biggest issue, it makes this saw an outlier in the modern tool world.
Part of the company's expansive lithium-ion battery tool family
Dozens of cuts charge
14 feet of extendable heat
Extends from 6.5 to 10 feet
---
Sun Joe 9-Foot Electric Pole Saw with Adjustable Head – Most Versatile Pole Saw Head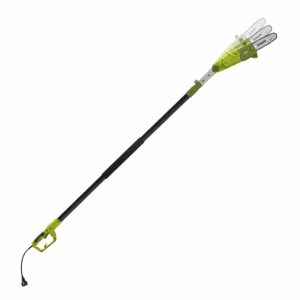 If you're looking for a pole saw with a versatile cutting head, then check out this 9-foot Sun Joe. The saw weighs just 7.9 pounds. As such, it can be lifted over a user's head without causing any strain or discomfort. The saw houses a robust motor that is capable of chewing through chunky overhead limbs.
On top of that, the pole saw's Oregon bar can be positioned in three unique angles. With the help of corded electric power, the saw can cut for hours on end. Its 2-ounce oil reservoir and automated lubricator prevent the chain from drying out in the middle of a cut.
Per usual, Sun Joe has beefed this saw up with some pretty impressive safety features. It has low-kickback protection as well as a slip-resistant ergonomic handle. Just pair the saw with your favorite extension cord. Then, set to work. We love that this beast arrives partially assembled. In a few minutes, the saw is equipped to grind through overhead limbs.
Sun Joe backs their saw with an extensive 2-year manufacturer's warranty. What's more, the company is committed to keeping its prices low while offering phone-based customer service. In our humble opinion, you'd be hard-pressed to find a more approachable tool company. One look at this product's customer reviews says it all.
Part of the company's expansive lithium-ion battery tool family
Adjustable cutting head
Can trim thick limbs
2-ounce oil reservoir
Extended 2-year manufacturer's guarentee
10-inch bar
Automatic chain lubrication
Ergonomic and lightweight
Low-capacity oil reservoir need to be monitored regularly
---
Sun Joe Pole Saw – Customer Choice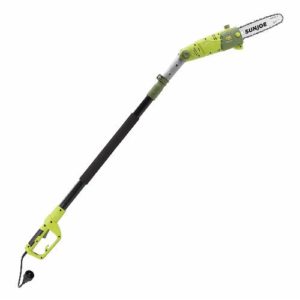 If you need a pole saw that's capable of heavy-duty cutting, check out this hefty 8-amp Sun Joe. The saw boasts a telescoping pole that extends from 5.8 to nearly 9 feet. For most users, this translates to around 14 feet of extendable height. The saw also houses a powerful 8-amp motor.
This beast can slice through 10-inch thick branches. On top of that, its no-load speed engine offers nearly 6,000 rpm of raw cutting power.
We love this Sun Joe's automatic starter. You can get this chainsaw going with the push of a button. A starter safety switch prevents the tool from powering up without your consent. You can also position the head in three different angles to simplify inconvenient cuts.
Since this Sun Joe is powered by electricity, there's no need to stock up on gasoline. Its automatic oil keeps the chain well-lubricated during lengthy cutting sessions. It even comes partially assembled. Just pop in your favorite extension cord, top of the oil reservoir, and commence cutting.
We were surprised by how much power was housed in this tiny pole saw. It's a budget-rate device with a short cord. Nevertheless, it can be used to tackle some thick overhead limbs and towering bushes. Overall, it's an exceptional tool for any homeowner who's looking to improve their landscaping.
Telescoping pole that extends from Telescoping 5.8 to 8.8 feet
Unlimited cutting sessions
6,000 rpm
14 feet of height
Ergonomic handle
---
The Worx Combination Pole Saw/Chainsaw – Best Pole Saw/Chainsaw Combo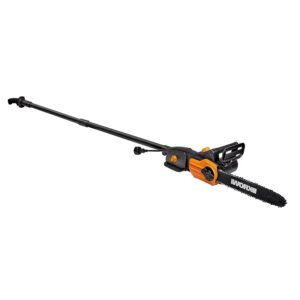 Do you want a saw that can do both overhead and ground-level cutting? If so, check out the Worx 10-inch pole saw. You can convert this tool from an 8-foot pole saw into a handheld cutter without so much as a single tool. The device features a powerful 8-amp motor. The chain is 10 inches long and has 40 links.
It's perfect for all sorts of yard work, including slicing up bushes, overhead limbs, and downed tree branches.
At 10 pounds, the Worx can be a bit taxing. Still, its electrically powered motor can power through most branches without coming to a halt. The pole is strong, durable, and easy to assemble. On top of that, the chain oils itself. With a little practice, you can learn to use the saw's weight as leverage.
We love that this tool lubricates itself. The oversized oil reservoir will keep your cutter purring long into a job. The chain is also easy to adjust and maintains its tension. However, we recommend adjusting the tension after every dozen or so cuts. These knobs are easy to access and do not require any tools.
Coverts from a pole saw to a chainsaw
Auto-tension system
120-milliliter oil reservoir
120 volts of power
Cut down and chop up tree limbs without changing tools
Automatic lubrication system
Corded electric
---
What to Look for in a Pole Saw
There are no secrets surrounding the ideal pole saw. As a consumer, you want to find a cutting device that provides powerful, precise cuts. The saw needs to be safe and fit within your budget. Before you can be sure that a saw meets all your expectations, you need to take a closer look a few of its most important elements.
Bar and Chain
First off, we recommend taking a look at a pole saw's head. This consists of the saw's most important elements: the bar and chain. Most pole saw bars range between 8 and 10 inches. A saw this size is suitable for cutting small- to medium-sized limbs and bushes.
Keep in mind that most pole saws feature a stationary head. However, some saws can be locked in at various angles. An adjustable head makes it easier for users to trim between clusters of branches.
Pole
Next up, you need to consider the actual length of the pole. Most poles extend several feet. We recommend opting for an adjustable or telescoping pole saw. This way, you will be able to tailor the length of the saw to the branch you wish to tackle. Most pole saws offer at least 6 feet of extendable height.
Power Source
A pole saw's power source determines its cutting capacity. Consumers can choose between electric-, gas-, and battery-powered models. Each of these power sources has specific benefits and drawbacks.
For one, electric pole saws offer unlimited run times and ample power. Generally, they require very little maintenance. After all, there is no need to top off the gas tank or charge the battery. With no onboard power cell, they also tend to be lighter. However, a cord limits their mobility. Not to mention, a cord can be a nuisance and safety issue.
On the other hand, battery-powered pole saws offer unmatched portability and power. Today, these power tools are paired with powerful rechargeable lithium-ion batteries. More often than not, the batteries can be used interchangeably with tools in the same family. With that said, battery-powered pole saws have limited cutting parameters. Most offer no more than 100 cuts per charge. Therefore, they are not suitable for dense or extensive areas of greenery.
Last but not least, gas pole saws are the workhorses of the group. These powerful devices are dependent on fuel and frequent maintenance. However, they are also portable and powerful. Oftentimes, gas pole saws boast longer bars.
Ergonomics and Weight
Pole saws tend to weigh between 7 and 10 pounds. This weight is divided between the base, pole, and head. It is important to choose a saw that has a clear center of gravity. What's more, opt for a saw with soft and slip-resistant handles. One of the greatest dangers of overhead cutting is falling limbs. A pole saw should be lightweight and easy to grasp. Therefore, a user can react swiftly to felled branches.
Warranty and Price
Most pole saws are suited for light- to medium-duty yard work. With that said, there are plenty of great options under $100. Don't forget to add in the cost of fuel, batteries, and extension cords when considering your budget. What's more, opt for a pole saw that is backed by a warranty. If something goes wrong, you want to be able to go back to the manufacturer for retribution.
Final Thoughts
We hope you enjoyed our five favorite pole saws! These incredible tools will help you take over your lawn once and for all! Once you have your overhead growth under control, perhaps it will be time to take a look at some chainsaws. After all, you'll need a tool to cut up all those limbs you plan on removing!
---