---
Sun Joe SWJ699E is one of the most popular chainsaws on the market today. If you're looking for a saw that will cut through anything, then this is it!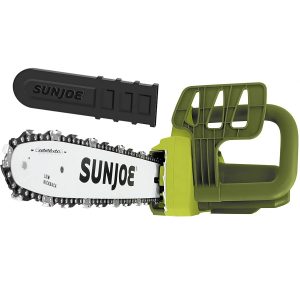 This electric chainsaw has a powerful 9-amp motor and a 14-inch bar and chain to give you maximum power with every cut. It also features a patented design for easy starting so you can get going quickly. With its many innovative features, Sun Joe SWJ699E is definitely worth the investment!
---
Sun Joe SWJ699E User Manual
Having problem? Download Sun Joe SWJ699E instructions.
---
Specifications:
The dimensions of this tool are 32.3 x 9.05 x 7.87 inches;

It weighs 7.7 pounds;

Corded electric chainsaw;

14-inch bar chain;

2-year warranty;

ETL approved;

9-amp motor;

Manual chain tension adjustment;

4 fluid ounces of the tank;

Trigger switch;

Safety lock button;

6300 RPM;

The noise level is 85 dB;

120 Volts;
Main Features and Overview
When it comes to clearing away branches and limbs, this electric chainsaw is a dream come true. Get rid of that rusted-out push mower and finally cut your bushes without having to wrestle with an unwieldy gasoline-powered saw. 
With a powerful 9-amp motor and lightweight design, you can work in comfort and always be ready for continual trimming needs. All of us know how hard it is to start gas engines these days but don't worry about waging any battles with our easy start system – just press the button! And since you'll never have to mix oil or add fuel again, let it introduce you to maintenance free operation.
Design
It isn't the most durable chainsaw out there, but for light-cutting tasks, it's more than enough. Its construction also aids in weight reduction, which is crucial for a saw of this sort.
The most noteworthy features are that the front handle does not also serve as a chain brake, which is common on bigger saws, and that the bar and cover are secured by a single nut. There's no wrap design on the front handle, but there is an extension cord restraint hook to keep the power cord and extension cable from disconnecting when cutting. 
Some users have complained that the gap between the front handle and guard is rather narrow, so if you have tremendously huge hands this may be something to think about.
The oil cap is positioned on top of the saw and is readily accessible. A translucent reservoir window is also visible, allowing you to keep an eye on oil levels.
Performance
It is suited for light chopping work. The manufacturer claims that it can handle limbs up to 9 inches thick and that you may easily cut a cord of wood or prune trees.
This powerful sits to the right of your chainsaw and is ideal for clearing light brushes and trimming small branches that are too big for the hedge trimmers. You should be able to cut little pieces of firewood, but if you do this on a regular basis, you'll want to look at different saws.
When it comes to larger branches, you may discover that it struggles, particularly when dealing with hardwoods like oak, almond, and hickory. It takes about 25 seconds for one user to cut through 6-inch seasoned hardwood using an electric chain saw rather than a small gas saw, which would usually take around 10 seconds.
This versatile, lightweight electric chainsaw can be used for a variety of tasks. Where it truly shines is in how simple it is to use. Starting the saw is as easy and quick as any other electric saw. 
Tips for users: simply fill with bar oil, tension the chain, press the lockout switch followed by the trigger to start right away. The saw will come to a halt when you release the trigger.
The saw should be straightforward to use for most individuals. It weighs 7.7 pounds and has a small 14-inch bar, making it easy to move into the tiniest of areas.
The primary disadvantage of electric saws is that they require access to electricity, either via a power source or a generator. An extension cable is also required, which might obstruct your work when cutting. Furthermore, the saw can't be utilized in wet conditions for obvious reasons.
Cutting Ability
The Oregon Bar and Chain is included with this device. The bar has a nose sprocket to assist the chain movement. To prevent the nose wheel sprocket from seizing, there is a sprocket hole on the tip of the bar that must be lubricated on a regular basis.
The bar is a low-kickback item that adheres to the ANSI B.175.1 standard. 
It has a 3/8-inch pitch, 0.05-inch gauge, and 45 drive links. This is a popular chain size and replacements are readily available.
The chain speed, which is recorded in meters per second, has an impact on cutting performance. The tool cuts 10 meters per second, which is not very quick when compared to other saws. If you're only doing light cutting, this won't be an issue. When making more demanding cuts, the wood will take longer to cut. 
The chain should be maintained in excellent working order to guarantee that it retains its cutting performance. This is a task that requires some expertise, so if you don't feel comfortable doing it or learning how to do it, get this done locally. If you're used to handling the situation, you'll need a sharpening kit (which includes a flat file, 5/32-inch round file, and file holder).
Similar to tensioning the chain, keeping it properly tight is critical. Almost all home saws feature side-mounted tensioning mechanisms. 
There is a tensioning screw on the front of the powerhead unit that must be turned with a screwdriver or scrench tool provided.
It can be difficult to operate these front tensioning systems due to their design, as demonstrated by a few consumers who mentioned that they may be finicky. However, like everything else, you will get used to it.
Check chain tension on a regular basis, particularly early on when they have a propensity to stretch.
Motor
A 9-amp motor powers it, which is good for a light-duty saw. It's the same as the GreenWorks 20222 14-inch saw, which was previously reviewed.
Another point to note is that this is fairly noisy for a tiny saw, which several users mentioned. The data back this up: sound pressure of 110 dB, which is possibly somewhat less at the operator's ear. Nonetheless, it compares to some gas machines, therefore hearing protection should be used.
A suitable extension cable is required to operate the saw. The maximum suggested distance is 100 feet, and the cord must be appropriate for outdoor use as well as being of the proper gauge. A 14-gauge minimum (although a higher 10 or 12 gauge would be preferable) is recommended for a 100-foot cord, while a 16-gauge minimum (but again a 14 or 12 gauge would be better) is recommended for a 50-foot cord.
Chain Oil Mechanism
The cutting tools are lubricated by an automatic oil supply, so you don't have to remember to release the oil yourself. This is a fixed flow oiler, which implies the amount of oil supplied is constant and can't be altered.
The oil reservoir holds only 3 ounces, which is insufficient for extensive usage. Because of this, you should keep a supply of bar and chain oil on hand at all times. The saw consumes around 0.2 ounces of oil each minute, so expect approximately 15 minutes of cutting time per reservoir full.
It is suggested that you top up the oil level when it reaches a quarter full, and the transparent reservoir glass makes it easy to do so.
The type of oil is not critical. You may use any high-quality bar and chain oil, regardless of the vegetable or mineral content, as long as it is vegetable-based if you are pruning.
There are two more things to note. To begin, these chainsaws do occasionally seep oil while being stored and the only way to prevent this leakage is to drain the oil tank after each usage. Second, no oil is included with this tool.
Safety Features
This is a relatively little chainsaw, but it still needs to be handled with care. Wearing the correct safety gear (eyewear, hearing protection, and clothes) and following the manufacturer's instructions is the greatest method to avoid injury.
Its safety features include:
Front and rear handguards

. They protect your hands from coming into touch with the chain and getting hit by debris;

Kickback

cutting components that adhere to industry safety standards and minimize the chance of kickback;

Safety switches

to prevent accidental start-ups;
If you're used to operating a circular saw with a chain brake, you'll appreciate that the Sun Joe does not include one. Deactivating the button is all it takes to stop the chain. It will take some time for the chain to come to a complete halt.
Pros & Cons of Sun Joe SWJ699E
---
Alternatives to Sun Joe SWJ699E
WORX WG303.1 Electric Chain Saw
It is a corded chainsaw with a 16-inch long chain bar. It is jam-packed with features to help you cut more efficiently. This electric chainsaw has an automatic tensioner, for example.
You will love its tensioning technology, which eliminates the need to fine-tune the chain's tightness on a regular basis. It also extends bar and chain life by preventing over- and under-tensioning of the bar. Metal dogs secured to the bar's base prevent it from moving during woodcuts.
A couple of 14.5-amp motors power the whole tool. The motor has enough power to make light tree-cutting chores as simple as pie. Similarly, the lubrication system is automated via the chain drive. Because of extending chain and bar life, operator effort is reduced.
The chainsaw has an oil reservoir built into the casing, and there is also an oil window for checking the oil level quickly. Furthermore, the lightweight design and a comfortable grip combine to make an efficient and safe chain saw use.
Oregon CS1500 18 In. 15 Amp Self-Sharpening
Oregon CS1500 is a corded chainsaw with an array of distinct chainsaw patterns. The most notable distinction between this product and other electric chainsaws is its sharpening technique, which is one of the numerous features. This unique design distinguishes it from the competition.
The PowerSharp self-sharpening mechanism on the electric chainsaw minimizes downtime. All that is needed of the operator is to pull on the PowerSharp lever for 3-5 seconds when the chain becomes dull. After you've finished working at the site, you'll feel as if the chain is still new.
It starts instantly with the simple pull of a trigger as an electric chainsaw. The chain is driven over the 18-inch long chain guide by the 15-amp motor, which activates when you pull the trigger. These details allow you to cut rapidly while lowering the risk of chain kickbacks.
The chainsaw features a tensioning system that allows you to effortlessly adjust the cutting size without using any tools, enhancing its overall convenience. To make the saw lighter, it has an ergonomic design. This design minimizes tiredness when used for lengthy periods.
However, since the motor is located on one side, cutting is difficult because of the compromise in balance.
Sun Joe SWJ701E 18-Inch 14.0 Amp
Sun Joe SWJ701E can be ideal for light-duty tree limb cutting chores.
Chopping, logging, limb trimming, and firewood cutting are examples of other activities that may be performed in the same way. It's equipped with a powerful 14-amp motor to handle all of these hard chopping chores.
The functional part is the 18-inch Oregon bar and chain. A bar of this length should be able to do a good job with firewood, logs, branches, and thick limbs. The motor brings into action this precise and easy-to-use cutting instrument with a simple nudge of a button. With a weight of about 7.7 pounds, the tool is portable enough so that you can work as long as possible.
The front handle has a handguard to keep you safe from flying wood chips while working. A kickback brake comes into play when the chain makes incorrect contact with a surface.
An extra switch is also provided for pre-prepping alongside the on/off button to avoid unwanted starts.
At 14 amps, the motor should produce about 2.25 horsepower. However, when you consider engine efficiency, it only produces about 1.8 horsepower.
You'll need a 5/32 inch (4mm) round file for sharpening. While this chainsaw is capable, the chain must be extremely tight. It will come off otherwise.
Factors to Consider When Buying Sun Joe SWJ699E Chainsaw
When it comes to buying a chainsaw, there are various factors to consider before making a purchase decision. In this table, we compare different indicators that can help you make an informed choice when buying the Sun Joe SWJ699E chainsaw.
| Indicator | Description | Importance |
| --- | --- | --- |
| Bar Length | The length of the chainsaw blade that cuts through wood. | Important |
| Motor Power | The power of the chainsaw's motor, measured in amps or watts. | Important |
| Weight | The weight of the chainsaw, which can affect how easy it is to handle and maneuver. | Important |
| Chain Speed | The speed at which the chain rotates, measured in feet per second. | Less Important |
| Chain Pitch | The distance between three consecutive rivets on the chain, measured in inches. | Less Important |
| Noise Level | The noise produced by the chainsaw during operation, measured in decibels. | Less Important |
| Oil Tank Capacity | The amount of oil the chainsaw's tank can hold, which is used to lubricate the chain and bar. | Less Important |
| Warranty | The length and terms of the manufacturer's warranty on the chainsaw. | Less Important |
This table compares various factors that are important to consider when buying the Sun Joe SWJ699E chainsaw. Bar length, motor power, and weight are considered important indicators as they directly impact the performance and ease of use of the chainsaw. On the other hand, chain speed, chain pitch, noise level, oil tank capacity, and warranty are considered less important but can still affect the overall experience of using the chainsaw. By considering these factors, you can make a more informed decision when buying a chainsaw that fits your needs and preferences.
FAQ
Is it fully assembled?
Yes, it comes fully assembled.
How durable is it?
Yes, it is very durable. Some users claim that this chainsaw can cut down a 20ft oak without any effort.
Does it have an oil leak problem?
Users haven't mentioned this particular problem online.
Does it have a carrying case?
No, it doesn't have a carrying case.
Is this powerful enough to cut a tree down?
It depends on the tree size. It may cut 6-inch branches, but it is not as big as a standard chainsaw.
What is the difference between Sun Joe SWJ599e and Sun Joe SWJ699e?
These chainsaws are quite similar but there are a few differences to consider. The Sun Joe 599e has a low kickback (it's a safety precaution) but the Sun Joe 699e has a regular no-kick-back function, allowing for faster chain rotation.
What is the maximum cutting diameter of the Sun Joe SWJ699E chainsaw?
The Sun Joe SWJ699E chainsaw has a maximum cutting diameter of 14 inches. This makes it ideal for cutting small to medium-sized trees and branches.
What is the weight of the Sun Joe SWJ699E chainsaw?
The Sun Joe SWJ699E chainsaw weighs approximately 9.7 pounds. This lightweight design makes it easy to maneuver and operate, reducing operator fatigue during use.
What is the power source of the Sun Joe SWJ699E chainsaw?
The Sun Joe SWJ699E chainsaw is an electric chainsaw that runs on a 9-amp motor. It requires an electrical outlet to power and is not cordless.
What is the length of the bar and chain of the Sun Joe SWJ699E chainsaw?
The Sun Joe SWJ699E chainsaw has a 16-inch bar and chain. This length is ideal for cutting small to medium-sized trees and branches. Additionally, the bar and chain are self-lubricating, which helps to reduce wear and tear during use.
Does the Sun Joe SWJ699E chainsaw come with a warranty?
Yes, the Sun Joe SWJ699E chainsaw comes with a 2-year warranty. This warranty covers any defects in material or workmanship and provides peace of mind for the user.
What safety features does the Sun Joe SWJ699E chainsaw have?
The Sun Joe SWJ699E chainsaw has several safety features to protect the user during use. It has a safety switch to prevent accidental startups, a handguard to protect against flying debris, and a kickback brake to stop the chain in the event of kickback.
What types of oil are recommended for use with the Sun Joe SWJ699E chainsaw?
The Sun Joe SWJ699E chainsaw is designed to use bar and chain oil. This oil is specially formulated for use with chainsaws and provides lubrication to the bar and chain to reduce wear and tear during use.
Can the chain tension be adjusted on the Sun Joe SWJ699E chainsaw?
Yes, the chain tension on the Sun Joe SWJ699E chainsaw can be adjusted. It has a tool-less chain tensioning system that allows the user to adjust the chain tension quickly and easily, without the need for any additional tools.
What is the maximum speed of the chain on the Sun Joe SWJ699E chainsaw?
The maximum chain speed on the Sun Joe SWJ699E chainsaw is 14.5 feet per second. This speed allows the chainsaw to quickly and efficiently cut through wood and other materials.
What is the noise level of the Sun Joe SWJ699E chainsaw?
The Sun Joe SWJ699E chainsaw has a noise level of approximately 102 decibels. While this is not the quietest chainsaw on the market, it is not excessively loud and is within the normal range for chainsaws of this size and power.
Can the Sun Joe SWJ699E chainsaw be used for pruning?
Yes, the Sun Joe SWJ699E chainsaw can be used for pruning. Its lightweight design and 16-inch bar and chain make it easy to maneuver and operate, making it an ideal choice for pruning trees and shrubs.
Is it easy to start the Sun Joe SWJ699E chainsaw?
Yes, the Sun Joe SWJ699E chainsaw is designed to be easy to start. It has a push-button start that eliminates the need for pull cords, and it starts quickly and easily with just the push of a button.
Does the Sun Joe SWJ699E chainsaw require any maintenance?
Yes, like all chainsaws, the Sun Joe SWJ699E chainsaw requires regular maintenance to ensure optimal performance and longevity. This includes regular oiling of the bar and chain, cleaning the air filter, and checking and adjusting the chain tension as needed.
Video Guide: SWJ699E – Sun Joe Electric 9 Amp 14-Inch Chain Saw
Final thoughts
If you have a backyard, chances are it has a ton of stuff in it. You have too many trees and not enough time to waste cutting them down? The Sun Joe SWJ699E 14-Inch 9.0 Amp Electric Chain Saw is the perfect solution for your big chopping needs.
With its powerful motor and automatic chain lubrication system, this device cuts through up to ¾ inch buttery smoothly without clogging or jamming like those traditional handheld saws with blades you whip around like they're using their whole body (which they totally should be doing). Save your strength, save your cash – get yourself an electric chain saw from Sun Joe today!