An
electric pole chainsaw
is sometimes called an electric motor chainsaw. It is operated by hand and powered from the mains. It is equipped with an electric motor, which is located in the housing, and with a sword. The sword is usually made of metal. Other names for the sword are blade and rail.
---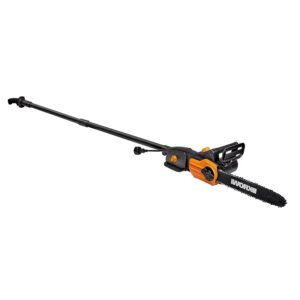 Features of WORX WG309:
8 Amp Motor
Chain links: 40
Rated Voltage: 120V to 60Hz
---
There is a saw chain around the sword that is provided with serrated teeth. They provide a possibility to cut different objects with the chainsaw. Additional equipment usually includes a power cord and two handles. Most of the devices are equipped with various safety features such as hand protection.
The electric chainsaws can be used for various types of woodwork. For example, such a device allows you to prune trees and hedges, cut wooden objects such as beams, and make firewood.
WORX WG309 User Manual
Having problem? Download WORX WG309 Electric Pole Saw (10-inch) instructions.
---
WORX WG309 – Pole Chainsaw
If you need a wonderful chainsaw to take care of trees around the house, then you need WG309. It is a pole corded model, which provides a wonderful experience of cutting wood. The 8 feet pole with attached unit grants you 10 feet of working distance. It prevents using ladders, which also improves safety.
The chain saw does not simply attach to the pole. It allows you to turn on/off the saw simply by using a pole switcher. The power cord is inside the pole for convenience and safety. Moreover, the pole rotates 180 degrees, which greatly helps to take the right angle for cutting branches. Another part important part of the design is an oil indicator. Users can always monitor and maintain proper oil level, without having to stop the cutting process.
The efficiency of work also depends on the motor. This device offers an 8-amp with 120volts which produces 960 watts users. It is enough to deal with various wood types, including oak. Sawing firewood becomes not a tiresome activity with WORX pole chainsaw.
The auto-tension feature improves cutting efficiency. You do not need to worry about over-tightening the chain. It will be running smoothly without overloading the engine. As a result, WG309 will work without issue for a longer time.
Ease of Use
Working comfortably is of course more pleasant in the long run with WORX. If you have to cut back on the operation, you will not face heavy and tired arms with imprecise cutting results after work. WG309 provides ergonomic handles and poles that improve convenience. The weight of the electric chainsaw also affects the workload. Weight of 10lbs is very pleasing and makes cutting more comfortable.
Oil Tank
There is a small oil tank on every chainsaw, as the oil lubricates the saw chain while it is working. This prevents premature wear. Tanks with a comparatively high capacity are very convenient. WORX WG309 can hold around 4.06oz of oil what provides long cutting.
Chain Speed
A high saw chain speed makes work easier. WG309 cuts through hedges and other trees and branches very easily and quickly. With 28ft per second, it has proven its effectiveness in domestic use.
Pros & Cons of WORX WG309
---
The Buyer's Guide
Electric chainsaws differ in a number of factors. Which model is the best electric chainsaw for you depends primarily on its area of application. It is therefore advisable to orientate yourself towards the respective application when buying. Below we show ten important buying factors for electric chainsaws.
Sword Length
The sword length shows how long the rail of the respective model is. A small electric chainsaw with a blade length between 35 and 40 centimeters is sufficient for a lot of gardening work. If you want to cut wood with a saw, it is best to use a model with a larger sword.
Performance
A cheap electric chainsaw is often less powerful than a more expensive model. Whether such a model is sufficient for you depends on your intended use. For a lot of classic gardening work, a model with a lower output of around 900 to 1500 watts is sufficient. In some cases, it is worth buying a more powerful device. For example, if you want to saw hardwood, it is best to use a chainsaw with an output of over 2,000 watts.
Chain Speed
The chain speed relates to idling. Accordingly, a lower cutting speed is possible during the sawing work. Slow and steady cutting is often safer as it grants better control over the process.
Weight
A light electric chainsaw is easier to handle than a heavy model. Therefore, a model with a maximum weight of 5 kilograms, on the one hand, is an advantage. On the other hand, you should keep in mind that many higher-performing models are heavier.
Volume
The manufacturers indicate the volume in decibels. Ideally, the model has a volume of no more than 95 decibels. A device with a maximum volume of 90 decibels is even better.
Oil Tank
Before buying the chainsaw, check the oil tank volume. Most models are equipped with an oil tank that holds a maximum of 160 to 200 millimeters. It is practical if the model is equipped with a level indicator. Thanks to it, you can quickly see how much oil is in the tank. Also, make sure that the electric chainsaw enables automatic chain lubrication.
Safety Brakes
It is important that the electric chainsaw is equipped with a chain brake. Thanks to it, the chain comes to a standstill within fractions of a second after you switch off the device. This reduces the risk of accidents. Another safety brake is the kickback brake. If the tip of the sword comes into contact with a solid object, the chainsaw stops immediately with the kickback brake.
Claw Stop
The claw stop reduces the risk of the chainsaw swinging out of control. It enables a firmer hold.
Chain Catch Bolt
If the saw chain breaks, the chain catch bolt can ensure that the saw does not turn over in an uncontrolled manner.
Simple Chain Tensioning
With most models, you can tension and change the chain without tools. This makes setting the chain tension and changing the chain particularly easy.
Video Guide: How To Use WORX WG309
To Sum Up
It is a wonderful pole chainsaw to deal with a great variety of cutting tasks. To be sure of getting maximum pleasure from working with WORX WG309 you need to understand personal needs and prepared tasks for them.
---