The Worx WG320 Max Lithium Cordless JawSaw has all of the features of the standard JawSaw with one major exception: it's cordless. The power tool is now free of cords and portable, thanks to the 20-volt Max lithium battery. This cordless JawSaw tech is ideal for pruning and trimming around the house, on vacation, or after storm damage because it is lightweight, portable, and safe.
---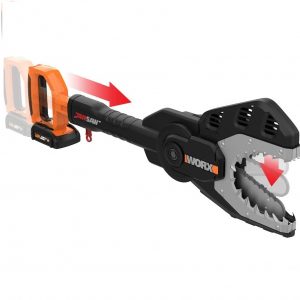 Features of WORX WG320 :
The housing acts as prop for cutting branches on the ground.
This model comes with a 20V
It's compatible with our 5-foot pole attachment
---
The lithium power battery is lighter in weight and more compact than the competition, thanks to its 20-volt Max lithium battery technology, which prevents self-discharge for longer periods.
It also has the ability to charge a depleted battery rapidly without suffering from the "memory effect", which can harm your battery.
The Worx WG320 chainsaw incorporates an auto-tensioning system that ensures proper tension on the chain, as well as an automated oiler with a level gauge to ensure that chain maintenance and performance remain optimal.
The Worx WG320 cordless chainsaw is a well-rounded product for people who need a lightweight, easy-to-maneuver saw. It's an excellent choice for homeowners and semi-professionals.
In addition, it can be used with a variety of cutting attachments too! In this guide, experts will take a closer look at the Worx WG320 cordless chainsaw from all angles so that you can make an informed decision about whether or not this is the right tool for your needs.
WORX WG320 User Manual
Having problem? Download WORX WG320 instructions.
---
Specifications:
Battery-powered tool;

Weighs 11.2 pounds;

Dimensions are 32.68 x 10.63 x 8.66 inches;

Automatic chain oiling;

Translucent oil tank;

20V lithium-ion battery;

The charge time is 3 hours;

The battery life is 20 minutes;

Limited 3-year warranty;

Made with ABS plastic and hardened steel blade;
Design
The Worx WG320 cordless chainsaw has an outstanding cutter design with more features.
The chain is the most important part of a saw. However, the chain has its own set of dangers. Many saws do not have a chain cover. They are extremely hazardous to use. This Worx chainsaw is certainly not one of them. It features a sturdy chain cover that is designed to keep the user safe while using the chainsaw. The user will also be protected from many polluting materials when using this chainsaw with a strong chain cover.
The chainsaw has an auto-tensioning system. This is a crucial function that should be utilized in every chainsaw. However, the majority of saws do not include it. The chain's tension is maintained automatically by the auto-tensioning mechanism. A user must manually tension the chain without the aid of the auto-tensioning system, which is very difficult.
Another important feature of a saw is the automatic oiling system. You will simply have to fill the oil reservoir if the saw has an automated oiler. The rest is up to the automatic oiler. When it's time, it will supply the chain and bar with oil. You won't have to worry if your chain is getting enough lubrication because of this tech.
A shorter blade is used on the jaw saw the design, but it does have a chain that can become loose over time. You won't have to worry about manually adjusting the chain's tension because it has an automatic chain tensioner that takes care of this for you. It's a handy and beneficial feature that's intended to make your life simpler.
The most eye-catching feature of this chainsaw is the scissor-cut action on the head. It's a completely unique design from Positec/Worx, and it was designed to keep you safe. Kickback is the most hazardous risk that can lead to fatalities when working with a saw. This design prevents dangerous kickback by limiting the kickback angle. As a result, it provides a secure experience while seeing tasks to the user.
Performance
The WORX WG320 has a much cleaner cut than standard chainsaws. This is because its twin-sided jaw sawing technique attacks the cutting process from both sides at once. A normal chainsaw generally cuts top-down and frequently results in breakaway splinters near the end of the cut, leaving a messy finish that can be hazardous to work with.
This chainsaw/jaw saw is powered by a lithium-ion battery, which means you won't have to worry about emissions or breathing in any noxious fumes. Another benefit of a battery-powered chainsaw is that it's considerably quieter than gasoline-powered versions.
This steel chainsaw with a magnesium frame has unique safety features. Despite being an uncommon chainsaw designed for safety, it still has the excellent cutting ability. The sharp chain and powerful engine enable you to cut through thick branches in seconds. The chainsaw features a single-action cutting mechanism that can cut any substance up to 4 inches in diameter using only one stroke of the button.
The Worx WG2040 chainsaw has a 20V battery that provides plenty of run time without sacrificing power. You can use the chainsaw for hours without having to recharge the battery. It also works with the same sort of batteries as other Worx tools, so you may quickly mix and match batteries based on your current assignment.
The Jawsaw has the quickest cutting speed of any chain saw on the market. This is the most rapid and secure saw currently available. It can cut wood at speeds of up to 1,350 RPM, which means it can cut anything from softwood to hardwood with equal ease.
Additionally, the cuts it makes are smooth and even. This machine will chop down wood and leave you with an unsightly, undulating cut. For chopping tall branches or big logs into perfect firewood cubes, this Worx saw is ideal. It makes nice cuts, is simple to use for anyone, and is much safer than a standard chainsaw.
Pros & Cons of WORX WG320
It is unquestionable that the Worx WG320 chainsaw is more dependable than any of its competitors. In addition to providing a long-lasting lifetime, the manufacturer has assured the Worx chainsaw's durability. As a result, it should come as no surprise that you may benefit from using the Worx WG320 saw.
---
Video Guide: WORX Jawsaw Review | Out of the Box
---