The Worx WG320 Max Lithium Cordless JawSaw has all of the features of the standard JawSaw with one major exception: it's cordless. The power tool is now free of cords and portable, thanks to the 20-volt Max lithium battery. This cordless JawSaw tech is ideal for pruning and trimming around the house, on vacation, or after storm damage because it is lightweight, portable, and safe.
---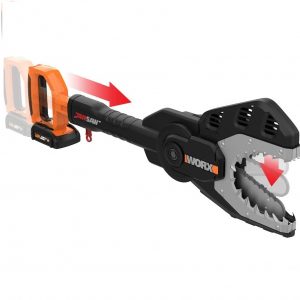 Features of WORX WG320 :
The housing acts as prop for cutting branches on the ground.
This model comes with a 20V
It's compatible with our 5-foot pole attachment
---
The lithium power battery is lighter in weight and more compact than the competition, thanks to its 20-volt Max lithium battery technology, which prevents self-discharge for longer periods.
It also has the ability to charge a depleted battery rapidly without suffering from the "memory effect", which can harm your battery.
The Worx WG320 chainsaw incorporates an auto-tensioning system that ensures proper tension on the chain, as well as an automated oiler with a level gauge to ensure that chain maintenance and performance remain optimal.
The Worx WG320 cordless chainsaw is a well-rounded product for people who need a lightweight, easy-to-maneuver saw. It's an excellent choice for homeowners and semi-professionals.
In addition, it can be used with a variety of cutting attachments too! In this guide, experts will take a closer look at the Worx WG320 cordless chainsaw from all angles so that you can make an informed decision about whether or not this is the right tool for your needs.
WORX WG320 User Manual
Having problem? Download WORX WG320 instructions.
---
Specifications:
Battery-powered tool;

Weighs 11.2 pounds;

Dimensions are 32.68 x 10.63 x 8.66 inches;

Automatic chain oiling;

Translucent oil tank;

20V lithium-ion battery;

The charge time is 3 hours;

The battery life is 20 minutes;

Limited 3-year warranty;

Made with ABS plastic and hardened steel blade;
Design
The Worx WG320 cordless chainsaw has an outstanding cutter design with more features.
The chain is the most important part of a saw. However, the chain has its own set of dangers. Many saws do not have a chain cover. They are extremely hazardous to use. This Worx chainsaw is certainly not one of them. It features a sturdy chain cover that is designed to keep the user safe while using the chainsaw. The user will also be protected from many polluting materials when using this chainsaw with a strong chain cover.
The chainsaw has an auto-tensioning system. This is a crucial function that should be utilized in every chainsaw. However, the majority of saws do not include it. The chain's tension is maintained automatically by the auto-tensioning mechanism. A user must manually tension the chain without the aid of the auto-tensioning system, which is very difficult.
Another important feature of a saw is the automatic oiling system. You will simply have to fill the oil reservoir if the saw has an automated oiler. The rest is up to the automatic oiler. When it's time, it will supply the chain and bar with oil. You won't have to worry if your chain is getting enough lubrication because of this tech.
A shorter blade is used on the jaw saw the design, but it does have a chain that can become loose over time. You won't have to worry about manually adjusting the chain's tension because it has an automatic chain tensioner that takes care of this for you. It's a handy and beneficial feature that's intended to make your life simpler.
The most eye-catching feature of this chainsaw is the scissor-cut action on the head. It's a completely unique design from Positec/Worx, and it was designed to keep you safe. Kickback is the most hazardous risk that can lead to fatalities when working with a saw. This design prevents dangerous kickback by limiting the kickback angle. As a result, it provides a secure experience while seeing tasks to the user.
Performance
The WORX WG320 has a much cleaner cut than standard chainsaws. This is because its twin-sided jaw sawing technique attacks the cutting process from both sides at once. A normal chainsaw generally cuts top-down and frequently results in breakaway splinters near the end of the cut, leaving a messy finish that can be hazardous to work with.
This chainsaw/jaw saw is powered by a lithium-ion battery, which means you won't have to worry about emissions or breathing in any noxious fumes. Another benefit of a battery-powered chainsaw is that it's considerably quieter than gasoline-powered versions.
This steel chainsaw with a magnesium frame has unique safety features. Despite being an uncommon chainsaw designed for safety, it still has the excellent cutting ability. The sharp chain and powerful engine enable you to cut through thick branches in seconds. The chainsaw features a single-action cutting mechanism that can cut any substance up to 4 inches in diameter using only one stroke of the button.
The Worx WG2040 chainsaw has a 20V battery that provides plenty of run time without sacrificing power. You can use the chainsaw for hours without having to recharge the battery. It also works with the same sort of batteries as other Worx tools, so you may quickly mix and match batteries based on your current assignment.
The Jawsaw has the quickest cutting speed of any chain saw on the market. This is the most rapid and secure saw currently available. It can cut wood at speeds of up to 1,350 RPM, which means it can cut anything from softwood to hardwood with equal ease.
Additionally, the cuts it makes are smooth and even. This machine will chop down wood and leave you with an unsightly, undulating cut. For chopping tall branches or big logs into perfect firewood cubes, this Worx saw is ideal. It makes nice cuts, is simple to use for anyone, and is much safer than a standard chainsaw.
Pros & Cons of WORX WG320
It is unquestionable that the Worx WG320 chainsaw is more dependable than any of its competitors. In addition to providing a long-lasting lifetime, the manufacturer has assured the Worx chainsaw's durability. As a result, it should come as no surprise that you may benefit from using the Worx WG320 saw.
---
The Buyer's Guide
Main Features of the Worx WG320 saw:
The chain guard
The chain guard is the upper cover, which protects you from flying debris. It's a really useful feature to have on any chainsaw because it keeps your hands safe and enables you to use the tool for longer periods of time (without worrying about getting hurt). This tool has an advanced chain guard.
Steel teeth
WORX Cordless JawSaw has teeth made of stainless steel. Steel has long been regarded as one of the most durable and resilient metals available for use in our tools. While other choices may exist these days, steel is still a substance we associate with strength. Steel is strong and durable, which is why Worx used it to create the teeth of this product's jaws. They're made to keep the piece of wood you're cutting in place for extra stability and a nice clean cut.
Auto-tension feature
The auto-tension feature is one aspect that sets this product apart from others on the market. This technology helps to reduce strain on your back when you have to raise or lower the chain manually as needed. It can also help with safety because it does not allow for too much slack in the chain while cutting down trees or other objects near power lines. With just a quick squeeze of the button below the trigger handle, you can easily make adjustments without having to remove gloves or stop work completely if need be.
Oiler
An automatic oiler is a must-have feature for any chainsaw user. It saves time and effort because you don't have to stop the saw every few minutes or so to apply more cutting fluid on the chain. With an auto-oiler like in the Work WG320 chainsaw, it automatically applies just enough lubricant onto your bar and chain while working through logs that are difficult to handle with the manual application of the compound during operation.
Portable
Chainsaws are known for being rather hefty. Many gasoline-powered chainsaws weigh more than 25 pounds, which is a significant amount of additional weight to carry around while working. The Worx WG320 Jaw Saw is one of the lightest chainsaw alternatives available. This handy little tool weighs less than 8 pounds, making it simple to use and considerably less tiring on the body.
"Green" tech
No cords, no gas, no fuel. A battery-powered chainsaw isn't the only environmentally friendly alternative out there, as a corded electric chainsaw is also available. The corded electric chainsaw will always have a steady power supply, but you'll have to deal with the cable that's constantly in the way. You won't have to worry about this with the WG320 because its battery doesn't require connection to anything other than when it needs to be recharged. This machine is more than capable of completing the task when fully charged, so you won't lose anything by not utilizing a cable.
Safety and Maintenance
This chainsaw has a plethora of safety features. The tool is fitted with a set of solid steel teeth. When you're cutting wood, these sturdy steel teeth assist to keep the timber in place. The saw also adds to the user's overall stability. As a result, if someone is using it for the first time, he will be more comfortable working with it.
Safety tips:
Always wear protective equipment, including safety goggles and heavy work gloves;

Always keep the chainsaw cutting teeth pointed away from you and other people;

Never use a chainsaw while under the influence of drugs or alcohol;

Keep your work area well-lit to avoid falls, trips, or mishaps with any tools or objects in your surroundings;

Do not touch anything electrical if you are standing in water; it is best to turn off power at an electric source before beginning to cut through fallen trees/limbs, etc.;

Keep children and pets out of danger zones for their safety as well;
The WORX JawSaw is extremely low-maintenance, requiring no gasoline and having an automatic tensioning system that maintains the chain at the optimum tightness so you don't have to manually adjust it. It also has an automated oiling system that keeps the chain lubricated, all you have to do is add oil when the oil indicator tells you to. As far as power tools go, it's simple and straightforward to use.
Maintenance tips:
Inspect the bar and chain before each use

. Make sure that neither are loose or damaged, and both should be tight enough to not come off when running with a lot of force on them but also easy to remove for maintenance purposes. If you notice any damage make sure to replace them as soon as possible so they do not become worse over time. It's better to spend more money now than have an accident on your hands down the road;

To keep your chainsaw working at peak performance

there needs to be some regular maintenance done periodically throughout its life cycle. In addition, if mishandled this might cause accidents from not having correctly fitted equipment that is something we want our customers avoiding at all costs;

Keep the chainsaw's bar and chain properly lubricated

. This is very important as this will keep it working at its best, ensure that they are not too tight or loose, and reduce wear on the equipment itself. If you have a saw which does not have an automatic oiling system then make sure to use some diluted (20:80) light machine oil for your needs;
Alternatives to the WORX WG320 Cordless JawSaw
Many chainsaws can substitute for the WORX WG320 Cordless JawSaw. However, not all of them have the same features and price point as this product does. 
A few alternatives to consider include:
1) Poulan Pro 967044201 40V 16-Inch Lithium-Ion Chainsaw
This model offers a lot of power with its engine as well as longer battery life than most other models on the market today which makes it a highly sought-after chainsaw in terms of reliability. Users love how much control they get when using this device because the handle is adjustable so you can find your preferred position each time you use it without too much trouble at all.
2) Black + Decker LCS1240 40V MAX Lithium-Ion Chainsaw
This model also has a battery power supply and it is compatible with other Black&Decker products which makes it an ideal purchase for those who are looking to buy multiple tools that work well together as part of their gardening arsenal. It moves through wood like butter making this option one of the more reliable ones on the market today even though its price point is just below that of many others available right now.
3) Stihl MS 291 C-BE 18-Inch Electric Chainsaw 
If you want something quiet yet powerful then this might be your best bet because it is very easy to use as well. It weighs just under ten pounds so this option will not be too difficult for most people to handle, but its price point does exceed that of many other options available right now which may turn some consumers away from buying it regularly.
4) Oregon CS1500 Self-Sharpening Electric Chainsaw with Logging Wheels 
This product has a self-sharpening system built into the blade itself which makes things easier on you in terms of maintenance over time and reduces downtime when using the chainsaw appropriately throughout your day or week. The wheels are steel reinforced so if you need something for heavy-duty applications then consider getting this one instead since it costs more than others might like to spend each month.
FAQ
Why does your Worx electric chainsaw leak oil?
If you find your Worx electric chainsaw leaking oil, it's likely due to a problem with the bar and chain. Leaking from the lubricating holes in the tip of the bar is common among new chainsaws because these holes are covered by tape that needs to be removed before use. While other leaks may indicate problems elsewhere in your saws, such as worn seals or gaskets. 
To fix this issue:
Check if there's an excessive amount of oil on the outside surfaces of your tool

. Too much will cause leakage – make sure there isn't more than necessary for proper operation. Wipe off any excess before using your machine again (after properly removing and disposing of all old motor oil); 

Check the bar and chain for any damage.

If there is excessive wear that can't be ignored, it might be time to purchase a new one (the replacement part should come with instructions on how to properly install);

Inspect all of your lubricating ports for excess oil leakage

. Remove any built-up debris or dirt from these spaces so you don't have to keep replacing your machine's motor oil. After doing this, apply light pressure around the port opening in order to push out any remaining buildup until fresh clean lubricant flows through freely. Then use a lint-free rag or paper towel coated with some engine cleaner/degreaser solution along with cleaning brushes as needed to scrub off accumulated residue inside the port;

Check the bar and chain tension.

Too much or too little could be causing excess oil leakage, so use your tool's manual to adjust accordingly (following proper safety precautions);
When is a jaw saw used?
A jaw saw is typically used for pruning, cutting brush, and small-diameter branches. It's also referred to as a pruning saw or an arborist chainsaw.  
How do you sharpen a Worx electric chainsaw?
Worx electric chainsaws are quite easy to sharpen. All you need is a screwdriver and the correct sharpener. You should follow the instructions carefully:
Remove the chain from its bar. You can then turn it around and place the sharpener on the top of the blade with a screwdriver in between;

Then you must push down while rotating to get an even cut across all teeth;

The next step is to

clean the chainsaw thoroughly

. You must remove any dirt or dust from it and you may even use a toothbrush for this purpose;

Now,

place the sharpener on the top of the blade again

with your screwdriver in between and repeat rotating while pushing down until all teeth are evenly cut across their length as well as the width;

Oil both sides of each blade before putting back together. Just take a little time to put everything back where it goes so that when you turn your saw on, there will be no difficulties using it due to loose parts falling off;
Are electric chainsaws safer?
Electric chainsaws are safer than gas. You don't have to worry about carbon monoxide poisoning or fumes, and you won't be exposed to harmful gasoline while working. The noise is also much less noticeable with an electric chain saw as opposed to a gas-powered machine that can get quite loud at times.
How thick a branch can you cut with the saw?
The Worx WG320 Chainsaw will be able to cut a branch that is up to a half-inch thick. The branch must be at least 1 inch in diameter.  It will not be able to cut a branch with a diameter of more than one and a half inches.
Does this package come with a battery?
Yes, there is only one battery in this model – a 20V Max Lithium battery.
How much AH (Amp-hour) is the battery – 1.5 or 2.0?
The Worx WG320 is equipped with a 2.0 Amp-hour battery that provides 40% more run time than the WORX WG303 saw and longer life between charges compared to some competitive Lithium-ion chainsaws in its class. The chainsaw can operate at half load up to 55 minutes or one full hour of continuous operation under normal working conditions at maximum power output on a fully charged battery.
Does this use the same battery as their pressure washer?
The WG320 uses the same 20V or 40V battery as their other Worx tools. This makes it easy to build your collection of batteries and share them between any of your models without needing a special charger or cable for each model.
Video Guide: WORX Jawsaw Review | Out of the Box
Final thoughts 
The Worx WG320 cordless chainsaw is a well-rounded product for people who need a lightweight, easy to maneuver saw. It's an excellent choice for homeowners and light professionals. In addition, it can be used with a variety of cutting attachments too! In this guide, experts took a closer look at the Worx WG320 cordless chainsaw from all angles so that you can make an informed decision about whether or not this is the right tool for your needs.
---