This Craftsman pole saw can be a great tool for light-duty work. It can be used to trim trees and bushes, cut small branches with a diameter of up to three inches, and works as an alternative when you cannot reach the top or bottom of your task due to height issues.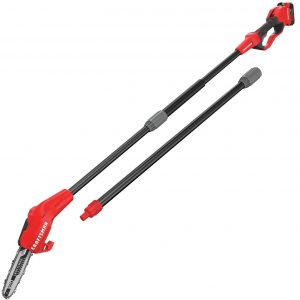 Features of Craftsman CMCCSP20M1:
42.43 x 3.8 x 2.4 inches
1 Lithium ion batteries required
Angled head and blade for cutting precision
The Craftsman CMCCSP20M1 Pole Saw also comes in handy while working on roofs where it helps getting rid of moss and algae forming due to rainwater accumulation thus preventing further damage from leaking water onto ceilings below.
The tool is intended to provide you with the most maneuverability possible because it has a soft grip on its pole extension. The branch hook, on the other hand, will assist in removing broken branches. This bundle also includes a battery and charger, as well as spare parts replacement. It has also been protected by a three-year limited guarantee.
---
Craftsman CMCCSP20M1 Manual
Having problem? Download Craftsman CMCCSP20M1 instructions.
---
Craftsman is one of the most well-known brands in the power tool industry, and their CMCCSP20M1 V20 pole saw is no exception. This powerful machine can handle many different types of jobs with ease, from cutting wood to pruning shrubs or trees. If you're considering buying a CMCCSP20M1 pole saw but want to know more about it before making your purchase decision, then this guide will provide you with all of the information that you need!
Specifications:
Dimensions are 42.43 x 3.8 x 2.4 inches;

Weighs 5.97 pounds;

Includes a powerful motor with a 4.0 Ah V20 battery;

Cordless;

Integrated Versatrack system;

Includes battery and charger;

3-year limited warranty;
Design
The pole saw is used to remove those annoying trees high up in the trees. It has a 4.0 Ah battery that allows it to operate for a longer period. It may also remove thick limbs on the ground that are far away and difficult to access. The branch hook, for example, removes stuck branches after they have been cut. 
The curved blade is another feature that stands out. It allows for excellent accuracy and mobility, as well as a soft grip on the handle.
This two-section telescopic pole saw is a great tool for those who have to deal with tall trees or bushes. It has 3 sections and it can be extended from 8 feet to 12.5 feet – all together – in order to reach your objective easier.
A key feature of the CMCCSP20M1 Pole Saw is that it can be used without any problem as a handheld saw. Thus, you will be able to cut branches that are higher than you are despite the fact that this may not have been possible before using this type of tool. The designed style makes it easy for you to grab this product to use its teeth even if you are sitting on a chair or trying to grab the branch from an area where there is not enough space.
The blade of this saw has a diamond shape, which makes the use of this pole-saw extremely efficient. It can seduce you with its perfection and all the time you will have to make cuts on branches or trees that are going to be shorter because of the precision of this tool.
Performance
This Craftsman pole saw gets a long run time thanks to the 20V battery, which has a 4.0 Amp capacity. This is the product's standout feature. On a full charge, it can cut 325 times per charge and should be adequate for most homeowners' demands.
The tool is powerful enough to cut branches up to 6-inch in diameter, and it's praised for being simple to handle with various applications due to the angled head and branch hook, which provide improved cutting visibility at all times.
This saw's 14-feet overhead reach is towards the top end when it comes to extension length, making it easy to handle most branches without the need for a ladder. Keep in mind that, as stated by some customers, this reach takes into account the user's height as well; the pole is approximately 10 feet long.
The device should cause little trouble during operation and, based on some testing, appears to be a viable and long-lasting pole saw for regular use.
Pros & Cons of Craftsman CMCCSP20M1
This Craftsman pole saw has a 4.0Ah battery pack, which is one of the largest available. As a result, you may anticipate that this equipment will operate for a long time. This pole saw features an extended reach of 14 feet and is ideal for the task due to its angled blade and head for precision cutting.
---
The Buyer's Guide
Main Features
Cordless pole saws are the best choice for those who hate dealing with cords and extensions. There is no power cord to worry about, so you can work in any corner of your yard without worrying that the extension won't reach where you want it to go – or having to move a ladder every time you need more reach:
1) Power
Cordless pole saws are usually more powerful than electric ones, and there is a reason for this. Instead of being limited by the length of its extension cord, or having to carry around an unwieldy power cable as you work on different parts of your yard; it has virtually unlimited reach because it uses batteries! This means that the motor can be larger and have higher speeds without worrying about overheating in tight spots where airflow might not be optimal. 
And since they're battery-powered instead of gas-powered – which requires oil changes, tune-ups, etc., regular maintenance isn't much different from any other tool either! If you want something that will move through thick branches easily while still having juice left over for lighter jobs, choose a battery-powered pole saw.
2) A wider range of motion
If you're thinking about getting yourself one, then this is definitely the main reason why you should! 
You can get to those hard-to-reach places with ease; cutting high up in tall trees without having to climb all over your roof or balanced precariously on 2-foot ladders. This safety and convenience make it perfect for anyone who needs an extra pair of hands when working around their yard too – if there's someone else available to help out, that is! 
But even if not, many cordless models come equipped with double-sided blades which are able to cut both vertically along branches as well as horizontally on flat surfaces like fence posts or tree trunks.
3) Ease of use
Another great thing about cordless pole saws is that they are very easy to handle, and many models come with features that automatically adjust the tension on your blade depending on what you're cutting through. This means less strain when trying to push it through tough objects, but also more control over each cut since there's no danger of splitting branches too far apart or making them too thin! 
And even without this feature – if you're someone who can't seem to get things quite right every time a branch gets in their way; then consider investing in one of these tools instead! You won't have another excuse for not getting all the deadwood out from between those trees anymore – just cut everything down to the right size.
4) Lightweight
It might not seem like it, but most cordless pole saws are actually very lightweight; so if you need something that's easy enough for anyone and everyone in your family to use whenever they want then this is definitely a great choice! Even kids can help out with yard work when there aren't any power cords or gas tanks involved, which makes them perfect if you're worried about safety too – especially since some models come equipped with double-sided blades as well. 
If weight isn't an issue for you at all or even if it is because you get tired of holding up heavy tools while working on other projects around your home; consider investing in a cordless model instead! 
There's a reason they're becoming increasingly popular every day – because more and more people are realizing the benefits it has to offer when compared with its much heavier counterparts.
5) Easy storage
The last thing you want is another tool that takes up half of your garage just sitting around collecting dust all year long; which makes this one perfect for those who need something compact enough to stash away in their shed or on top of their workbench without needing too much space either way! 
This also means that you can take it along with you if necessary, such as setting things up ahead of time before taking them out later for whatever project might require some extra hands involved from someone else! 
Another great advantage about these tools is how easy they are to handle when compared with gas-powered models, so you can easily attach them to a tree and start cutting down some branches without having too much trouble. You won't have any issues trying to get the engine started or finding an extra pair of hands around either; which means less stress for your wallet as well!
Safety and Maintenance
Inspect the cordless pole saw before and after each use

, looking for loose screws or bolts that could cause the unit to come apart during use. Ensure all locks are tight and in place;

Check the condition of your attachment blades

at least once a week for wear (torn teeth) or cracks. Replace worn parts immediately;

Do not attempt to repair blades yourself

– take them to an authorized service center where they can be properly repaired with original Craftsman replacement blade units;

Keep pole saws clean by removing debris

from around switches, connections, and moving components such as gears. Use compressed air if necessary but do not blow into any openings with your mouth because it may damage internal electronic components. If you accidentally one on a hard surface like concrete, check the floor below to see if you have any oil stains and wipe them clean right away;

Keep cordless pole saws stored in a dry area with temperatures between 32F and 95F

. A basement is often an ideal storage location. Do not store near gas, kerosene, or paint thinner fumes because they are highly flammable substances. Store blades separately from your unit to avoid scratches on surfaces or dulling of cutting edges;
Alternatives to the Craftsman CMCCSP20M1
The Craftsman CMCCSP20M1 is a great pole saw, but it may not be the only option for you. Many alternatives to this cordless pole chainsaw and other tools may complete your gardening kit. 
First of all, there's the Oregon CS1500 that uses an 18-volt battery so you can use any compatible batteries or rechargeable ones if you don't want to buy additional ones (one battery will last up to thirty minutes). The manufacturer claims that its chain never needs adjustments in order to maintain peak performance throughout its life expectancy. 
This tool weighs 9 pounds which makes it easy enough to use. It's equipped with a 16-inch Oregon bar and chain, is lightweight at nine pounds which makes it easy to handle for the user, while its 40 volts allow you to cut through anything! This chainsaw is also very comfortable to use thanks to its ergonomic handle and sturdy grip.
If you're looking for a different type of option, there's the Remington RM1425 Limb N Trim which offers great cutting power with an eight-inch Oregon bar and chain that makes it easy enough to cut through anything! It weighs just under ten pounds but it comes equipped with a cordless system so you can get started right away without having to worry about gas or oil mixing. The battery lasts long enough (up to forty minutes) too – depending on how often you need to recharge.
The Poulan Pro PR2819 has a 28-inch bar length; it will cut limbs up to 16 inches in diameter. It's lightweight at just 13 pounds, but it can reach out as far as 15 feet away from you using its pole extension! The whole package weighs 20 pounds overall, so it won't be too hard for most people to carry around all day if they need to. 
A great feature of this model is the built-in level on the shaft that helps ensure your cuts are straight and true every time. This saw also allows you to rotate the head left or right by 90 degrees when necessary – perfect for cutting tree limbs growing off at an angle!
Troy-Bilt TB32PT 20V 12 in. Tree Pruner – this pole pruner has an electric motor and features automatic oiling so it requires little maintenance or attention while working on your yard or garden. It can work well as either a chainsaw replacement tool or as an additional accessory that will extend how far up into trees its line of sight allows users to see without climbing one themselves. 
The price tag makes this another popular choice among homeowners who don't want the hassle of dealing with gas cans or cords around their home but want to get work done.
Sun Joe SWJ800E Telescoping Pole Chain Saw – this saw is electric, so it requires no gas or cords, but still features a telescopic handle that extends from about 10 feet up to 12 feet, 3 inches in length for added reach when you need it most while pruning trees on your property. 
The blade itself can rotate through 360 degrees and has an adjustable chain tensioner that makes maintaining the device easier than ever before. It also includes two blades with the purchase of this model – perfect for trimming more branches at once without having to worry about buying another one immediately afterward!
Factors to Consider When Buying Craftsman CMCCSP20M1 Pole Saw
If you're in the market for a new pole saw, it's important to consider various factors to ensure you get the right tool for your needs. The Craftsman CMCCSP20M1 is a popular option among consumers, but before making a purchase, it's important to compare various indicators that can affect the saw's performance and your overall satisfaction with the product.
Below is a table that outlines several factors to consider when buying the Craftsman CMCCSP20M1 pole saw. Note that the values are for illustrative purposes only and may not reflect the actual performance of the product.
| Indicator | Description | Value |
| --- | --- | --- |
| Blade Length | The length of the saw blade in inches | 10 |
| Motor Power | The power of the motor measured in amps | 6 |
| Maximum Reach | The maximum distance the saw can reach when fully extended in feet | 14 |
| Cutting Diameter | The maximum diameter of the branch or limb that can be cut in inches | 8 |
| Weight | The weight of the saw in pounds | 12 |
| Battery Life | The amount of time the battery can last on a single charge in minutes | 40 |
| Noise Level | The level of noise produced by the saw in decibels (dB) | 85 |
Blade length is an important factor to consider as it determines the reach and cutting ability of the saw. Motor power is also crucial, as a higher-powered motor can handle tougher cutting tasks. The maximum reach of the saw will be important if you have high branches to prune. Cutting diameter will determine the size of branches or limbs that can be cut with the saw, and weight will affect how easy it is to maneuver the saw. Battery life is an important consideration if you plan on using the saw for extended periods of time, and noise level can be important if you live in a residential area where loud noises may disturb your neighbors. By comparing these indicators and considering your own needs, you can make an informed decision when buying the Craftsman CMCCSP20M1 pole saw.
FAQ
Does it include a charger?
The Craftsman CMCCSP20M1 pole saw includes a battery and charger.
Is it 14-foot or does that include standing height?
The CMCCSP20M1 is a 14-foot saw, but it does not include the standing height.
Does it come with bar oil?
No, the Craftsman CMCCSP20M has a pressurized oil feed system which is different. You need to buy bar and chain lube separately.
Will it handle trimming palm tree branches?
Of course, it was designed to reach up to 14 feet and cut through tough branches.
Is it easy to oil the blade of Craftsman CMCCSP20M1?
Of course, it is very easy to oil the blade of the Craftsman CMCCSP20M1 pole saw. Simply apply a few drops of bar and chain oil on its surface before you start cutting through wood with your pole saw.
How do you apply the oil for Craftsman CMCCSP20M1?
To lubricate your pole saw, at first, level the pole saw on the surface. To lay the pole saw flat, it must be upright. After that, clean it carefully with a damp cloth and it will be ready to lubricate. For the whole procedure, use a tiny funnel.
Place the funnel in the reservoir's open side. Pour the oil very slowly into the reservoir. Don't overfill it or you'll have to deal with a messy situation. If there is any excess oil around it, completely seal and clean the cap after filling it.
Is the electric motor located in the head or in the base next to the battery?
The electric motor is housed in the head. The battery and control switch is at the lower end of the shaft.
How long does the battery last on a single charge?
The battery life of the Craftsman CMCCSP20M1 pole saw can vary depending on usage, but on average, it lasts up to 40 minutes on a single charge.
Can the angle of the saw blade be adjusted?
Yes, the angle of the saw blade on the Craftsman CMCCSP20M1 pole saw can be adjusted to different positions for easier cutting.
What is the maximum diameter of the branch the saw can cut?
The maximum diameter of the branch that the Craftsman CMCCSP20M1 pole saw can cut is approximately 8 inches.
Does the pole saw come with a warranty?
Yes, the Craftsman CMCCSP20M1 pole saw comes with a 3-year limited warranty.
Is it easy to assemble the pole saw?
Yes, the Craftsman CMCCSP20M1 pole saw is designed for easy assembly with minimal tools required.
What type of battery does the Craftsman CMCCSP20M1 pole saw use?
The Craftsman CMCCSP20M1 pole saw uses a 20-volt MAX lithium-ion battery.
Can the pole saw be used to prune fruit trees?
Yes, the Craftsman CMCCSP20M1 pole saw is suitable for pruning fruit trees as well as other types of trees and shrubs.
Is the pole saw waterproof?
No, the Craftsman CMCCSP20M1 pole saw is not waterproof and should not be used in wet conditions or submerged in water.
Can the pole saw be used for overhead cutting?
Yes, the Craftsman CMCCSP20M1 pole saw can be used for overhead cutting. It has a built-in hook that allows you to easily maneuver the saw around branches.
What is the length of the pole saw without the extension?
The Craftsman CMCCSP20M1 pole saw is approximately 5 feet long without the extension.
Does the pole saw have an automatic oiling system?
Yes, the Craftsman CMCCSP20M1 pole saw has an automatic oiling system that lubricates the chain and bar while in use.
What type of chain is used on the pole saw?
The Craftsman CMCCSP20M1 pole saw uses a 10-inch Oregon bar and chain.
Can the battery be removed and charged separately?
Yes, the battery of the Craftsman CMCCSP20M1 pole saw can be removed and charged separately for convenience.
What is the maximum speed of the pole saw?
The Craftsman CMCCSP20M1 pole saw has a maximum chain speed of 25 feet per second.
What is the power output of the motor?
The Craftsman CMCCSP20M1 pole saw has a 20-volt MAX motor with a power output of 1.5 Ah.
Is the pole saw suitable for professional use?
The Craftsman CMCCSP20M1 pole saw is designed for homeowner use, but it can also be used for light-duty professional applications.
Can the pole saw be used for pruning high branches?
Yes, the Craftsman CMCCSP20M1 pole saw is designed specifically for pruning high branches up to 10 feet.
What is the noise level of the pole saw?
The Craftsman CMCCSP20M1 pole saw has a noise level of approximately 80 decibels.
Video Guide: CRAFTSMAN CMCCSP20M1 Cordless Electric Pole Saw – Best Cordless Pole Saw
Final thoughts
In the end, what it comes down to is which features are most important to you. Whether you're a professional or just looking for a tool that will help with your yard work from time to time, there is a cordless pole saw that should fit your needs and budget. Hopefully, this guide has been helpful in determining whether the CMCCSP20M1 V20 by Craftsman would be a good purchase for you! 
---