This Craftsman pole saw can be a great tool for light-duty work. It can be used to trim trees and bushes, cut small branches with a diameter of up to three inches, and works as an alternative when you cannot reach the top or bottom of your task due to height issues.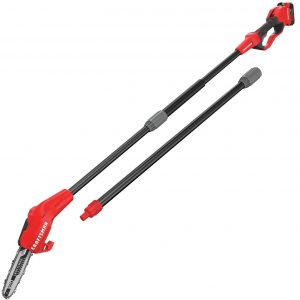 Features of Craftsman CMCCSP20M1:
42.43 x 3.8 x 2.4 inches
1 Lithium ion batteries required
Angled head and blade for cutting precision
The Craftsman CMCCSP20M1 Pole Saw also comes in handy while working on roofs where it helps getting rid of moss and algae forming due to rainwater accumulation thus preventing further damage from leaking water onto ceilings below.
The tool is intended to provide you with the most maneuverability possible because it has a soft grip on its pole extension. The branch hook, on the other hand, will assist in removing broken branches. This bundle also includes a battery and charger, as well as spare parts replacement. It has also been protected by a three-year limited guarantee.
---
Craftsman CMCCSP20M1 Manual
Having problem? Download Craftsman CMCCSP20M1 instructions.
---
Craftsman is one of the most well-known brands in the power tool industry, and their CMCCSP20M1 V20 pole saw is no exception. This powerful machine can handle many different types of jobs with ease, from cutting wood to pruning shrubs or trees. If you're considering buying a CMCCSP20M1 pole saw but want to know more about it before making your purchase decision, then this guide will provide you with all of the information that you need!
Specifications:
Dimensions are 42.43 x 3.8 x 2.4 inches;

Weighs 5.97 pounds;

Includes a powerful motor with a 4.0 Ah V20 battery;

Cordless;

Integrated Versatrack system;

Includes battery and charger;

3-year limited warranty;
Design
The pole saw is used to remove those annoying trees high up in the trees. It has a 4.0 Ah battery that allows it to operate for a longer period. It may also remove thick limbs on the ground that are far away and difficult to access. The branch hook, for example, removes stuck branches after they have been cut. 
The curved blade is another feature that stands out. It allows for excellent accuracy and mobility, as well as a soft grip on the handle.
This two-section telescopic pole saw is a great tool for those who have to deal with tall trees or bushes. It has 3 sections and it can be extended from 8 feet to 12.5 feet – all together – in order to reach your objective easier.
A key feature of the CMCCSP20M1 Pole Saw is that it can be used without any problem as a handheld saw. Thus, you will be able to cut branches that are higher than you are despite the fact that this may not have been possible before using this type of tool. The designed style makes it easy for you to grab this product to use its teeth even if you are sitting on a chair or trying to grab the branch from an area where there is not enough space.
The blade of this saw has a diamond shape, which makes the use of this pole-saw extremely efficient. It can seduce you with its perfection and all the time you will have to make cuts on branches or trees that are going to be shorter because of the precision of this tool.
Performance
This Craftsman pole saw gets a long run time thanks to the 20V battery, which has a 4.0 Amp capacity. This is the product's standout feature. On a full charge, it can cut 325 times per charge and should be adequate for most homeowners' demands.
The tool is powerful enough to cut branches up to 6-inch in diameter, and it's praised for being simple to handle with various applications due to the angled head and branch hook, which provide improved cutting visibility at all times.
This saw's 14-feet overhead reach is towards the top end when it comes to extension length, making it easy to handle most branches without the need for a ladder. Keep in mind that, as stated by some customers, this reach takes into account the user's height as well; the pole is approximately 10 feet long.
The device should cause little trouble during operation and, based on some testing, appears to be a viable and long-lasting pole saw for regular use.
Pros & Cons of Craftsman CMCCSP20M1
This Craftsman pole saw has a 4.0Ah battery pack, which is one of the largest available. As a result, you may anticipate that this equipment will operate for a long time. This pole saw features an extended reach of 14 feet and is ideal for the task due to its angled blade and head for precision cutting.
---
Video Guide: CRAFTSMAN CMCCSP20M1 Cordless Electric Pole Saw – Best Cordless Pole Saw 2021
---