---
If you're looking for an easy and convenient way to trim trees, the Black+Decker LPP120B is a great option. This cordless saw is perfect for anyone who wants to get the job done efficiently. In this article, we will answer some of the most common questions about it. We'll also provide some useful tips to help you get started with tree trimming!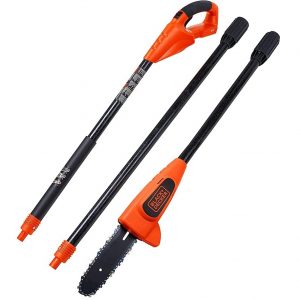 The LPP120B is a cordless
pole saw
that has been designed for easy and efficient tree trimming. It has a 20V Li-ion battery – enough to get most jobs done in one go. The automatic oiling system means that you don't have to worry about lubricating the bar or chain as often, saving time and effort.
Specifications
Dimensions 8.25×8.13×44.5 inches
8″ cutting bar and chain
Battery and charger are sold separately
Performance
The Black+Decker LPP120B is a powerful tool that can handle almost any job. The battery allows you to make up to a whopping 100 cuts p/charge, and the poles extend so that you can easily prune branches as high as 14ft. The cutting bar and chain provide fast cutting action, making this an ideal choice for trimming larger trees.
Features
The saw is equipped with a number of features that make it easy to use. The integrated oiling system makes sure that the bar and chain remain consistently lubricated, while its comfortable handle ensures a secure hold. Additionally, the tool-free tensioning system makes adjusting the chain tension quick and simple.
---
Dewalt Black+Decker LPP120B User Manual
Having problem? Download Black+Decker LPP120B instructions.
---
Pros & Cons of Black+Decker LPP120B
---
Buyer's Guide
What is a Pole Saw?
A pole saw is a pruning tool designed to help you with tree trimming and cutting branches from high places.
The engine powers a chain-and-bar saw mechanism at the end of the pole for added reach and precision control when cutting branches.
Type of Pole Saw
The Black+Decker LPP120B is a cordless pole saw that utilizes the power of an impressive rechargeable Li-ion battery. This makes it lightweight and easy to maneuver compared to gas or electric models.
Gas-Powered
Gas-powered pole saws, the most powerful and durable models available, are perfect for tackling any tough job. They are driven by a gas engine and provide enough power to tackle thicker branches or limbs.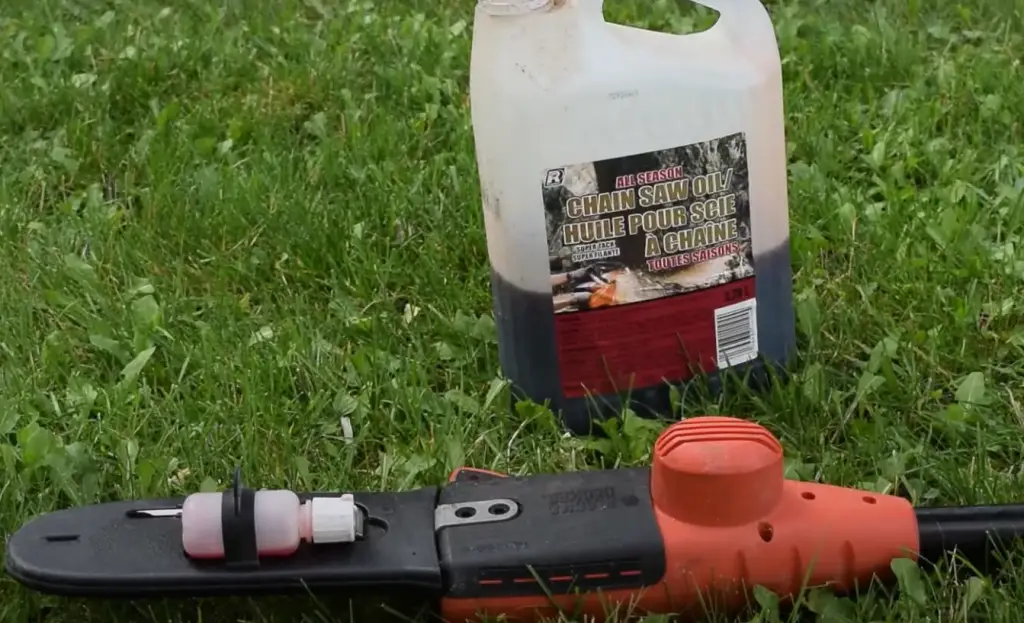 They offer a longer reach than electric and manual saws, but they can be bulky and difficult to maneuver.
Electric
Electric saws are powered by electricity and are typically much lighter than gas-powered ones. They're ideal for smaller jobs, but don't have the same cutting power. Electric poles also offer more precise control, so they're great for detailed work like pruning or trimming branches near windows or other delicate areas.
Cordless
Cordless saws offer the same power and reach as electric models, but without the need for a power cord. They're great for jobs in remote areas or when outlets are not available. They come with rechargeable batteries that can last up to several hours on a single charge. [1]
Manual
Manual pole saws are the lightest and easiest to use. They require no power source, so they're perfect for small pruning jobs or when you need to get into tight spaces. Manual poles are also generally much cheaper than other types.
Make sure it's the right size and type for your needs. With a little research and insight, you can find the perfect saw for whatever job you have at hand!
Factors to Consider While Purchasing Black+Decker LPP120B Pole Saw
When it comes to yard work, having the right tools is essential. The LPP120B is a great tool for anyone looking to tackle some tough trimming jobs around the yard. There are several aspects to consider in order to guarantee you purchase one suitable for your requirements.
Cutting Blade Length
The cutting blade length of the LPP120B is 8 inches. This makes it perfect for pruning limbs and branches that are up to six inches in diameter. If you're looking for a saw that can handle larger trees, you'll need to look at different models with longer blades.
Height/Reach
The LPP120B has an extendable pole that can reach up to 14 ft, giving you plenty of reach for those hard-to-reach limbs. Additionally, it features a 3-position adjustable head, which allows you to adjust the cutting angle to get the best cut for the job.
Material And Durability
The LPP120B is made of durable metal and plastic parts, making it an extremely sturdy tool. In addition, the saw features a low-kickback design which helps reduce the risk of injury during operation.
Maintenance
One of the best features of this saw is that it requires minimal maintenance.
Additionally, you can easily replace the cutting blade if needed.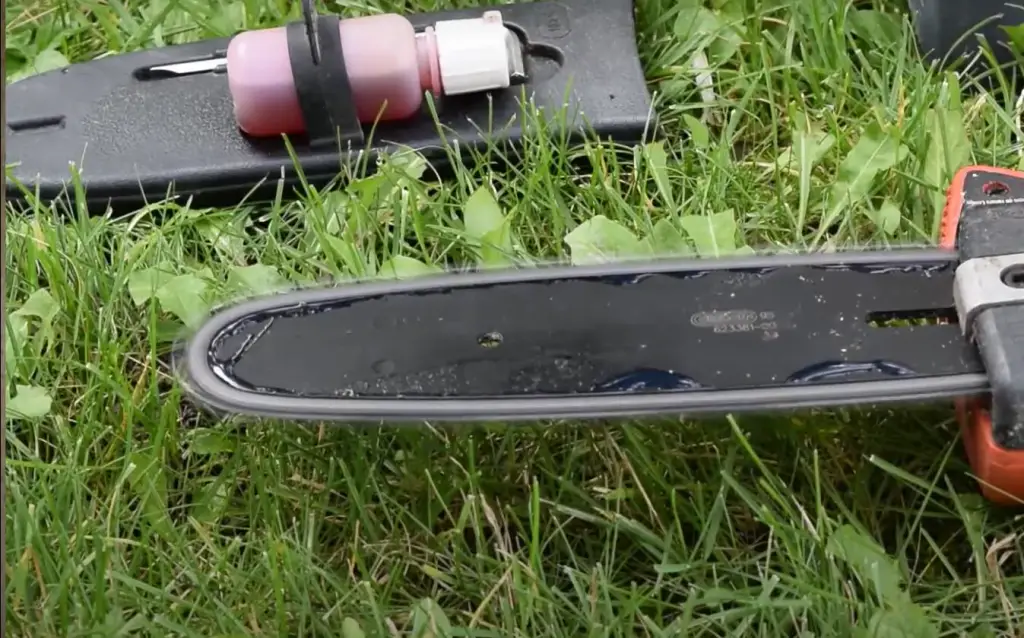 These are just a few of the important factors to consider. With its extendable pole, adjustable head and low-maintenance design, this saw is sure to make any yard work project much easier. So, don't wait – pick up one today and start making those hard-to-reach cuts!
Balance
The Black+Decker LPP120B features a lightweight design and an ergonomic handle that make it easy to maneuver. This balance makes it comfortable to hold the saw for extended periods of time, so you can get through your job quickly. Additionally, its lightweight design also makes it easy to transport from place to place.
Budget
The LPP120B is affordably priced for most budgets, making it a great option for most homeowners. With its quality design and features, you can be sure that this saw will last for years to come. Plus, with its low maintenance requirements and easy-to-replace blades, you'll be able to get the most out of your investment in no time!
Warranty
Black+Decker offers a two-year warranty on the LPP120B Pole Saw, giving you peace of mind that your purchase is covered for any potential issues. Additionally, the company provides excellent customer service and technical support in case you have any questions about your saw or need help troubleshooting an issue. [2]
When shopping for a pole saw, always remember to take into account all of these important factors before making your purchase. Doing so will ensure that you get the best tool for your needs and budget!
Safety Tips to Consider While Using Black+Decker LPP120B Pole Saw
Always use the saw with a firm grip and make sure your hands, feet and clothing stay away from any moving parts.
Never operate it without wearing safety glasses and other protective equipment such as gloves or steel-toe boots.
Be aware of the kickback that can occur when cutting branches; never cut above shoulder height to reduce the risk of injury.
Make sure you're always working on solid ground; avoid slippery surfaces or terrain where there could be obstacles in your way while operating the saw.
Be especially careful when using tools around electrical sources; unplug before adjusting or cleaning them and make sure the power source is disconnected during lubrication.
Always ensure proper installation of parts and accessories, such as the chain and bar; use only manufacturer-approved parts when possible.
Be sure to inspect the saw before each use and make sure all components are working properly including the safety switch, chain tensioner, blade guard, etc.
Pay attention to maintenance instructions that come with your Black+Decker LPP120B pole saw; follow them exactly for optimal performance and safety of operation.
Don't attempt to lubricate or sharpen blades while they're still attached to the pole saw – instead remove them completely to do so safely.
Stay alert while using this tool and never work when you're tired, distracted or under the influence of drugs and/or alcohol. [3]
Finally, always read the user manual thoroughly before operating the saw so that you understand all safety guidelines associated with its use. Have fun, but above all else stay safe!
Wear the proper chainsaw Safety Gear
Whenever you use a power saw like the Black+Decker LPP120B, it's important to wear the proper protective gear. This includes safety glasses, steel-toe boots and ear protection to protect your eyes, feet and ears from injury. Additionally, you should always wear long pants/shirts and gloves for extra coverage and reinforcement against any kickback that may occur when cutting branches. With all this in mind, make sure to use caution while using your saw – don't underestimate the potential danger! Stay safe out there!
Only cut during the daytime
Working at night increases the chances of not being able to clearly see obstacles, which can be dangerous when working with a power saw. Additionally, make sure you have plenty of light nearby in order to easily spot any hazards that may arise. So, whenever possible, stick to using your tool during the day – it'll help keep you and those around you safe!
Do Not Use Your Pole Saw in Wet Conditions
It's important to know when not to use the saw so that you can avoid any potentially dangerous situations. For instance, using the Black+Decker LPP120B in wet or damp conditions can lead to electric shock or even electrocution since most motors are not waterproof.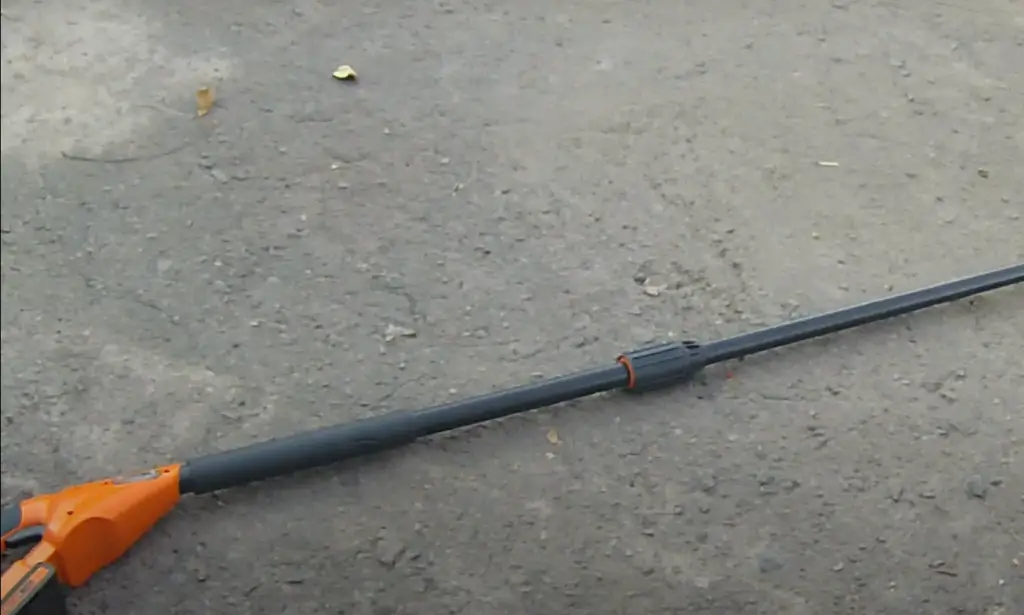 So, if it is rainy, snowing, or foggy outside – just stay inside and wait for better weather before taking on that outdoor project!
Cut one branch at a Time
While it may be tempting to try and tackle multiple branches at once, it's important to exercise caution and only cut one branch at a time. This will help avoid kickbacks or other accidents that could arise from attempting to work too quickly. Additionally, make sure you use the right saw blade for the job; if you feel like something is wrong while cutting, stop immediately and check your blade before continuing.
Get rid of fallen branches as quickly as is possible
After cutting a branch, be sure to remove it from the area as quickly as possible. This helps ensure that no one trips over them in the process of cleaning up your work. Additionally, large branches should be cut into smaller pieces and cleared away thoroughly before moving on to your next task.
Keep an eye out for signs of Spring
When cutting branches in the springtime, it's important to watch out for signs of new growth. If you come across a branch that has buds or blossoms on it, then leave it alone – this helps ensure that the tree remains healthy and continues to grow!
Always be ready for kickback
Although you can take steps to minimize the occurrence of kickbacks, it's always a good idea to be prepared for it just in case.
Finally, never attempt to reach into a branch after cutting – this could result in serious injury!
Calling a professional
The Black+Decker LPP120B is a powerful and effective pole saw, but some jobs may be too big or dangerous for you to tackle alone. If you ever find yourself in this position – don't worry! Just call a professional tree service to take care of the job for you; they are experienced and trained to handle any type of situation that might arise while working with power tools.
Taking these extra steps can help make sure that everyone stays safe.
How to Use Black+Decker LPP120B Pole Saw?
Using the Black+Decker LPP120B is relatively straightforward. To get started, assemble your pole saw according to the instructions included in the box. Once it's assembled, you can start using it right away!
To use the saw, first make sure that your battery is properly charged and inserted into the handle of your pole saw. This will ensure that you have enough power to complete whatever job you are setting out to do. Next, extend the pole as far as you need it by pressing down on the trigger switch located at its base. The further extended out your pole saw is, the more reach you will have when cutting branches or limbs away from trees or shrubs.
Once your pole saw is extended, you can begin cutting. Keep in mind the orientation of the blade when cutting and be sure to only cut away from yourself in a downward motion. If you're trimming branches or limbs that are too thick for the LPP120B's 8" bar, try using smaller cuts to get through it instead of trying to power through them with one cut. This will minimize strain on both the battery and motor while getting more consistent results.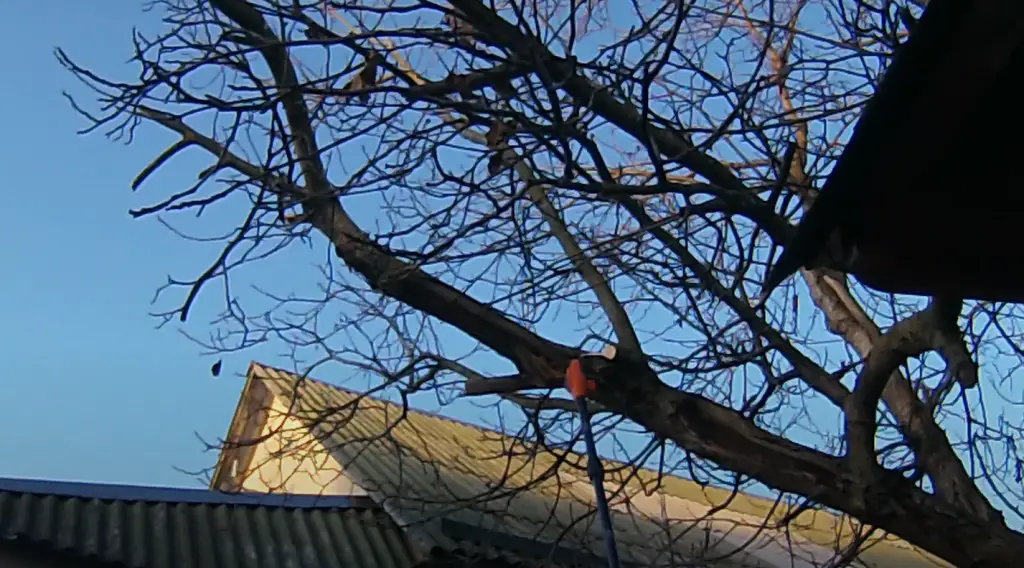 Once you've finished cutting, make sure to retract the pole saw by pressing down on its trigger switch again. After this, turn off your machine and unplug it from any power source if necessary before putting it away in its designated storage area. Additionally, never leave your machine unattended while it is still powered on.
Follow these steps and you'll be able to use your Black+Decker LPP120B pole saw with ease! With its lightweight design, cordless power and up to 14 feet of reach, the LPP120B will let you get the job done no matter how high or far away those pesky branches may be!
Just remember: always follow all safety instructions when using any kind of power tool! Have fun cutting.
Table: Factors to Consider When Buying Black+Decker LPP120B Pole Saw
When it comes to purchasing a pole saw, there are several factors that you should consider before making a decision. This table provides a comparison of various indicators that can help you choose the right Black+Decker LPP120B pole saw for your needs.
| Indicator | Description | Black+Decker LPP120B Pole Saw |
| --- | --- | --- |
| Bar length | The length of the saw blade that determines the maximum diameter of the branch that can be cut. | 8 inches |
| Power source | The type of power source the saw uses, either corded or cordless. | Battery-powered (20V Max Lithium-Ion) |
| Battery life | The amount of time the battery can power the saw on a single charge. | Up to 100 cuts per charge |
| Weight | The weight of the saw, including the battery, which can affect how easy it is to use and maneuver. | 6.3 pounds |
| Extension range | The maximum length the pole saw can extend, which affects how high branches can be reached. | 6.5 to 10 feet |
| Cutting capacity | The maximum diameter of the branch that can be cut with the saw. | Up to 6 inches |
| Warranty | The length and type of warranty provided by the manufacturer. | 2-year limited warranty |
This table provides an overview of the key features and specifications of the Black+Decker LPP120B pole saw. By comparing these indicators, you can determine whether this saw meets your specific needs and preferences. Factors such as battery life, weight, and extension range can have a significant impact on the saw's usability, while cutting capacity and bar length determine the types of branches you can cut. The warranty also provides important protection and peace of mind for your purchase.
---
FAQ
How big of a limb can I cut with a pole saw?
It depends on the size and power of your pole saw. Generally, most pole saws can cut limbs that measure up to 8 inches in diameter. If you need to cut larger limbs, consider a gas-powered chainsaw for more cutting power. Just remember that safety should always come first — so ensure you wear eye protection, gloves, and other protective gear while operating any type of saw.
What is the maximum length of a pole saw?
The maximum length of a pole saw varies depending on the model and brand. Generally, most models range from 6-8 feet in length. However, some longer models can extend up to 14 feet or more. So if you need to reach higher branches, opt for a longer pole saw for optimal reach. Make sure to check the manufacturer's recommendations for any specific size restrictions before buying one. And remember to always wear safety gear! [4]
Can you use a pole saw to trim trees?
Yes, you can use a pole saw to trim trees! Pole saws are specifically designed for pruning and trimming branches on trees. They feature long handles that help you reach high into the tree and make precise cuts while standing on the ground. Their slim design also makes it easier to maneuver around tight spaces, so if you need to get up close and personal with your work, a pole saw is a perfect tool for the job. Plus, many models come with different types of blades or attachments allowing you to customize your cutting experience even more. So if you're looking for an efficient way to trim your trees, investing in a pole saw is definitely worth it!
Which cordless pole saw is best?
There are a lot of great options available when it comes to cordless pole saws. If you're looking for the best one out there, you have to consider your budget and needs. Some of the top-rated models include Ryobi P4360, Black+Decker LPP120B, Greenworks 20672, Worx WG323, DeWalt DCCS670X1, and Sun Joe SWJ807E. Each of these tools has its own set of pros and cons – so be sure to read up on them before making your decision! For instance, the Ryobi model is incredibly lightweight and ideal for light pruning tasks; while the Worx model is more powerful and can handle heavier jobs. The Greenworks model is great for those who want an eco-friendly option; while DeWalt and Sun Joe offer great performance at a reasonable price. Ultimately, the best cordless pole saw is the one that fits your budget and meets your needs! Weigh all of your options carefully before making a purchase. [5]
What is the weight of the Black+Decker LPP120B pole saw?
The Black+Decker LPP120B pole saw weighs 6.3 pounds, making it easy to handle and maneuver while trimming trees.
How long does the battery last on the Black+Decker LPP120B pole saw?
The battery on the Black+Decker LPP120B pole saw can last up to 100 cuts on a single charge, depending on the size of the branches you are cutting.
What is the maximum reach of the Black+Decker LPP120B pole saw?
The Black+Decker LPP120B pole saw can reach up to 14 feet when fully extended, allowing you to easily trim high branches without the use of a ladder.
Is the Black+Decker LPP120B pole saw cordless?
Yes, the Black+Decker LPP120B pole saw is cordless, making it convenient to use and maneuver without the need for a power outlet or extension cord.
Does the Black+Decker LPP120B pole saw come with a warranty?
Yes, the Black+Decker LPP120B pole saw comes with a 2-year limited warranty to protect against any defects or malfunctions.
How do you maintain the Black+Decker LPP120B pole saw?
To maintain the Black+Decker LPP120B pole saw, you should regularly clean the blades with a dry cloth, and oil them to prevent rust. Additionally, you should store the pole saw in a dry, cool place when not in use.
Can the Black+Decker LPP120B pole saw be used for heavy-duty cutting?
The Black+Decker LPP120B pole saw is best suited for light to medium-duty cutting of branches up to 6 inches in diameter. It may not be suitable for heavy-duty cutting of thicker branches or logs.
h4>What is the bar length of the Black+Decker LPP120B pole saw?
The Black+Decker LPP120B pole saw has a bar length of 8 inches, which is suitable for trimming branches up to 6 inches in diameter.
How long does it take to charge the battery on the Black+Decker LPP120B pole saw?
The battery on the Black+Decker LPP120B pole saw can take up to 5 hours to fully charge, but a partial charge can be obtained in as little as 1 hour.
What safety features does the Black+Decker LPP120B pole saw have?
The Black+Decker LPP120B pole saw has a safety lock to prevent accidental start-ups, as well as a two-handed grip for better control and stability while in use.
Is the Black+Decker LPP120B pole saw compatible with other Black+Decker batteries?
Yes, the Black+Decker LPP120B pole saw is compatible with other Black+Decker 20-volt MAX batteries, so you can use the same battery for multiple tools.
Does the Black+Decker LPP120B pole saw come with a carrying case?
No, the Black+Decker LPP120B pole saw does not come with a carrying case, but it can be easily disassembled and stored in a small space.
Can the Black+Decker LPP120B pole saw be used for pruning shrubs?
Yes, the Black+Decker LPP120B pole saw can be used for pruning shrubs and bushes, as well as trimming trees.
What is the maximum warranty extension available for the Black+Decker LPP120B pole saw?
You can extend the warranty on the Black+Decker LPP120B pole saw for up to 3 years by registering the product online within 30 days of purchase.
Video Guide: BLACK & DECKER 20 volt cordless pole saw review LPP120B
Conclusion
All in all, the Black+Decker LPP120B Pole Saw is a reliable and efficient tool for trimming trees. It has an ergonomic design that enables you to reach branches of various heights safely and comfortably. Its brushless motor is powerful enough to tackle even tough branches with ease. The cordless design eliminates any unease when it comes to having to manage cords while using the saw. Finally, its affordable price makes it a great choice for anyone looking for a quality tree-trimming solution without breaking the bank!
If you're looking for an easy way to take care of your trees without having to climb up ladders or pay for professional services, then the Black+Decker LPP120B is the perfect solution for you. Give it a try today – you won't be disappointed! Happy trimming!
---
References:
https://www.bobvila.com/articles/best-pole-saw/
https://www.electronicshub.org/best-pole-saws/
https://medium.com/@aussie.mic.foley/a-quick-guide-to-pole-saw-safety-a2b8f761825e
https://www.popularmechanics.com/home/lawn-garden/g36579505/pole-saws/
https://www.sawinery.net/best-cordless-pole-saw/