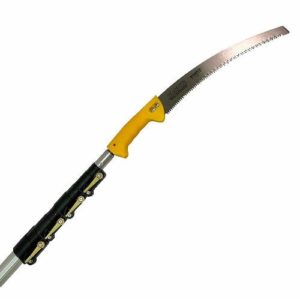 Razor sharp 13-inch
Bi-directional cut
3X tooth design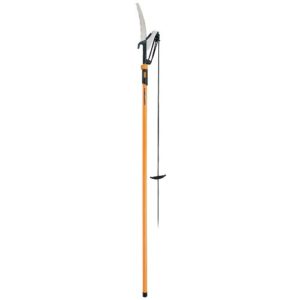 Precision-ground steel pruner
12" double-grind saw
Secure double locking system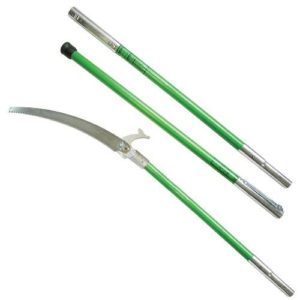 Versatile 3 pole system
Aluminum ferrules
Low profile head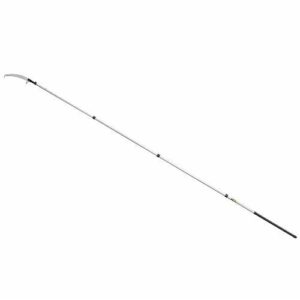 3-extension
4-poles/sections
Sk4 high carbon steel metal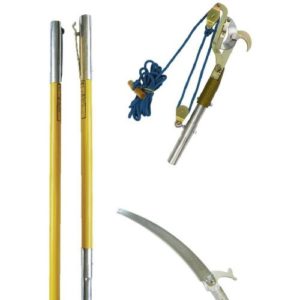 Double-pulley pruner
FG Series poles
16-inch saw blade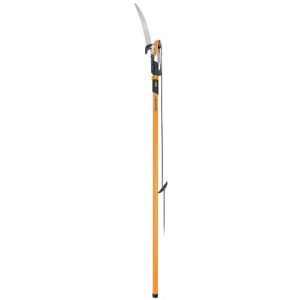 Easily cut high branches
Power-Lever technology
Precision-ground steel pruner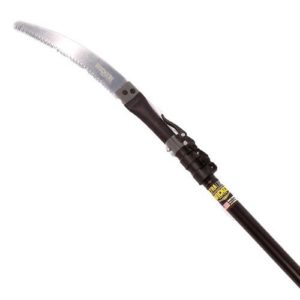 2 in 1 design
High carbon steel blades
Telescoping pole design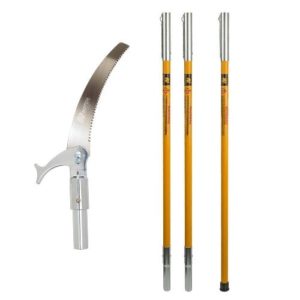 Color: Yellow
Duty double thick blade
Item Weight: 10 pounds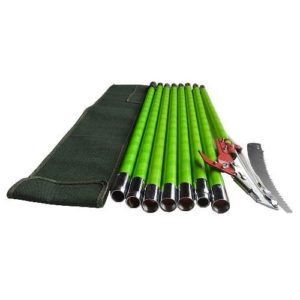 4cm thickness
With a scissor on the head
More durable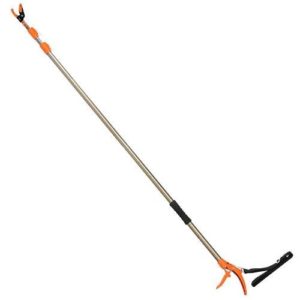 Size: 4m
Lightweight construction
Shoulder strap
A manual pole saw (pole pruner or tree pruner) is a quite versatile and multi-purpose tool. It is used for cutting and trimming the twigs and branches of small-to-medium size.
The main reason to use a manual pole saw is to have control over the trimming process. This instrument is irreplaceable when your task is to trim a few tall trees or bushes. It is not a powerful cutting tool. So if you have a huge garden with many trees that need pruning, a manual pole saw is not the best choice. But for keeping the small garden nice-looking, this tool fully meets the requirements.
How is a manual pole saw different from corded pole saws?
A manual pole pruner has only two limitations. First and foremost, you should use physical force to trim the branches with a pole saw. You might get tired if you want to cut many tall trees with this instrument.
The second limitation is the low speed of work. Cutting and trimming is a time-consuming process. Compared to other corded and electric pruners, a manual pole saw will make the process of pruning much longer.
But if you are not afraid of these limitations, a manual pole saw can offer a lot of benefits:
Lightweight tool. A manual pole saw weighs far less than any corded pole saw or chainsaw. Because it is not equipped with a heavy motor and battery. The pole is usually made of very durable but light material. And the saw blade is also lightweight. It is a perfect instrument for people who have arthritis or rheumatism;
Cheaper than any other powered saw. A manual pole pruner has a very simple design without a fuel tank or batteries. That is why it will cost you only a few bucks. While the powered saw's price can reach $100 or higher;
Easy maintenance. It is very easy to keep the pole and blades clean from any debris. It doesn't have any moving parts that need lubrication. You just should keep the saw blade sharp enough;
Very portable. Manual pole saws are portable because it doesn't include any bulky attachment. The power outlet won't limit you. You can easily take it whenever you require;
Since a manual pole saw doesn't use any fuel or electric power it is eco-friendly. That is why the instrument produces low noise. Besides, you may use this tool in any weather, even when it is raining. Also, it is much safer than other pole pruners when you trim the trees above your head.
The following article will highlight the features of a few popular manual pole saw models. You will also learn how to choose a manual pole saw to meet your requirements.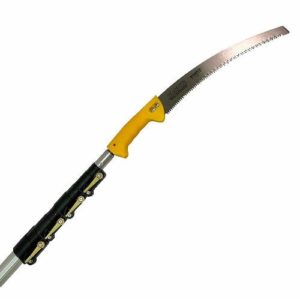 The DocaPole telescopic pole saw can become an irreplaceable gardening tool if you need to prune lightweight vines, branches and foliage from time to time. It can be equipped with other attachments – a standard threaded tip is good for this.
For instance, you may add the Acme-threaded extension. Gardeners claim about using this pole saw in the rain because of the rust-free and hard-chrome finish.
Pros
Great for pruning lightweight branches, vines, leaves
Budget-friendly
The max reach is 22 feet (the manufacturer claims the reach is 28 ft.)
Nail hook for hanging
Rubber handles for a comfortable grip
Sharp 3-sided teeth
Locking screw on the base of the handle
The blades can be replaced
Cons
The cutting capacity is no more than 3-inch branches
The longer you extend it, the less it may cut
Not durable
Weak aluminum pole
The lock is not very reliable
This lightweight pruning instrument won't do heavy jobs. Use it only for trimming light branches and twigs, to cut the leaves or vines. For heavier pruning, use the DocaPole 6-24 Foot Double-Duty saw with a thicker aluminum pole.
Fiskars 12 Foot Saw – the best for cutting large branches!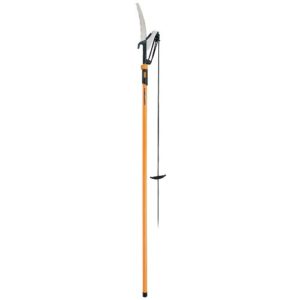 The Fiskars pole saw is a great gardening tool capable of trimming and cutting the branches. This lightweight tool can be good for the heavy-duty use when it comes to pruning the tall trees and bushes. In fact, it is more a grind saw than a pole saw.
It comes with a smart double flip-locking system so you could feel safe when pruning the trees overhead.
Pros
Strong
Lightweight fiberglass pole
Comfy grip
Can cut through thick and large branches
Lifetime warranty
Budget-friendly
Cons
The maximum reach is 12 feet
The cord can be delivered untied
Comes without any directions
This tool is very simple to use. Also, the Fiskars pole saw extends only to the required size thanks to the flip-lock system.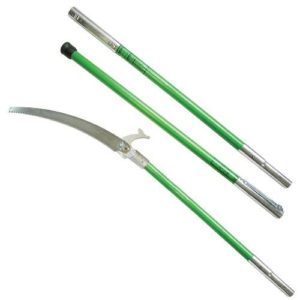 For the price of a single-pole saw, Jameson offers the kit with 3 pole saws. You will be able to cut through thin or thick branches, dense foliage or twigs at different heights. Each instrument's length is 6 feet long. Every tool from the pole saw kit features a Tri-cut blade.
Pros
3 multi-purpose pole saws
The maneuverable head
Aluminum ferrules
Spring locking button
Quick and clean cuts
Replaceable and very sharp blades
Cons
May cause hand fatigue pretty quickly
Flimsy
These pole saws have no loppers. This kit also doesn't come with any storage bag. You will have to invest in these accessories and attachments. Elderly people may want to skip these pole saws because they are good for strong hands.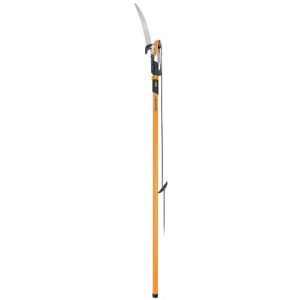 Another Fiskars pole saws with great technical parameters. This particular pole saw extends up to 14 feet. Thanks to the Power-Level technology, the instrument turns into a precision-ground steel pruner for trimming and cutting through 1.8-inch branches.
The pole saw comes with a standard 15-inch WoodZig saw that can remove large and thick branches of the tall trees.
Pros
Very convenient and easy to use
Comes with a WoodZig handsaw
Oval-shaped fiberglass poles can reduce flex and hand fatigue
Double locking system for additional security
Full lifetime warranty
Powerful and clean cuts
Power-Level tech
Cons
The blade comes unattached
The handle may get sticky after a few minutes of work
The fiberglass rod can come damaged
You may pick this instrument to get full control when pruning the trees. It is extremely comfortable due to advanced handles and powerful technology. The instrument can cut through any wood, even palm trees.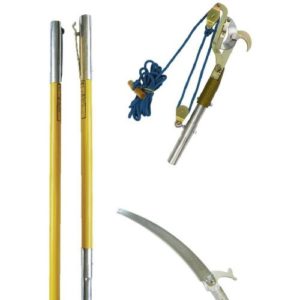 The Jameson kit of a tree pruner with two 6-foot fiberglass poles is capable of cutting through thick branches. Its 16-inch Barracuda Tri-cut saw blades deliver smooth cuts. The bright-colored tool can become a good addition to any collection of gardening instruments.
Pros
Extreme durability
Reduced wear of blades
Impulse-hardened teeth
16-inch steel blades
Can fit up to 4 pole extensions
The sectional extension is more stable than telescopic
Double force effect
Cons
No clip to remove the rope
Pricey
This professional instrument has a base pole for a 6-foot reach or extended 6-foot pole for the 12-foot reach. It has a non-fiberglass surface layer to prevent any risk of fiber blooming. The Jameson manual pole saw is customizable and easy to use.
The Buyer's Guide
Major functions
Unlike electric or gas pole saws, a manual pole pruner is good only for small backyard work and home use. Typically, manual pole saws have a long extension rod that allows controlling the blade direction. But these pole saws are lightweight,
Saw and blades
A pole saw should cut and be sharp. The saw blades must be made from lightweight but durable material. They should easily cut through the thin and thick branches (check the cutting capacity before buying – some pole saws can cut only through 1-inch twigs and that is it). For instance, high-quality manual pole saws have the carbon steel blades with the anti-rust coating. Sometimes the blades have a resin layer to provide lower friction when trimming. You may want to buy a pole saw with detachable blades in case of replacing old or broken saw. Or for more convenient storage.
Pole
Manual pole saws offer a wide range of pole length for maximum reach. For instance, if you have mature and taller trees to cut, you should pick a manual pole saw with a long extension rod. Just look at the trees and bushes in your garden and think about the pole length that you actually need.
The pole's shape and materials are also important. A good pole must be lightweight and sturdy material. It shouldn't shake or slide when you trim the branches overhead. Consider choosing the instrument with an extension rod made of fiberglass, steel and aluminum. Avoid any tools with wooden poles.
The maximum reach of an extension rod varies from 15 to 26 ft. If this is not enough for you, consider buying an extension attachment for additional reach.
Cutting capacity
Depending on the length and type of the saw blade, each pole saw has a unique cutting capacity. For instance, a long saw blade will cut through thicket twigs and branches. Most blades can cut through the branches with a diameter of 6 inches to 13 inches. Carefully check the technical specifications – typically manufacturers specify the cutting capacity of a particular pole saw.
Weight
It would be more reasonable to buy a lightweight pole saw so you could work longer without your hands getting tired. The weight of a manual pole saw depends on the build quality, material and the pole's length. Usually, manual pole saws weigh from 3 to 7 lbs. The instrument shouldn't feel heavy when you are trimming the branches overhead. Also, the weight distribution requires the balance even if the pole is extended to the maximum.
Durability
The great build quality and durability of the manual pole saw is the most important factor. Of course, high-quality instruments may cost a bit more. But if you need to use this tool more than once or twice per year, then a bit pricier but more durable pole saw will be a good investment.
This is the most crucial specification when you choose a pole saw. The rod should not break or bench under the heavy load when you are cutting the twigs. That is why the rod must be made from steel or aluminum. The reputable pole saw brands invest in the build quality of their instruments. Because it is more important to buy the durable instrument once and for many years than pay for new cheap tools every year.
Price
Like any gardening tools, manual pole pruners vary in price. You should select an instrument that works for your budget. Just be realistic about the features you look for in a manual pole saw. It may be unreasonable to pay $80 for a manual pole saw that you will use once or twice per year. But paying about $100 for the instrument that you use 20 times a year is a totally different deal.
Video Tutorial: Installing Corona Tree Pruner Blade
Major criteria for purchasing a manual sawing instrument:
Length – it's preferable to pick a cutter with the extendable handle (no less than 4 ft.);
Material – we tried to limit our initial row of sawing instruments to the ones made of aluminum, steel or fiberglass. Also, pay attention to the instrument's weight – don't pick a too light or sturdy saw;
Blade – the most important part of a manual tool with an extending pole. It must be made of lasting, top-notch material fully resistant to rust. If you manage to keep such a blade clean (especially teeth), it will serve you for many years;
Final thoughts
As you might have noticed, the best manual pole saw is not necessarily the priciest. You may easily get a high-quality tool at an affordable cost. Check the expert recommendations about a few popular models listed in this review. You may want to buy a manual pole saw with the best performance rates, according to your requirements. In such a way, this instrument will be a good investment.
---